BenQ has moved from the back of the show, with a meeting room, to the front of the show over the last couple of years. The first new product that it showed us was the RM7501K, a new 75″ unit that is competitively priced at £2,199 ($3,100) and uses infrared technology, but can detect thicker and thinner strokes from a stylus. It seemed to have around 12 levels of tracking, but it was new to staff who weren't confident on the first morning, when we spoke to them. The unit has been developed to also include a 'good scaler'. The company made the point (as others did to us later) that although interactive displays are switching to UltraHD, because of the supply chain for TV panels, there is little or no native content, so good scaling is a significant advantage. Some lower cost sets are poor in this regard, although they look good at the show, where content is carefully chosen. (We reached out to BenQ for more info on the RM7501K, but at press time, had got nothing back)
Also new, but for digital signage applications is the PL552 FullHD video wall monitor which has 3.5mm image-to-image bezels. The company highlighted that it has DisplayPort loop-through that can support UltraHD images using a 2 x 2 array. Brightness is 500 cd/m² and contrast is 1,400:1 and using an IPS panel. It can be used in landscape or portrait mode and costs £2,499 ($3,530 plus tax) in the UK. It has dual 10W speakers and VGA, DVI, HDMI and DisplayPort connections. Smart operation is supported via OPS.
For the video wall, the company was using a new bracket system from Chief that it was particularly pleased with. The system allows individual panels to be moved in our out, even the centre display in a 3 x 3 array. The firm told us that it had been very quick to set up the configuration at the show.
Next we looked at the BH380, which is a 38″ stretch display with 800 cd/m² which has been out for some time. It costs £1,399 in the UK ($1,975) and was being run from a simple PC Stick processor.
BenQ is the distributor for the Google Jamboard and has been shipping for around three months now. It told us that sometimes there is initial resistance to the cost of the system until potential buyers realise that it is more of a full collaboration system than just an interactive monitor.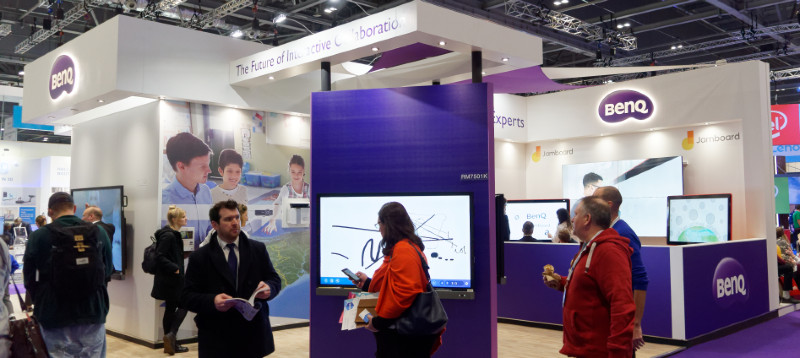 BenQ was also promoting the Google Jamboard in its booth. Image:Meko