Singapore is in the house. That's right, Veative, a virtual reality exhibitor headquartered in Singapore with offices in India, USA, UAE, and Egypt, stormed into the exhibit hall at ISTE 2017 this year with notable fanfare.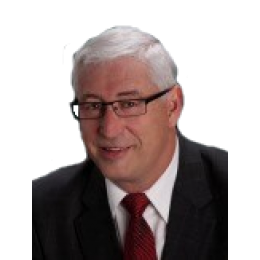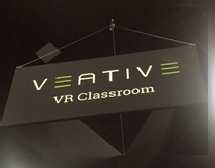 (The ISTE 2017 educational technology conference held in late June, with over 15,000 educators in attendance, is considered the largest ed-tech conference in the U.S. Every state and more than 72 countries were represented at this year's ed-tech extravaganza.)
Veative is a joint effort by two respected digital learning organizations – Piron Corporation and Almotahida Education Group – in a new and growing partnership that advances 3-D, VR, AR and MR in learning. Their lustrous efforts led to high visibility and oodles of educator traffic in the Expo hall. Their success at ISTE begs the question to be asked: "Exactly how did this group of ISTE first-timer exhibitors hit such high notes in their first outing?" Here are my explanatory theories, thoughts which might be useful to consider for any product or service that is hoping to seduce the U.S. educational market:
They captured mindshare with differentiation.
Veative (apparently a portmanteau combining "virtual reality" and "creative") brings to the table at least seven 'differentiators' when compared with other players in the education market.
First, Veative offers interactive VR modules that include 3D models (learning objects, we call them), 360 videos, simple and complex simulations, as well as accompanying assessments. Interestingly, they offer both Internet and local (offline) delivery options (students and teachers can choose to download VR content from the online store or from a local [offline] content access point.) This is important because sometimes school networks and technologies are less robust than the resources/networks students often bring to school with them.
Veative also features greater interactivity than its competitors, integrating the use of handheld controllers throughout its content for interactivity purposes. And they offer a free creative VR learning app, more than 50 free lessons for schools, and some wonderful virtual labs and simulations, which are especially valuable for online learning programs. Veative's VR modules are now available for Middle School Math and Science, and High School Biology, Chemistry, Physics and Mathematics. All lessons are currently available in multiple languages, as well.
Veative at ISTE 2017
They solved classroom problems by offering a complete ecosystem.
Veative impressed their VR-interested customers by affording a complete ecosystem of surrounding value, including:
a comprehensive VR curriculum, mapped to the curriculum. (Mainly science and math, but I wish the humanities were covered)
VR Learn, a content delivery app for students. (Students can organize their existing VR modules and also add new ones in their own library .)
a teacher tablet with a management control app. (Teachers can control student screens or can install/uninstall and launch VR modules remotely on student devices.)
VR headgear options
a wireless classroom router. (I wonder if school IT departments will permit this, or view it as a security risk?)
integrated handheld controllers for enhancing interactivity.
a lockable/rollable charging and storage unit. (It's called a 'trolley'.)
reporting and analytics features. (The offline version stores results locally and syncs with the server when an Internet connection is available.)
LMS/LRS integration. (Nominal analytics data and reporting can be sent to any other LMS / LRS system used by schools.)
Instructional support. (An in-house team of education experts available for advice and lesson/module design.)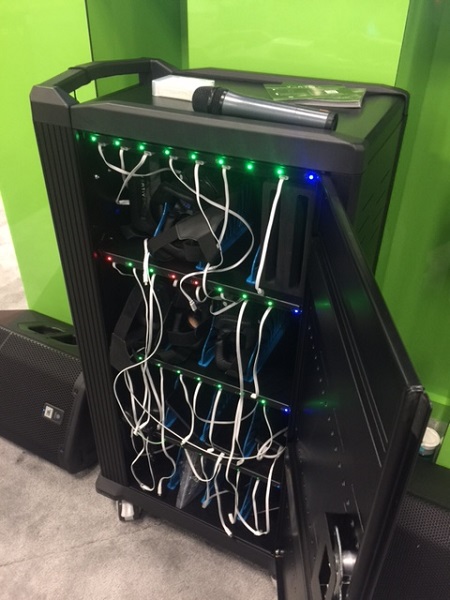 Veative's cart for storing, charging, and moving VR headgear.
Ankur Aggarwal, CEO, summarized Veative's ISTE experience in this way: "Educators want experiences that further extend their Expeditions kits, an invaluable VR program in their classrooms. Educators were excited [at ISTE] about the interactivity, analytics, and alignment with curriculum standards of our modules." Frankly speaking, this is the most comprehensive ecosystem encircling an educational VR solution that I have seen to date.
A Smart Presence.
Veative's large and visually attractive booth was well placed, housed at a bustling intersection in the exhibit hall. And, unlike other international exhibitors, the Veative booth was supported by competent and well-spoken presentation staff. That seems to matter for international exhibitors. Their booth execution was, in my mind, flawless: interesting—friendly—inviting—colorful—spacious.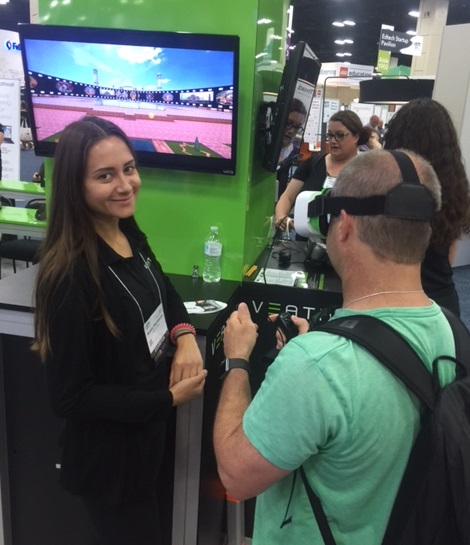 Veative offered both a smart look and very capable people
*****
In all, Veative exhibited a surprisingly strong gravitas, especially being a new exhibitor to the ISTE conference among a pantheon of competitors. I was especially impressed by the number of smart steps they took in order to effectively woo the U.S. education market. As far as the future is concerned, CEO Aggarwal reasoned: "Content is a key pain point for adoption of VR." He offered this insight into their future: "We look forward to extending our 400+ apps in STEM to breadth across new content areas, including coding, language learning, and apps that are cross-curricular." He also hinted at greater platform variety by suggesting: "We aim to continue to support educators, parents and students through our mobile app…to be compatible with a broader range of hardware devices."
Although this budding company offered different levels of entry for the customer, they could still improve their reach in a number of ways: by improving the digital quality and feel of their VR graphics; by employing more favorable pricing for cash-strapped schools; by aligning their volume purchase schedules to create greater incentive to buy; and by offering a straight-out purchase solution (as opposed to their annual pricing structures, which can sometimes be distasteful to schools). –Len Scrogan