Jason Hsu is from IHS and he looked at what is next in Mobile PC displays. In 'the old days', PC replacement was always about performance, with the PC running faster and faster each time. He noted that each Windows refresh period has been slower with a shift from 5 to 6 to 7 and 8 years between major version releases. However, now connectivity is more important than raw computing power.
Growth slowed in 2013 – 2015 but sales of the iPad also decreased, so it wasn't just the PC architecture. Looking at shipments by size you can see a trend that means you can divide the progress in notebook use from desktop replacement then to an internet PC – now the demand is for highly mobile PCs. 12″ – 13″ PCs continue to grow in volume and IHS expects to see 9.2% CAGR in the next few years in this category.
The customer's xpectation is that you have to cover performance and high mobility – "How can the display help?", Hsu asked. Image quality has to be as good as a tablet, with performance as good as desktop, but the system must be thin and light and suitable for landscape or portrait use.
Resolution was analysed by Shu, using the Apple range as the reference. PPI depends on viewing distance. 360ppi is needed for tablet-like use, although Apple's current iMac's and MacBooks have only around 220ppi.
HD TN-based panels are no longer profitable for LCD makers, so there is a big switch to FullHD which will become the mainstream by 2018. The notebook segment needs high resolution, but this reduces battery life, so power consumption is a very big issue with brands. LG Display's plan is to reduce power consumption by half by 2017 with lower frame rates and oxide transistors.
Variable frame rates are very helpful and without video, there is less need for really fast refresh. 20Hz or 30Hz may be enough for many applications*. Oxide panels can help by increasing the aperture ratio and also by reducing the leakage current from the transistor.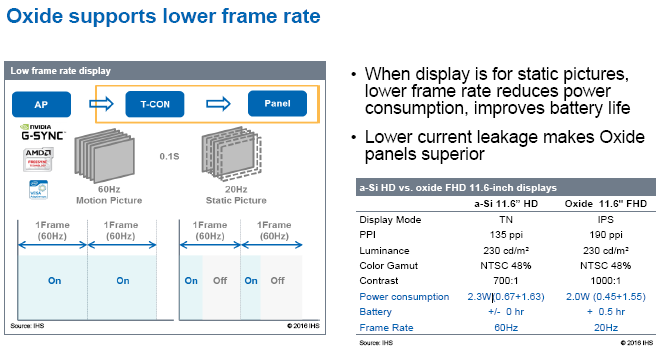 IHS said that oxide panels reduce the power consumption of notebook panels – click for higher resolution
Because of the potential LTPS over-capacity, there may be a need to "consume more technology", Shu remarked, and this may also help reduce power consumption. In other words, LTPS prices might come down because of oversupply and make the technology more accessible.
This year, four new OLED-based notebooks were launched at CES. They are very attractive, but the increased power consumption compared to LCD is an issue. Image sticking may also be a problem – especially for long term icon display in IT applications. Microsoft has already started to work on schemes to reduce power and sticking.
Ultrabook form factors will be mainstream this year with 47% share and panel makers are moving to 2mm or less thickness with 1.5/1.7mm the target for next year. Borders are also getting slimmer. However costs will go up because tooling is also expensive. There are no standards for slim borders and so second sourcing is tricky. Intel is working on this problem.
Is a 'paper mode' aspect ratio the future of tablets? For a PC used as a tablet, it may be better than a wide format. ISO paper is around 1.4:1 and it is common for documents. Microsoft has proposed 3:2 as the optimum but there will be more aspect ratios in coming years as suppliers try to differentiate their systems.
Analyst Comment
In questions, Hsu was asked if oxide TFT was a 'dead end' technology? Hsu said that because Apple might start to use the technology to boost ppi in iMacs, the problem might be of not enough capacity for the technology.
* I have an UltraHD monitor on my desktop monitor and when I got it, I found that my PC was not rated as being able to support it. However, I found that using DisplayPort I could run it at 30Hz. I really very rarely notice anything that's a problem (although I am not a gamer). (BR)