Global technology company Barco has announced the launch of a new LCD video wall platform that surpasses all other offerings currently available on the market.
Barco UniSee is based on a modular platform, with individual in-house designed and produced LCM panels fitted onto an innovative mounting system that is powered by gravity.
For those that rely on visualisation technology – for example, high-end meeting rooms, lobby and reception areas, experience centres and control rooms – Barco UniSee will provide unrivalled performance. The entire LCD video wall is completely bezel-less, creating a seamless viewing experience. The mounting system, which ensures perfect alignment of the LCM panels, also hosts all input and power modules resulting in significantly reduced set-up and maintenance requirements for installers, IT professionals and facilities managers.
Barco is already the worldwide leader in the rear projection video wall market, holding a market share of 44% in EMEA and 39% in the Americas.
For LCD video walls used in control rooms, Barco has an 18% market share in both EMEA and the Americas, putting it in the top three in the market. The launch of this groundbreaking new product will give a significant boost to Barco in this market, enabling it to challenge for market leadership and secure double-digit growth across several verticals.
George Stromeyer, Senior Vice-President and General Manager, Barco Enterprise division, said:
"Barco has made material investments in LCD, positioning the company for growth in the LCD-video wall market for the coming years. We are very proud of the Barco UniSee product, which will become our flagship LCD video wall platform from here on in. It fits firmly within our ambitious growth strategy, strengthening our position as a technology leader in visualization solutions by raising the bar for the LCD video wall market."
Key features of the Barco UniSee platform include:
NoGap technology makes the inter-tile gap almost invisible from normal viewing distances
UniSee Mount uses gravity to self-align the LCD tiles, which slide into place in any direction along the X, Y and Z axes and allows easy undocking of the panels in case servicing is required
'Sense X' continuous, real-time colour and brightness calibration system ensures a perfectly balanced image at all times, with no variation between centre and edges
UniSee Connect software platform automatically assigns and calibrates the panels and acts as a single point of connection for remote diagnostics and control
Technical specifications of the product:
55″ active display area with Full HD resolution (1920 x 1080)
Typical brightness of 800 cd/m[2], with minimal haze level (<44%)
100,000 lifetime (around 67% longer than most mainstream solutions)
VESA compliant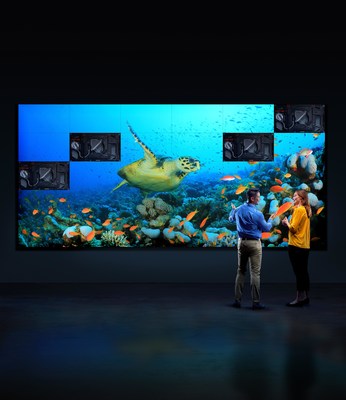 LCD video walls are being increasingly used in a large variety of environments, including control rooms, reception areas and lobbies, meeting rooms, visitor experiences, branded showrooms and retail stores.
One of Barco's most recent high-profile LCD video wall installations took place in Saudi Arabia, where Barco installed a 334-panel LCD wall in the briefing room and mezzanine floor of the Global Center for Combating Extremist Ideology in Riyadh, inaugurated by The President of the United States in May 2017.
About Barco
Barco designs technology to enable bright outcomes around the world. Seeing beyond the image, we develop sight, sound, and sharing solutions to help you work together, share insights, and wow audiences. Our focus is on three core markets: Enterprise (from meeting and control rooms to corporate spaces), Healthcare (from the radiology department to the operating room), and Entertainment (from movie theaters to live events and attractions). In 2016, we realized sales of 1.102 billion euro. We have a team of 3,500 employees, located in 90 countries, whose passion for technology is captured in 400 granted patents.