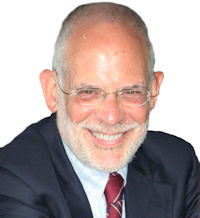 Not many years ago, the North Hall at the International Consumer Electronics Show looked like a compact version of the the annual show put on by the Specialty Equipment Market Association (SEMA). The hall bristled with garish but beautifully executed custom vehicles, and the air pounded with powerful custom audio systems exquisitely integrated into those garish vehicles.
Audi demonstrated its "piloted driving" prototypes. Should't that be "pilotless" driving? Photo:Ken WernerSome of the SEMA aesthetic could still be seen in North Hall this year, but the show's vibe was more like a toned-down New York (or Detroit or Los Angeles) auto show, with the center of gravity shifted heavily toward vehicle manufacturers instead of after-market customizers. The automotive electronics spilled out into Las Vegas Convention Center's outdoor Central Plaza, where Audi had cars available for test drives and Volkswagen was showing off e-Golfs with electronic parking assist. Parking assist isn't a novelty, but it's now trickling down from cars intended for the 1% to those designed for the unwashed masses — that's us.
Volkswagen demonstrated the e-Golf's assisted parking. (Photo: Ken Werner)VW was also showing something that is novel: an e-Golf featuring "trained parking." This is a self-piloting car with a difference. The car is only intended to drive itself along a trained path from where you get of of it to its garage or other resting place. After the car is trained, you initiate the sequence with your smart phone of a smart watch. The car's parking spot incorporates inductive charging so you don't have to plug it in. In the morning, you activate the sequence in reverse, and the car comes to your front door. The car is its own parking valet.
Audi presented the "world premiere" of its "prologue piloted driving." Audi says these cars can travel at 240 km/h without a driver, and that at least one of them traveled 550 miles to Las Vegas from Silicon Valley. "Intelligent and learning vehicles will be the future," said a sign, which doesn't tell us anything we don't know about the march of technology, but does tell us something about Audi's corporate intent. Several of these cars were on display outdoors in the Las Vegas Convention Center's Central Plaza. Also shown were cars with the Android Auto informatics platform, which Audio is developing to include natural voice control.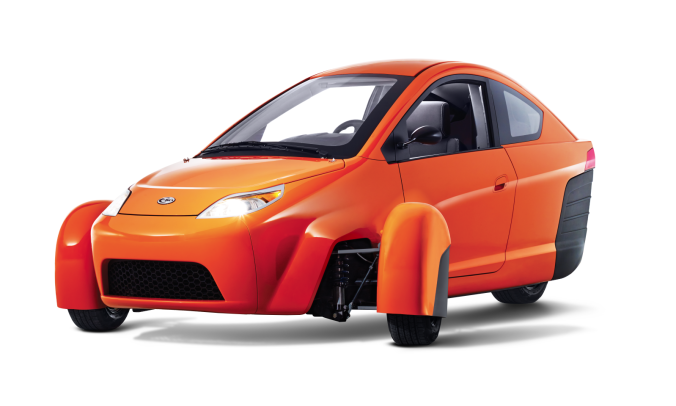 ELIO CarIn the Central Plaza, as well as the Showstoppers media event, Elio Motors was showing a prototype of its 3-wheeled, two-passenger (one behind the other), 84 mpg (highway) vehicle, and its tidy 3-cylinder engine designed by the German-based company IAV, which is designing and developing the Elio's entire power train in its Michigan facility. The engine — which displaces 0.9 liters and is currently specified to produce 55 hp — was introduced in June. Elio has senior auto industry veterans in its management team and has purchased the former GM assembly and stamping plant in Shreveport, Louisiana to make the car. The company has lined up the Pep Boys chain of auto centers to provide parts and service. The car seems appealing, and the company has collected reservation deposits from over 38,000 people. At a $6800 anticipated MSRP, it's easy to see how people would be tempted, but I'd be inclined to wait until the production line is humming and I can actually drive one. Elio is now projecting that volume production will begin in 2016, after originally projecting it would begin in 2014 and then delaying it to 2015.
In previous showings, the Elio had a refreshingly infotainment-free interior, but even a $6800 car can't be gadget-free these days. At CES, an optional arm-mounted infotainment/connectivity screen was shown. Elio said a menu of individually-priced infotainment features would be available for purchase.
Back in North Hall, VW's Golf R-touch boasted a buttonless, gesture-controlled touch panel.
A JVC Kenwood rep proudly stated that his company commanded 50% of the U.S. market for in-deck navigation systems. The Model DDX9702S, in addition to sophisticated audio such as time alignment and crossover adjustments, provides touch control, phone mirroring and control, optional wireless HDMI, Android Auto and Apple CarPlay. Android Auto supplies Google Maps, music streaming, "Ok Google" speech recognition, and auto-optimized apps on the Android Auto site. The DNN992 connected DVD receiver with navigation incorporates a 6.95-inch hi-res capacitive touch scree, built-in WiFi, a wireless link for in-car content sharing, and a "route collector" trip planner.
In the Kenwood booth was a McLaren 650S with its (presumably) Kenwood-based five-display digital cockpit system.
How many displays can you fit on adashboard? For McLaren, the number is five. (Photo: Ken Werner)
FCA (Fiat Chrysler Automobiles)showed its RAM 1500 Eco-Diesel light truck. The large infotainment screen is approximately square and well-integrated into the center stack, but FCA's main interest seemed to be its new U-Connect infotainment system that will present a nearly uniform interface across all of FCA's global markets. Question: Why? Answer: So if you rent an FCA car in Beijing, it will be easy for you to adapt to the system. Question: But don't you want to tailor the system to cultural preferences in different markets? Answer: Well, we're doing that by adjusting the colors. None of this sounded too convincing, and I suspect FCA's primary interest is the cost savings it can obtain from a (nearly) universal platform. A few troglodytes were less interested in U-Connect than in the supercharged Chrysler Hemi engine filling the engine bay of a Charger SRT.
In this looking-forward view, you can see one of the Toyota Mirai's two hydrogen tanks, the fuel-cell stack, and the electric traction motor. Not visible are the second tank and the large enclosed battery for storing regenerative energy. (Photo: Ken Werner)
Toyota's exclusive focus (except for a single poster on Sirius XM radio that was ignored by everybody) in its large booth was on the new Mirai ("future") automobile powered by hydrogen fuel cells and an electric traction motor. There is also a sizeable battery for storing regenerated energy. You can't sell a hydrogen-powered car without hydrogen fueling stations, so Toyota's strategy is to first sell the car in localized markets where fueling stations can be built to support sales. The Mirai will be available in Japan in two months, and in California in October. In 2016, it will be available in the New York tri-state area. Toyota says the car's range is 300 miles. A mock-up of a fueling "pump" was shown in the booth. It looked similar to a normal gasoline fueling pump, but with pressure locks on the nozzles. There were two nozzles, one for 350 Bar delivery, and one for 700 Bar. Filling an empty tank will take 5 minutes, said Toyota.
It may be hard to tell the front from the back in Mercedes' autonomous F015, but the car generated lots of excitement nonetheless. (Photo: Ken Werner) Mercedes-Benz was featuring its F015 fully autonomous "auto research" vehicle. The smoothly contoured body rises rather steeply both front and rear, and the front and rear look similar. This provides a spacious interior, in which the driver and front passenger seats swivel, so the cars four inhabitants can face each while the car drives itself. A Mercedes rep says this chunkier look will be reflected in forthcoming Mercedes road cars, which does not seem consistent with Mercedes' recent design evolution. The currently available S-Class is semi-autonomous, Mercedes said.
Ford was promoting its new Sync 3 infotainment system, which incorporates voice activation, navigation, and AppLink, which connects to a variety of smartphone apps throuch voice commands. Ford emphasized its claim that Sync 3 is "not only new, it's easy to use, simple, and innovative." Ford needs that to be true, since previous versions of Sync have been consistently lambasted as confusing and unreliable. Ford showed its 1.0-liter EcoBoost I-3 engine, which has one the "International Engine of the Year" award for three consecutive years, according to Ford. The engine is larger, complicated-looking, and probably a lot heavier than the 0.9-liter IAV designed for Elio, but it puts out 123 horsepower (compared to Elio's 55) and 125 pound-feet of torque.
BMW was emphasizing its hybrid i3 and stunningly designed i8, along with inductive charging and a key fob for the i8 with multiple control and information capabilities via a small display. The display can provide nuggets of information, such a oil level, battery-charge level, or remaining electric range, and you can code a central button to do something useful, such as flashing the headlights. It will also tell you if you forgot to lock a door. You can check the battery status of your i3 on your smart TV, and plan your route before you leave your bed — if you ignore your sleep therapist and keep a TV in your bedroom.
Visteon, the global supplier of a wide array of cockpit electronics, automotive controls, and infotainment systems, had a large building in the Central Plaza, to which they were only admitting customers. For those customers, the company demonstrated cloud-based connected technologies using the 4GLTE cellular system. Among these were techniques for updating vehicle software and minimizing service and warranty costs. Visteon has been exhibiting at CES for 16 years.
In its large press conference on "Press Day," and in its booth in Central Hall, Sharp showed its free-form displays, which feed both column- and row-driving signals in from the bottom edge of the display, so the rest of the display can be curved in various way to fit the design for an automobile's instrument cluster, or a designer's whim for other locations. Sharp has shown the concept at display oriented shows, including SID Display Week last year, but presenting it at CES implies that Sharp is ready to roll the innovative displays out in volume. Given the automotive design cycle, it's unlikely we will see these displays in cars for at least three years, but see it we will.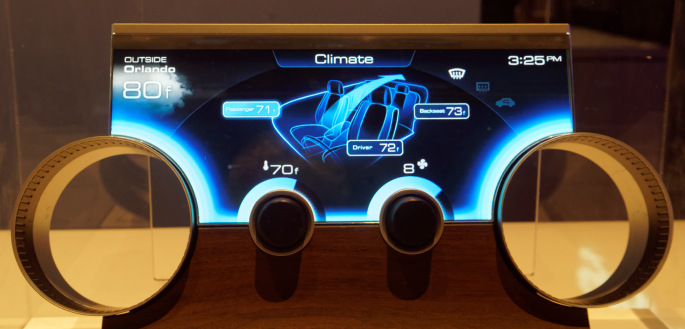 Sharp free form display shown in the main hall (Photo:Bob Raikes)
Ford stated explicitly that CES is very important to it, and the company wanted to be accepted as part of the CES community. A Ford executive suggested that Ford's sizeable presence at CES is likely to grow. Although other manufacturers may not have made that statement explicit, it was implied, and several traditional makers of consumer electronics, Panasonic among them, were emphasizing their automotive electronic products. The logic behind that is clear. As consumer electronics continues to be a difficult business with low margins and many competitors, automotive electronics is a rapidly growing market with significant opportunities for innovation.
Display Daily Comment
The major panel makers have all got auto makers in their sites as they seek higher value-add for their panels. Whether they will be able to fit their culture to that of the automotive world remains to be seen. In my past, I sold steel to truck makers and IT to car makers. They are very conservative and know their own minds. (BR)