There is something ironic about SID Display Week this year. The week-long conference about display technology will be viewed exclusively on displays. I have always though it strange that the lowest form of display (the poorly focused conference projector with color gamut ~50% of sRGB) is what we all stare at for hours on end at Display Week, but this year will be a new experience – watching on my computer monitor.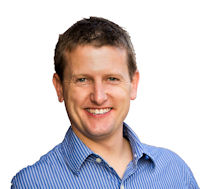 Perhaps you already figured it out, but this blog serves as my light-hearted preview of SID Display Week 2020 (virtual edition). So, don't take it too seriously and feel free to add to my lists below.

Photo: SID website
What I will miss
Diving into the weeds with fellow enthusiasts who can't help but nerd out when they see something really cool
Cocktails with old friends and new ones too – preferably the free ones provided at sponsored events!
Bumping into someone who recognizes your face from Display Daily blogs (thanks, loyal readers!)
Press room meals (I almost put this on the next list but truthfully, I do enjoy them)
Logging 20k steps/day from walking between sessions that are seemingly across the bay from each other
Watching looping content on side by side displays while competing with the person next to me to point out the differences
Photobombing someone every time I get up close to a display
Walking the show floor gawking at the amazing technology this industry has created!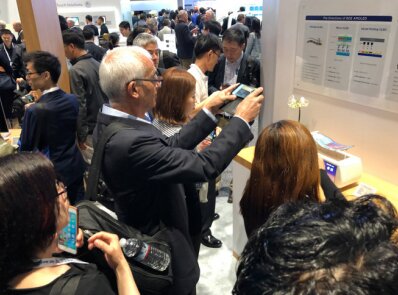 I like to play the game "how many people taking photos can I spot in one photo" (photo: SID website)
What I will not miss
Vendors pinning blinking LEDs on my nametag
Scanning and re-scanning to enter a conference room
Empty coffee and tea stations
Awkwardly trying to remember someone's name you met last year while also trying to cheat and look at their nametag (while it is, of course, turned backwards)
The chorus of imitation 1992 camera shutter "clicks" as presenters change slides, then again after an animation as the audience realizes there is more information to capture (seriously people, turn them to silent mode next year!)
Trying to slip through i-zone lanes bumping into shoulders because the tables are spaced just wide enough to fit 1.5 people
What I am looking forward to
Watching the entire conference in my pajamas
A whole day of EL-QLED and QD color conversion talks (Seriously, look at the schedule for Friday, it's packed with good content for a QD connoisseur)
The ability to multitask during a presentation without feeling bad about not paying full attention to the speaker
New technology from the i-zone
Experimenting with networking at a virtual conference – how do you think this will work?
It won't be the same without the in-person networking, but I am hopeful that this year's SID will be just as enlightening as years past. I'll be sure to update you on the most important trends and new technology that I "see" especially as it relates to quantum dot technology. All from the comfort of my pajamas.
What will you miss (or not miss) and what are you looking forward to at SID Display Week 2020? – PP
Peter Palomaki is the owner and chief scientist at Palomaki Consulting, a firm specializing in helping companies solve big problems at the nanoscale. His utilizes his expertise in quantum dots and materials chemistry to solve challenging problems with clients large and small.