Overview
ATSC 3.0, the next generation broadcast/broadband standard, made a big splash at NAB 2016. There was an ATSC pavilion showcasing equipment and features of the standard, seminars on all aspects of the details, lots of booths with supporting equipment and a keynote speech by FCC Chairman, Tom Wheeler.
Just prior to NAB, a group comprised of the NAB, America's Public Television Stations, the Consumer Technology Association and the AWARN Alliance submitted a 21-page petition asking the FCC to authorize use of the new ATSC 3.0 transmission standard — what the collective refers to as "Next Generation TV". The new standard is designed to improve delivery of 4K broadcasting, streaming to smartphones and tablets, add personalization features and IP-based services. ATSC 3.0 "will create the bedrock for continuing innovation by the television industry for decades to come," claims the petition.
The petitioners recommend "the FCC should authorize the standard's use on a voluntary basis, claiming that it will require few rules changes and will not disrupt the current broadcasting service."
Chairman Wheeler said in his speech that it is time to move the standard to the public notice phase by the end of the month. That drew large applause from the audience. Trial broadcasts are likely to begin soon too. Nevertheless, it is likely going to be a year or two for real services to begin in earnest, with broadband leading the way and over-the-air following.
ATSC 3.0 Details
As shown in the diagram, ATSC 3.0 is based on Internet Protocol (IP) and has a similar layer structure. Content can be broadcast in the same 6 MHz channels, but using OFDM modulation, which is more robust in urban environments, instead of VSB as in ASTC 1.0. Content can also be delivered via conventional Ethernet networks. Broadcasters can even use both simultaneously if they want.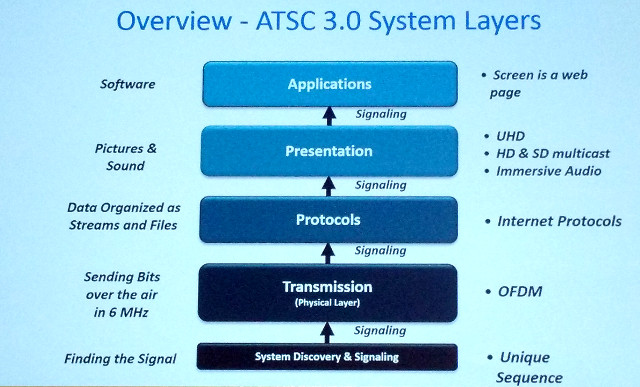 ATSC 3.0 supports the distribution of SD, HD and UHD content. It supports HDR, hgh frame rates and wide color gamut in UHD along with unicast and multicast options. There is also support for immersive and personalized audio (AC-4 for the US and MPEG-H for Europe and Korea). Broadcasters can mix data rates and services in any way the see fit to best provide services. The clear design feature here is flexibility and scalability with the capability to adopt new technologies without changing the framework. The detailed architecture is shown below.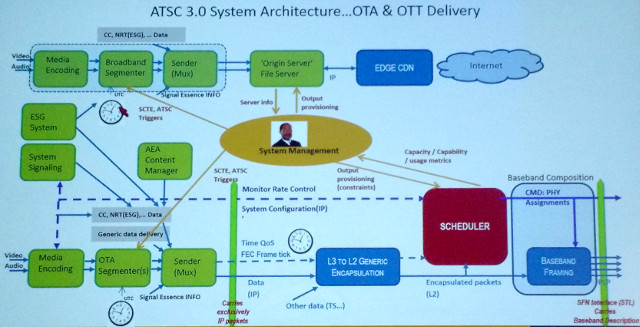 ATSC Pavilion
At the upper entrance to the South Hall was a pavilion dedicated to showcasing ASC 3.0 applications. One of these was a live video feed from a 4K camera located in the back of the South Hall. The camera signal was encoded in HEVC, sent to a local TV station, which then transferred the signal to a local broadcast tower. An antenna in the south hall received the signal, passing it to a 4K TV in the pavilion for all to see. It was working well and delivering nice crisp images.
There were also two different demos of personalized audio. While not quite finalized, it is anticipated that Dolby's AC-4 approach and Fraunhofer's MPEG-H approach will both be approved in ATSC 3.0 balloting. But it is not recommended that broadcasters mix and match, rather, one should be chosen for a region. Europe and Korea are going to use MPEG-H while the US will go with AC-4.
Key elements to both are the ability to switch language track or closed caption languages and to adjust the relative volume of various features. This means you can turn the crowd noise up or down from a sporting event, or increase the dialog on a movie. This is not simply adjusting the volume of a track as these features can run across multiple conventional audio tracks. Both standards support audio objects as well.
LG showed a set top box that included an integrated antenna that can then rebroadcast the content as Wi-Fi for devices that do not have a 3.0 tuner. The ATSC 3.0 wireless network antenna is based on an LG-developed uni-directional antenna array with unique electronic steering logic designed to optimize indoor reception. LG is integrating a chip-based ATSC 3.0 tuner-demodulator, about the size of a key on a keyboard, with the antenna. It can be placed virtually anywhere in the home – in the attic, in a window, in a closet – wherever reception is best.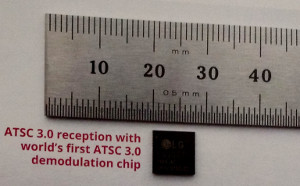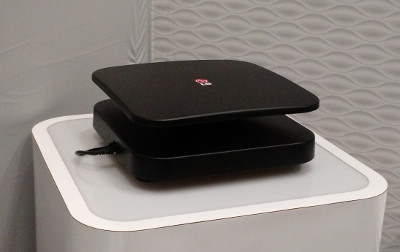 The steerable network antenna is coupled with a network interface to communicate with the in-home WiFi router to allow connected devices to blend ATSC 3.0 signals and services with over-the-top Internet-delivered content. The Wireless Network Antenna also is designed to receive current "ATSC 1.0" DTV transmissions and similarly route them to an array of consumer devices.
LG also teamed up with the Sinclair Broadcast Group to show off the features of the new emergency alert system. This goes well beyond the simple text message of the current system that supports amber alerts, for example. The new system, called AWARN, can send video, text, maps and graphics and can be very geo-targeted to only wake up devices in the target zone. This will be very helpful for earthquakes, tornadoes, shootings and other emergencies. The NAB demo provided an opportunity to use the system for a first public demo.
Broadcaster, Pearl TV, was working with Samsung to show how ads can be inserted into a program rack based on the location of the receiver or demographics of the viewer in an automated fashion.
"The same TV program may be offered with different advertisements delivered to different viewers. Distinct advertisements could be delivered over-the-air and stored in a receiving device, or the Internet could be used to serve up a specific advertisement," explained Anne Schelle, Managing Director of the Pearl TV, a partnership of nine broadcast station groups that together represent more than 200 local broadcasters. "A household with young parents might see different advertisements than those offered to older viewers, thanks to the two-way capability of the new TV standard to seamlessly connect over-the-air and broadband sources."
Samsung also demonstrated the "TV Overnight" function where shows can be downloaded overnight and stored locally, giving viewers an enormous amount of content immediately available on their television. No more DVR.
ATSC 3.0 in the Futures Park
The schematic for the live demo from the Futures Park in the back of the South Hall to the front is shown in the schematic below.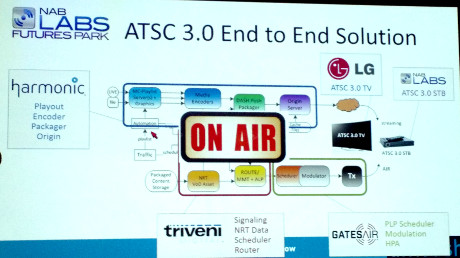 More than 15 organizations are exhibiting various broadcast equipment components designed for ATSC 3.0 in the Broadcast Pavilion:
A prototype ATSC 3.0 receiver and gateway was shown in the PILOT booth at the Futures Park exhibition. The home gateway combines an over-the-air (OTA) TV tuner with Internet access, Wi-Fi connectivity and a software environment that enables new types of user engagement. The demonstration featured interactive multi-view programming provided by Fox Sports, local interactive news and weather programming, on-demand content and a PILOT channel featuring the NHL's Washington Capitals that showcases zoned and targeted advertising as well as advanced emergency alerting capabilities.
Avateq showed an RF Layer Monitoring Receiver and Signal Analyzer, which allows an operator to monitor remote transmitting sites through a web interface;
CRC, ETRI, NERC-DTV, and University of Basque Country are collaborating to demonstrate a Layered Division Multiplex system that can be used to achieve seamless local coverage/service, such as location targeted advertisement or local content insertion;
Enensys is featuring its ATSC 3.0 Scheduler and ROUTE (Real-Time Object Delivery over Unidirectional Transport protocol) Server, designed to be the last point of the TV station before the transmitter;
Fraunhofer will present a workflow system to show how broadcast stations can produce immersive and interactive sound with the new audio system currently proposed for ATSC 3.0 and developed for over-the-top streaming services;
Junger Audio is showcasing Multichannel Monitoring and Authoring Unit;
LG Electronics, Harmonic, Triveni Digital and GatesAir have joined forces to produce the content that will be streamed from servers and transmitted via the Candidate Standard version of the ATSC 3.0 Physical Layer;
Linear Acoustic plans to demonstrate how the Dolby AC-4 system can enable direct and/or hybrid delivery of additional essence or content related (meta) data from a variety of sources upstream;
Verance is showing the first end-to-end implementation of the newly published ATSC 3.0 Candidate Standards for Audio Watermark Emissions (A/334) and Content Recovery over Redistribution Networks (A/336);
Unisoft is planning a demonstration of ATSC 3.0 delivery for interactive TV applications.
Survey Results
The new capabilities of enhanced video and improved audio, along with interactive and enhanced emergency services, are driving strong interest in next generation broadcast TV, according to a survey of more than 500 Smart TV owners in the US.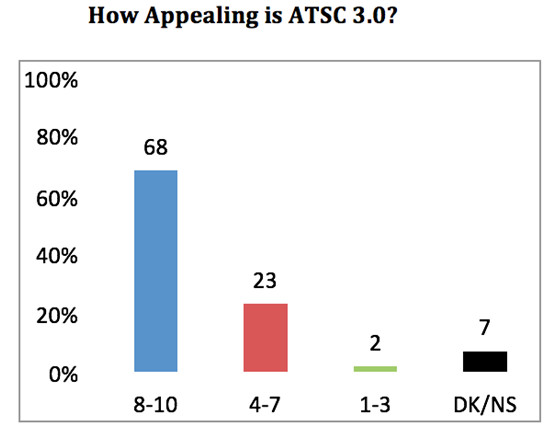 Key findings:
Consumers overwhelming see Next Generation Television as a way to improve their viewing experience, with 68% rating the new capabilities of the ATSC 3.0 standard as very appealing.
60% of respondents to the new study don't already own a 4K Ultra HDTV but said they are interested in purchasing one.
More than half of those surveyed said they would be looking for a product that offered High Dynamic Range to enhance viewing.
More than two-thirds of those surveyed like the idea of enhanced emergency alerts on all devices when it matters most, including with the approach of severe weather. And they appreciate the fact that broadcast services will likely work even when cell reception and traditional cable service would be down and out of service.
Two-thirds of those surveyed said they are looking forward to immersive audio that raises audio reproduction to a new level. The capability to personalize content also ranked high with survey respondents.
Two-thirds also found the ability customize the viewing experience and the range of interactive features of the new standard very appealing.
"Our survey audience is comprised of connected consumers of information and entertainment, explained Robert Crawford, senior VP at Frank N. Magid Associates who conducted the survey. "Virtually all of them own a cell phone and laptop, and nearly three-fourths also have a tablet. But only one out of four own a 4K Ultra HDTV today, so we wanted to find out more about how they'd react to the new features and new capabilities promised by ATSC 3.0."
ATSC 3.0 and HDR
ATSC defines a number of classes of UHD TVs as shown in the graphic below. The MPEG 5.1 level in the chart is the one most commonly used today, but there are profiles that can support 120 fps content with FHD resolution (5.0) or UHD resolution (5.2). HDR support begins with class 3 devices.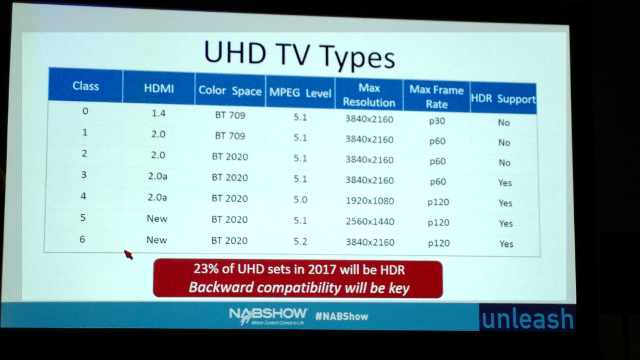 ATSC 3.0 also includes support for the four main flavors of High Dynamic Range (HDR) as shown in the chart below. Note that HDR can be delivered in many formats (TS, DASH or MMT) over the air or via broadband networks.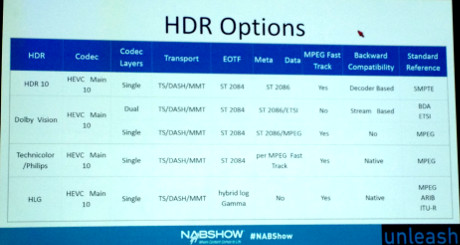 HDR10 is not backwards compatible, which means it works on class 3 TVs, but needs to be converted to work on class 1 or 2 devices. Dolby Vision dual layer is in use today for over the top services from Vudu, Netflix, Amazon and M-Go. Since it is dual layer, the main stream is compatible with class 1 and 2 devices for SDR display, while the enhancement layer can be used to create an HDR image on class 3 TVs. The Dolby Vision single stream approach is also backwards compatible and less complex to deploy, although with reduced image fidelity. The Technicolor/Philips and Hybrid Log Gamma (HLG) approaches support SDR class 1 and 2 sets and HDR on class 3 TVs.
High Frame Rate (HFR) is being discussed vigorously in ATSC 3.0, but most believe roll outs won't occur before 2019-2020.
In summary, ATSC 3.0 is nearly ready for deployment. The FCC will now seriously consider adoption while trails will begin shortly. It is a very well thought out solution that should accommodate change very well over the next couple of decades. – CC