The Intel 8th Gen consumer launch saw Asus busy with new RoG and TUF notebooks and desktops.
The Republic of Gamers notebook is the RoG Zephyrus M (G501) which uses Nvidia GeForece GTX1070 graphics and is claimed to be the first gaming notebook to have a 144Hz refresh on an IPS LCD. It is claimed to have a 3ms GtG response.
The Huracan (G21) is a desktop with a GeForce GTX1080 card.
The ROG Zephyrus (GX501GI) is claimed to be the thinnest notebook with the 8th Gen Core i7 processor and GTX 1080 (Max Q) graphics. It has a 15.6″ display with the same 144Hz IPS panel as the Zephyrus M and with 100% sRGB gamut as well as G-Sync.
The RoG G703 uses a factory- overclocked 8th Gen Intel Core i9 processor and NVIDIA GeForce GTX 1080 graphics and upgrades the display to a 17.3″ FullHD version that continues the 144Hz/IPS theme. It has G-Sync and an anti-glare coating.
The RoG Strix Hero Edition is intended for Multiplayer Online Battle Arena (MOBA) games like League of Legends and Dota 2, as well as RTS and RPG titles. It use an 8th Gen Core i7 and GeForce 1050 graphics with a 120Hz 15.6″ FullHD display with wide viewing angle (unidentified) and 130% sRGB gamut. Ports include USB Type-C and MiniDP as well as HDMI 1.4.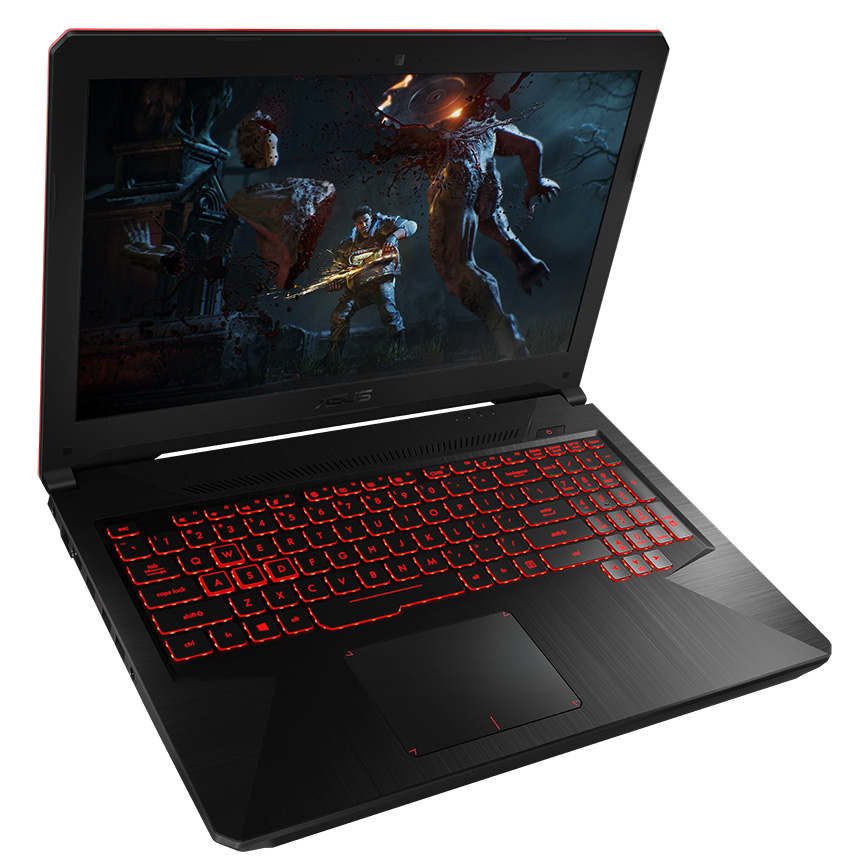 The Asus FX504 has a 120Hz display with WCG.
The TUF Gaming FX504 also has the same 120Hz 15.6″ FullHD display. It has the 8th Gen Core i7 processor and graphics up to GTX 1050Ti and weight of 2.3kg. The keyboard is designed for very heavy usage. There is a 1TB hybrid disk.