Recently, I got an email, as I'm registered to attend the upcoming Mobile World Congress in Barcelona, to advise me that an app has been developed that can reduce the level of blue light seen from a mobile handset. It made me realise that I really haven't talked about this issue in Display Daily.

Over recent years, we have been seeing an increasing groundswell of activity that is around two concerns over the effects of blue light on display users.
In the past, most light sources, from general lighting, or from computer or TV displays, was produced by incandescent (filament) lighting or by CRTs or phosphor-based CCFLs and which did not have a particularly high level of blue light emissions. However, in recent years, the light source has increasingly been LED technology, whether in general lighting, or in flat panel backlights and a number of concerns have been raised about this.
The first, and probably the less controversial, is the effect of blue light on wakefulness and sleep cycles. It seems that there is general agreement that exposure to any light has an effect on the circadian rhythms that can have an impact on our sleep patterns, by influencing the level of melatonin production. Melatonin is a human hormone that influences our sleep patterns and is responsible for the disruption to sleep caused by jet lag and other time shifts. Look here for more.
When we spend hours, late at night, looking at bright lights with a high level of blue, it seems to keep us more alert and less able to easily get to sleep. In the latest version of its iOS operating system for mobiles and tablets, Apple has introduced a feature it calls "Night shift". This feature automatically changes the level of blue light in the mix is reduced, causing the display to take a warmer hue and Apple says that it " may even help you get a good night's sleep."
There is also an app for Android devices called Twilight that does much the same and f.Lux and Redshift do the same kind of thing for Windows and Linux, respectively.
Is There Danger in Blue Light?
More contentious is the idea that the blue light from LEDs and computer or mobile displays or TVs can damage your eyes.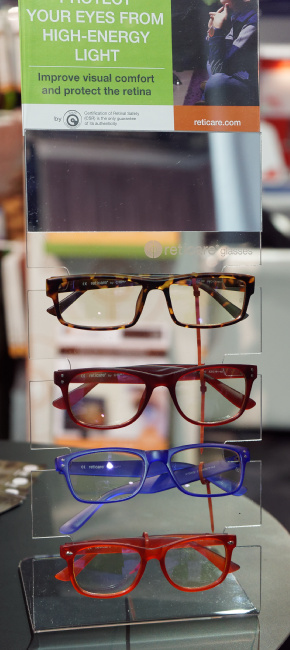 Reticare is a Spanish company that we first met a couple of years ago at CES that has been exploiting some research from the prestigious Complutense University of Madrid. The company has been at the CES show in Las Vegas for several years and in January 2016 was showing a range of spectacles and glass-based filters to stick onto mobile devices that reduce the level of blue light emitted and are claimed to reduce the "damaging effects" of the exposure.
Now, I'm not a biologist and don't consider myself qualified to judge the science behind this research (although there are sites on-line in Spanish that do call into question the value of it.) Clearly, some buy into the argument, as Tech Data, the broadline distributor, announced an exclusive agreement to sell the firm's products in North America and Mexico in January 2015. and the firm has received additional VC funding of $3.25 million for just over 10% of the company in July 2015.
A check of the website of the "Review of Optometry" in the US suggests that there may be something behind the claims although I have also spoken to people who believe that the human eye is capable of coping with high levels of blue light from normal outdoor existence.
Since Philips introduced its SoftBlue technology for desktop monitors at IFA in 2014, a number of companies have shown monitor products that are said to have a low blue light mode. The Philips technology is claimed to be unique in that it uses, as I understand it, a "notch" filter that eliminates some of the blue light, without affecting, significantly, the overall colour balance of the monitor.
Slightly surprisingly, Philips says on its website that "Studies have shown that just as ultra-violet rays can cause eye damage, blue light rays from LED displays can cause eye damage and affect vision over time". That would seem to us to open the way to some kind of claim from users of current and previous products that didn't have the protection, so is slightly strange to see in a published form.
Philips says that its monitors are tested by TÜV Rheinland and that organisation has a "Low Blue Light" certification available that also says that exposure to blue light is believed to cause macular degeneration. Asus says that LED backlights can cause myopia as well and that children are particularly at risk. BenQ claims that "These electronics are emitting dangerous blue light, which is negatively impacting not only your vision but also your overall health. And it's a major concern for eye doctors across the country."
It seems to me that if there is a genuine issue of potential damage, it ought to be taken into account by those that are developing the next generation of HDR displays. After all, a typical desktop monitor has a maximum brightness of 250 -350 cd/m², while, for example, the minimum specification for an UltraHD Alliance Premium display based on LCD technology is around 1,000 cd/m².
The question might also be asked about the effects of this blue light on those that are asked to grade and edit HDR content for long periods. After all, previously editing and grading has been done at 100 cd//m².
I would welcome any feedback or comments on this topic. Bob Raikes.