Cinoptics is a Dutch company (it was on the Netherland booth) and is a development from Cybermind, which developed virtual reality for more than twenty years. "Back to the days of Virtuality", I said and the company explained that Cybermind came from Virtuality – it's a small world!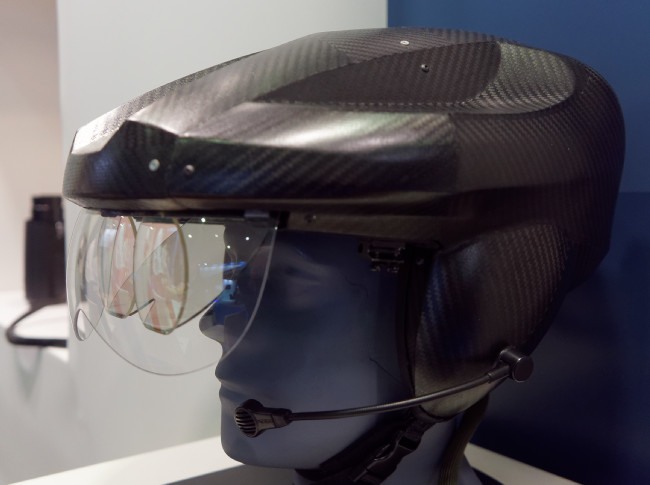 The firm develops a range of monocular and binocular headsets for professional near to eye AR & VR applications. The company uses a range of different displays, but mainly Sony OLEDs ('the quality is perfect', we heard) and Kopin. The company told us that it has some expertise in coatings that help improve performance. The range of applications that Cinoptics supports includes the necessity of operating in a wide range of conditions including operation in conditions of darkness.
Cinoptics has a monocular display. The right hand image includes the PC software that the company has that allows video and data sharing with other headset wearers or base controllers. Image:Meko. Click for higher resolution
An application developed for Dutch police allows information and instructions to be sent to the viewer from a central control or shared between operators. The image is seen in FullHD, so there is room for quite a lot of text and data. The company is very positive about the advantages of the USB Type-C connector and is now using it, along with the DisplayPort Alt mode and power delivery over USB. The availability of power is convenient, although the systems do not use more than 2.5W.