According IDC, global AR/VR headset shipments experienced a sharp decline of 44.6% YoY in the second quarter of 2023. This marks the fourth consecutive quarter witnessing a slump in this sector.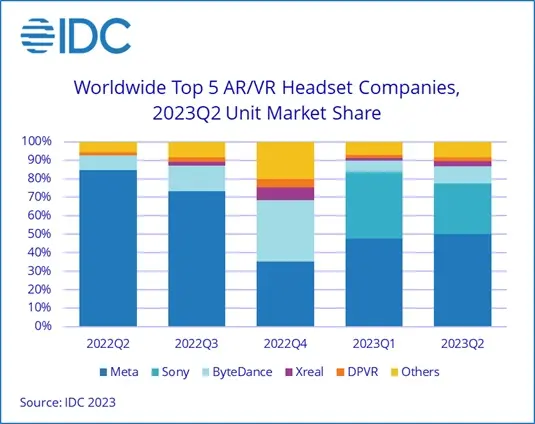 Several factors have contributed to this downturn, including global economic challenges, an unexpected price surge of the widely-used Quest 2 headset, and outdated hardware offerings from various vendors. This year's shipment volumes are anticipated to be marginally better than those of 2017, with an expected total of 8.5 million headsets.
However, not all has been bleak in the AR/VR arena. Standalone headsets have seen a compound annual growth rate (CAGR) of 57.5% over recent years, whereas screenless devices like Samsung's Gear VR have nearly vanished from the marketplace.
Meta and Qualcomm have significantly evolved the AR/VR market, shifting the trend from phone-dependent VR to independent headsets. This shift has catalyzed the rise of VR gaming and several corporate applications. The landscape has also welcomed new entrants like Sony, MediaTek, and Apple.
For the quarter, Meta sustained its market supremacy with a commanding 50.2% share. Nevertheless, competitors like Sony (27.1% market share) and ByteDance (9.6% share) have made advances, too. Xreal (previously Nreal) and DPVR, both secured just above 2% market share, completing the top five in the sector.
While 2023 forecasts predict another dip in AR/VR headset shipments, IDC anticipates 46.8% growth in 2024. This optimistic projection is fueled by novel hardware introductions from Meta and ByteDance, Apple's impending Vision Pro launch, and the increasing influence of smaller industry players. By 2027, global shipments are projected to grow to 30.3 million units.