AR and especially VR were very popular at CES Asia. There were so many demos it became a bit mind numbing after awhile. Booth after booth had lines of people waiting to try on the VR headsets. These companies were doing the demos to showcase some aspect of their part of the VR ecosystem – from content provide to component suppliers to headset vendors and more. Below is a quick synopsis of most of the activities.
Beijing Leiha Technologies was showing two versions of their VR headsets. One version featured the optics and packaging and was designed to use the consumer's smartphone as the display device. This is for sale for 500 RMB (~$85). The second version integrates all the components including two 2.6" LCD displays that offer 1280×720 resolution per eye. This one sells for 2500 RMB (~$400). Image quality was quite good as was the 3D separation.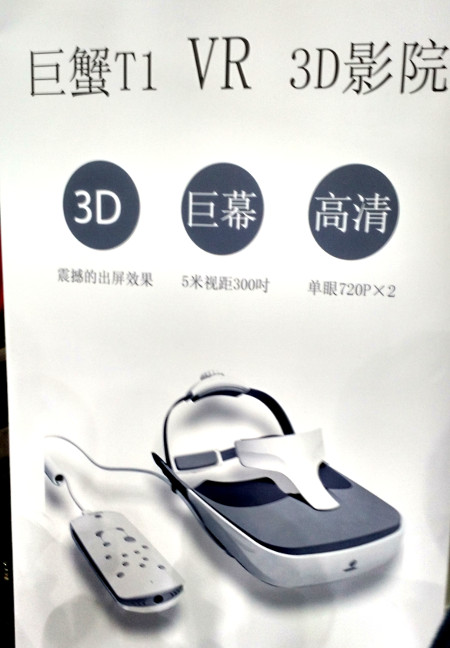 Multicoreware Inc. showed a series of 360-degree cameras based upon a single 4K sensor and either a fisheye lens or conical reflector design. This means there is only one sensor so no stitching required, but it does mean the 4K pixels must cover a bigger volume so pixel density will suffer. Plus, these are small sensor so their light sensitivity is probably quite low.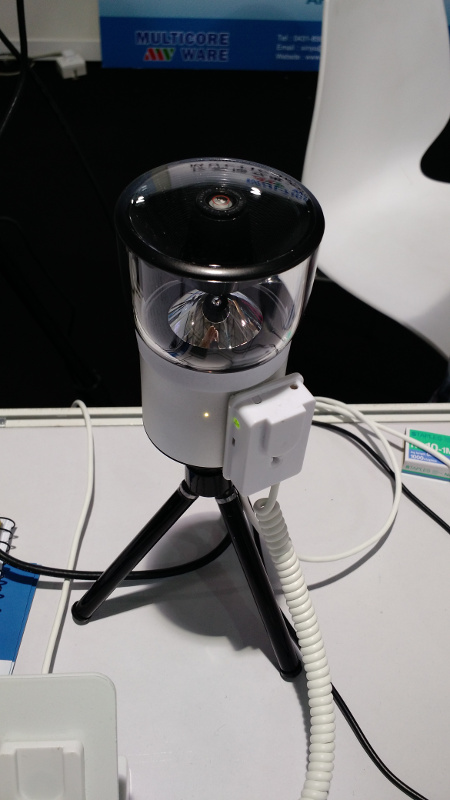 LCOS provider Syndiant was at CES Asia to show off some AR designs and pico projector modules. These have been developed to help showcase their panels, which is what they really want to sell customers.
On display was a prototype binocular AR headset with a waveguide design. Using a microdisplay for a VR headset is much more difficult because of the wide field of view and high magnification needed for a tiny microdisplay.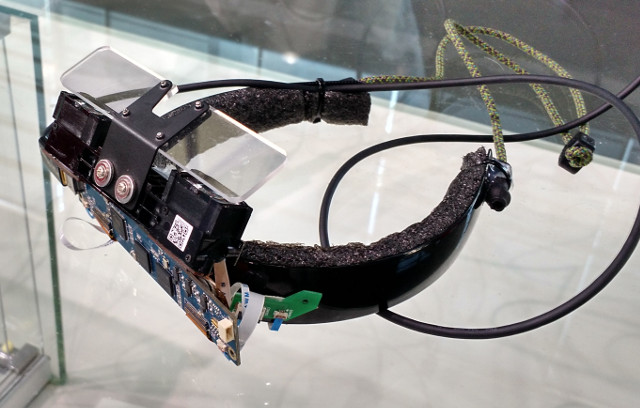 JorJin was advertising itself as a module solution provider. This meant it provides the PCB board that powers a number of AR/VR headsets. Advertised design wins include the Hitachi AR monocular headset, Epson and Vuzix.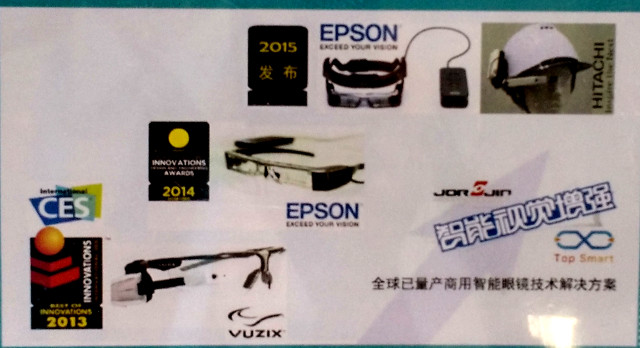 Intel had a busy booth where it was highlighting applications for its Curie chip, RealSense technology and it 6th generation (Core i7) computing platform that has been optimized for VR.
Intel's Curie chip can capture motion and it was shown integrated into a smart shoe from Lenovo, for example. This allows capture of steps and other parameters for monitoring of activity. It was also outfitted in a BMX bike so that the movements of professional athletes can be accurately analyzed (and was reported in detail after the Intel keynote at CES Intel Keynote Highlights Curie). This is already happening in event broadcast on ESPN. They had a women with Curie chips on her arms creating music by her movements and a mock firefighter outfitted with the chips so that he could use hand gestures to communicate if needed. The firefighter demo was done in cooperation with Honeywell and integrated a number of other sensors like blood sensors, oxygen tank pressure, gas sensors and even posture sensors – all integrated in a belt-worn device that uploads the data for remote monitoring.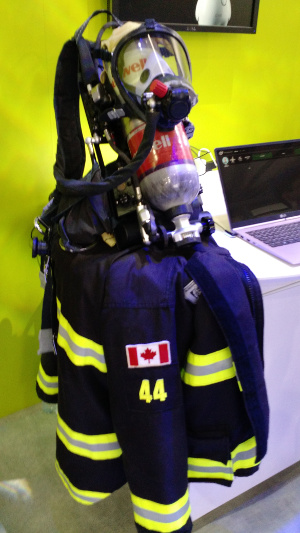 The Intel RealSense technology was being showcased for use with drones where it was used to detect objects in the flight path and avoid them should the operator not take action.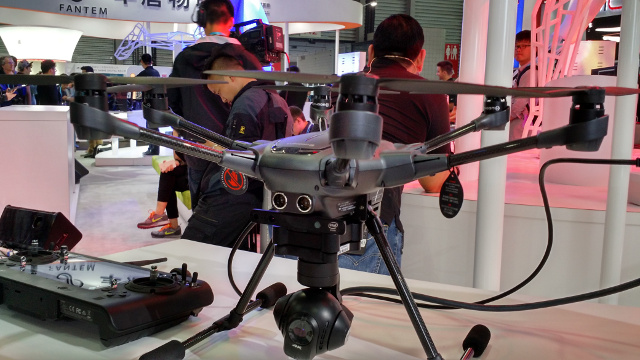 The obligatory VR demo was being done with HTC headsets driven with a PC with the corei7 CPU/GPU.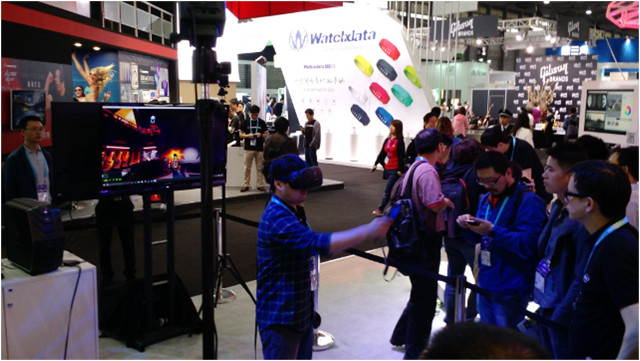 Hisense focused on VR with a setup featuring three of its curved TVs as the public playback device. It also showed an interesting application with its short throw LaserCast TV display coupled to a camera and processing system. In the demo, a camera would take a photo of participants then insert a girl into the shot that was displayed on the TV. Finally, the company showed a side-by-side comparison of a curved OLED TV (probably LG) vs. its ULED LCD TV. Content was a live video feed from a fish tank. The result was nearly identical color performance, which had a limited range of colors, however.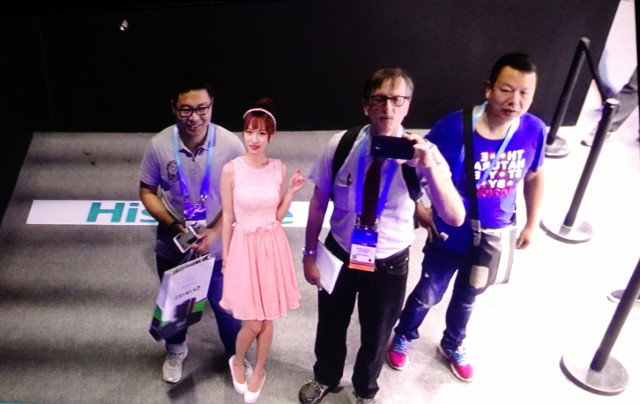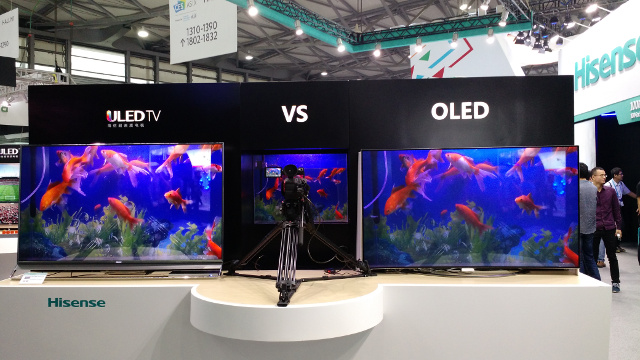 DloDlo was focusing on its V1 product, which it plans to officially launch in August with a New York press conference debut. They showed a non-working model which is a sunglasses style VR eyewear design that will weigh in at a light 78 grams, 16 mm thick and will offer a 100 degree FOV. No other details were available. What they were demonstrating however, was their H1 and H3 headsets, which are traditional VR type eyewear.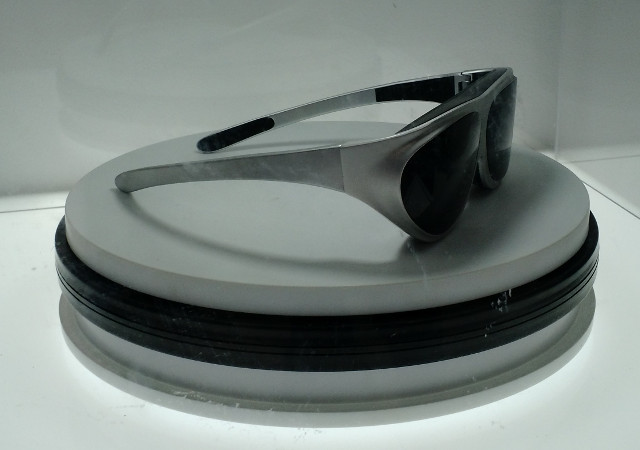 Journey Technology is working on AR glasses. They were showing a binocular, waveguide-based prototype headset that uses LCOS panels for the imager and a "special lens" in the waveguide for image extraction. The language barrier prevented us from getting a deeper understanding of what they are doing, however.
Our understanding is that they want to make each display 720 resolution with a thickness of 1.7mm, 30 degree FOV and 90% transmission for the waveguide.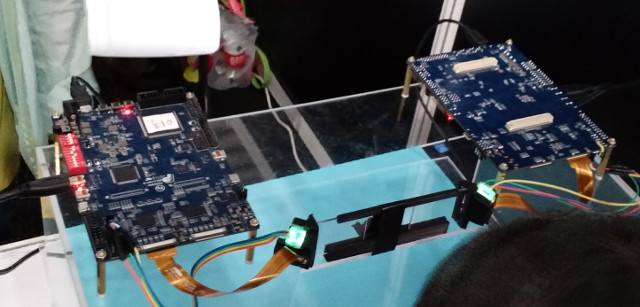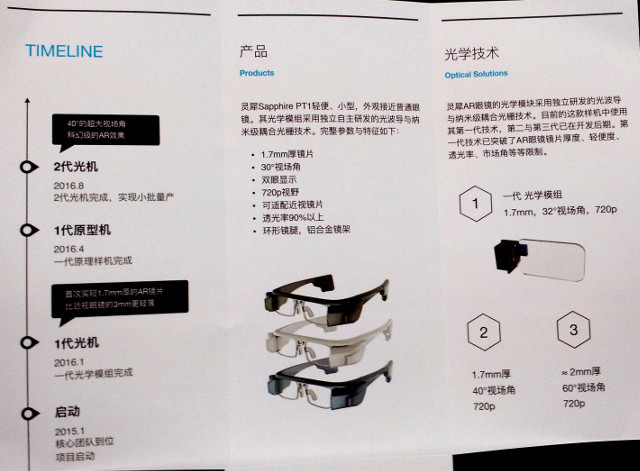 LeTV, now called LeEco, was showing a number of products among them a VR solution, which they call LeVR. This appears to be a part of their content and display platform ecosystem.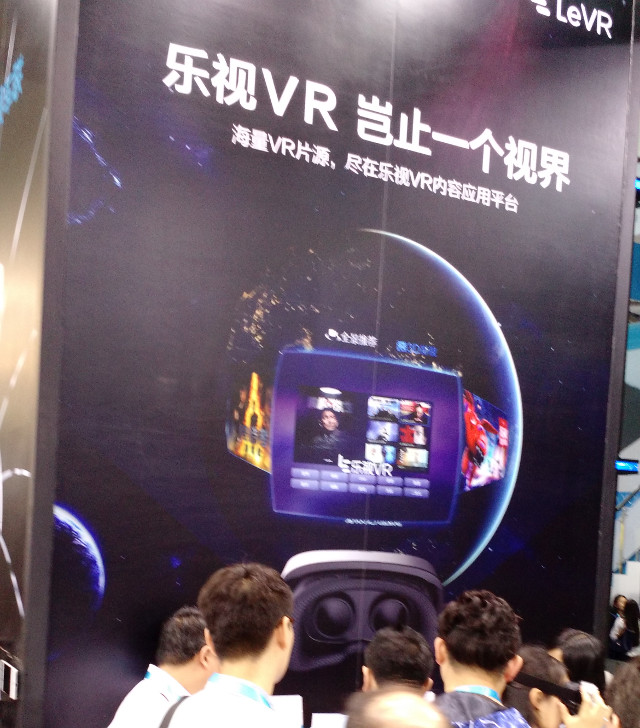 AltoTech was showing a line of sunglasses with a single monocular display attached to the rim. These also included cameras so seemed very Goggle Glass like.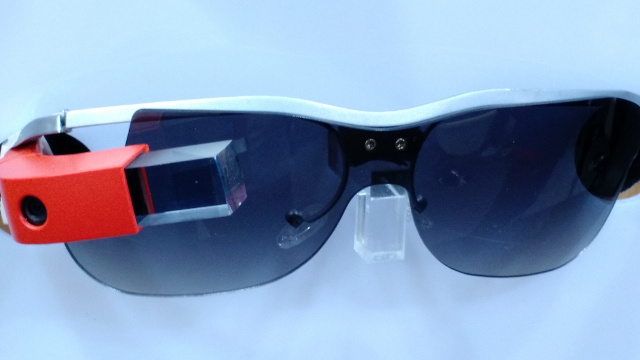 VRGate was showing two immersive VR headsets. One is designed for use with a PC and is a tethered solution that uses a 6" flat panel with 2560×1440 resolution and optics to create a 110-degree field of view. There is a 9-axis sensor built in and latency is said to be under 20 ms. The Mobile edition accommodates a smartphone with a 4.7-6" display.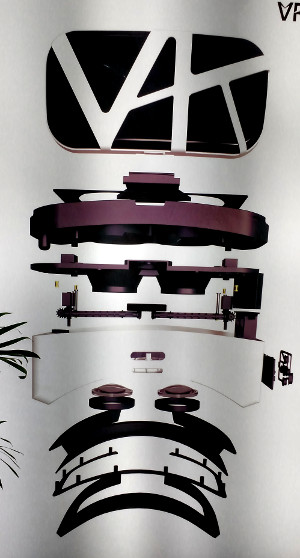 ASTRI was showing its see-thru AR optical module. This can use a 0.29" WVGA panel or a 0.37" 720p LCOS panel. Details are shown in the table below.