Apple streamed its event from Cupertino on Thursday, and in high video quality, so we logged on to get the news.
Tim Cook, CEO of Apple, started by showing a video of an Apple PC being used by a disabled video editor and he announced that the company is starting a new accessibility website.
Cook said that the iPhone 7 is proving very popular, with, he said, a strong positive reaction from users especially over the photography. He highlighted a new 'memories' feature on its phones (although it looks suspiciously like the Facebook app that pulls random images from your past photo stream to us!).
The iPhone 7 uses iOS 10, the latest mobile operating system from Apple and again Cook said that customers are happy. 60% of Apple users have switched to iOS 10 already, Cook said and he contrasted that with the small number of Android users that have so far downloaded and installed the latest version. There's an upgrade to version 10.1 that has a new portrait photography mode and he showed some examples – they were good. In Japan, Apple Pay can now be used with an iPhone or Apple Watch and there is a new transit mode for Japan in the maps application. Cook showed the Apple Nike+ watch, launched a couple of days ago. (Apple Watch Nike+ Arrives Soon – MDM)
The Future of TV is Apps
Cook said Apple wants the experience of Apple TV to be as good as Apple's other devices. He believes that the future of TV is 'apps' and since launching the App store for Apple TV a year ago, 8000 apps have been added with 2,000 of those being games. Before the end of the year, Minecraft, the popular game, will be on Apple TV. There are 1,600 apps from video content suppliers, he said.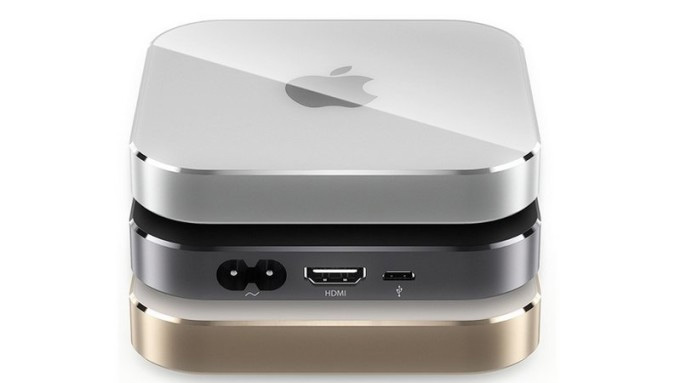 Cook believes that there is a new range of apps arriving that make TV more interactive and more social. He showed a demonstration of a Twitter stream alongside a sports event. Tweets can be sent from the Apple TV to a Twitter app on an iPhone, allowing responses. Twitter is working hard to add more video to Twitter on Apple TV.
Apple wants to make Apple TV a unified TV experience, Cook said, so Apple has a new app called 'TV' which integrates video from the apps on the Apple TV. There is a recommendation engine that is curated and also reflects what users already watch. All iTunes purchases and the store are also available and the app exploits Apple's single login technology.
The TV app also works on iPads and iPhones and also exploits Apple's Siri to help find even live content. It will be available in the US for free by the end of December.
"There is no reason to watch anywhere else", Cook said. (see our comments later)
The MacBook Pro Gets its Update
Cook then turned to the Mac and said that it has had a profound impact on education and design and remains important in the culture of Apple. Earlier this year, Apple updated to the latest version of the Mac OS (Sierra) and he went through the features.
The launch event took place on the 25th anniversary of the launch of the first Mac Powerbook notebook, the first notebook with an AMLCD, Cook claimed (although it was monochrome and less than 10″) and he went through a number of other firsts from Apple in notebooks.
It was no surprise, after all the rumours, that the new MacBook Pro he then showed includes a new feature of a thin display, replacing the function keys, above the main keyboard.
Phil Schiller, Senior VP of Worldwide Marketing of Apple then came on to talk about the new design, the case of which is made externally in aluminium. There are 13″ and 15″ sizes in silver and grey finishes and is the thinnest MacBook Pro ever.
Looking at the 13″ version, the thickness is 17% down at 14.9mm with 23% less volume than the last model and weighing 3lb (down 0.5 lb on the last one). The 15″ goes down from 18mm to 15.5mm, a reduction of 14% and has 20% less volume, although it still weighs 4lbs.
There's a new force touch trackpad which is much bigger (twice the area) and a new second generation butterfly mechanism from smaller machines as the main keyboard. Where the function keys used to be there is a multitouch display. Schiller said that the function key is a 45 year old technology that was introduced on the IBM 3270 terminal. (early PCs were often used to emulate these terminals – Man. Ed.)
The new display is a 'retina' display (although no respolution is called the TouchBar and can replace the standard system functions such as volume and brightness. It can be programmed by applications and Schiller showed how it could be used to adjust an image. There is an auto suggest function for type ahead, for example. The MacBook Pros also have touch id fingerprint recognition on the Mac for the first time. It's by the power button and is protected by sapphire crystal and it connects to an Apple T1 Chip for security, so you can pay with a fingerprint.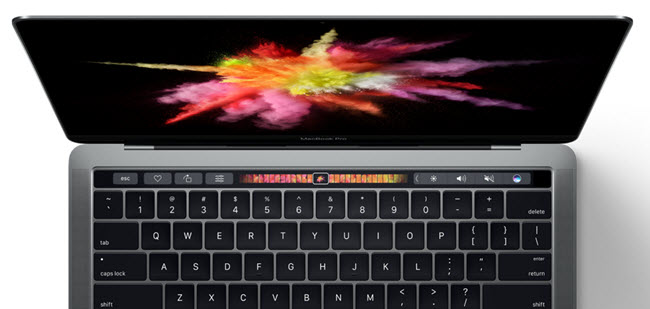 MacBookPro – Click for higher resolution
Craig Frederighi then came on to demonstrate how the touch bar can be used in different apps. The bar supports swipe, pinch, zoom and up to 10 touches and can be used at the same time as the touch pad. He also showed how the control strip can be customised by dragging down icons onto the touch bar.
We then switched back to Schiller who showed more demos.
The display on the new machines are 67% brighter and with 67% more contrast and 25% more colour – and they use less power (but there was no mention of resolution). Checking the Apple website, the 13,3″ has 2560 x 1600 resolution (227 ppi) with 500 cd/m² and P3 gamut. The 15″ is 2880 x 1800 resolution (220 ppi) and with the same colour and brightness specs as the 13″.
In terms of processing, the 15″ uses an Intel Core i7 (sixth gen) using 2133MHz memory. Graphics are from AMD with a Radeon Pro using 14nm technology and up to 4GB (there are several graphics options based on AMD and Intel). The graphics are said to be 2.3X faster. Storage speed goes up to 3.1GB/s with up to 2TB in flash (although base configurations are just 256GB). Schiller said that there are new dual fans – the new model runs cooler and quieter. The speakers are smaller, but louder. Apple claims it is 60% faster in gaming, with video editing 57% faster.
The 13″ can have core i5/i7 processers with Intel Iris Graphics and a range of SSDs. It's 103% faster for graphics and is also faster in games and video.
Lots of USB and Lots of Thunderbolt 3 – and Monitors
Both of the MacBook Pros have four Thunderbolt 3 ports, each of which has DisplayPort 1.2. The connectors are all USB Type C – any port can be used for charging. Each port can do 'anything' and Schiller showed how Dual 5K displays can work off the 15″ (with dual 4K on the 13″ it seems) at the same time as dual high capacity external disk arrays.
To support the new PCs, Apple has done a deal with LG which has a new 5K 'UltraFine' display to go with the Apple PCs. The monitor is a 27″ 5120 x 2880 resolution device that, like the MacBooks, has 500 cd/m² of output and P3 gamut. It has a camera, mics and three USB Type C connectors and the monitor can use a single cable to a Mac to charge it (with up to 85W). Thunderbolt can be used on external arrays. The monitor can be bought on Apple's website at $1,299.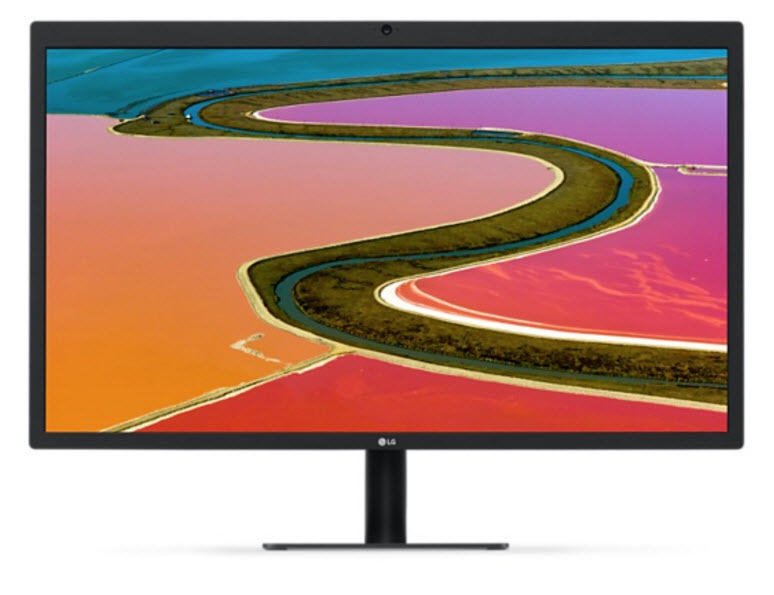 LG's Extrafine 27 inch Monitor
There is also a matching 21.5″ 4096 x 2304 resolution version is also listed at $699 on the Apple website, although it wasn't mentioned at the event.
The rest of the event was of demos in video editing, video and music using the TouchBar, which will be supported by Microsoft in all Office Apps. Apps such as photo editing and video editing may well benefit from using the bar, especially when they are used in two handed operations.
Cook said that the new Mac Book is 6.8 million times faster than the first one. A computing process that took a year on the first one would take just 5 secs on Mac Pro.
Oh, and one with Function Keys
Cook then went on to say that Apple also wanted to develop a product that was not for professionals, more like the MacBook Air. Therefore it has made a 13″ model with traditional function keys and just two TB ports. Compared to the Air, the thickness has gone down from 17mm to 14.9mm and the new model has 13% less volume and the same weight. The pro is smaller, partly because of smaller bezels, it seemed to us. This lower version has Intel Iris graphics.
Cook finished by saying there are many configurations and pricing starts at $1,499 (13″ Function keys), $1,799 (13″ TouchBar) and $2,399 for the 15″. The TouchBar option versions will be available in 2-3 weeks.
Analyst Comment
The new touchBar is a cool feature and we think it is probably based on OLED technology, although Apple didn't say so. An OLED would be thinner and space must be at a premium. With much of the bar dark most of the time, power consumption would also be better. The bar looks quite thin and I'm not entirely sure about the positioning, just below the screen, for two handed operation over extended periods. I would have thought that a TouchBar Pro or add-on is probably in the design studio, that could be bigger and positioned by the near edge of the PC.
We were half expecting a new monitor from Apple, but the company's lack of interest in selling displays has been obvious for ten years or more, so a deal with LG is not really a surprise. We suspect that several third party brands may be able to do well by selling monitors to go on these notebooks, as the LG brand, although improving, is not really a 'pro' brand yet.
The announcements on the Apple TV were disappointing. By my reckoning, Cook spent 25 minutes talking about Apple TV, but there was no new box and Apple seems to be off the pace. "Why would you watch anywhere else", Cook asked. How about UltraHD or HDR? I certainly got the feeling that something may have stopped Apple from launching a new box – possibly the issues around HDR, but it does put the company's box well behind competitors such as Amazon and Roku. (BR)