Apple's WWDC has been and gone again, but this year's event was unlike those in the recent past – because there were no new product announcements. Instead, like Google at Google I/O in May, Apple looks to be focusing on building a larger, more expansive and smarter ecosystem for its products to share.
A refreshed Apple TV box was expected to be introduced, but the product got no mention at the event. Instead, mobile devices and streaming were the highlight of the day.
One of the more significant pieces of news to come out of the WWDC was not actually an announcement at all, but a hint at the future.
As iPad growth slows, Apple is looking in new directions to boost its tablet sales. One of these may be a larger screen – the long-rumoured iPad Pro, which is expected to feature a stylus. Steve Jobs famously pledged never to ship an Apple product with a stylus, but the company may be changing its direction.
In a talk titled 'What's New in Cocoa Touch', senior engineering manager Jason Beaver announced that 'touch prediction' has been added to iOS 9 – we'll get to that – which reduces the touch-to-display latency. Beaver described it as, "a very sophisticated algorithm that looks at a touch's velocity, acceleration and curvature to see where the touch is headed". Predictive technology like this is key to stylus implementation, enhancing their accuracy.
Another clue came in the new capabilities of Apple's Notes app, which now supports a drawing mode. Most people wanting to draw on their tablets, of course, use a stylus.
So, about that iOS update… iOS 9 is the latest version of Apple's mobile operating system. Unlike iOS 8, it is not a massive revision to the way that people use their tablets and smartphones, although there are some welcome changes.
One of the most prominent differences with the new OS is that it has been compressed to take up less storage space on the iPhone – just 1.8GB – much less than iOS 8's 4.6GB. iPhone users will also be able to get another three hours of battery life out of their phones. Apple did not delve into this too much, but it is speculated that background processes will see some limitations.
There are also productivity changes on the iPad. Cut, copy and paste shortcuts have been added to the keyboard, as well as a new mode that turns the entire keyboard into a trackpad. A new multi-tasking mode (only on the iPad Air 2), running two apps side-by-side, has also been added – taking lessons from Microsoft's Surface tablets, apparently.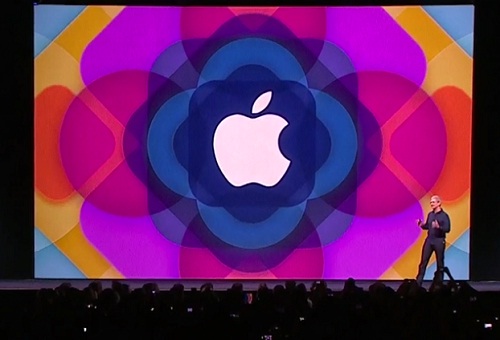 Siri has been updated to become more 'proactive', which we understand makes her more like Google Now. Apple's digital assistant will now take context, such as date, time and location, into account when making suggestions.
The final 'big' news was about Apple's smallest product: the Apple Watch. Watch OS 2.0 was announced, bringing native app support, rather than repurposed iPhone apps, to the wearable. These apps can run on the smartwatch directly, instead of showing a pared-down display from the iPhone.
Native Apple Watch apps will be able to access the wearable's features, such as the Digital Crown, speakers and microphone. The OS will be released later this year.
Finally, some small announcements. Apple Pay is now live in the UK; several Apple apps have been renamed or replaced (for instance, Newsstand is now News) and Homekit can control more items around the home, such as window blinds. Homekit currently requires an Apple TV to function, but the implication was that it will soon be able to run from an iPad or iPhone.