Augmented Reality – Augmented reality is often cited as one of the key technologies for the next few years or decades, depending whom you listen to. If we follow the recent logic of many analysts, a new CE product cannot be launched successfully without Apple preparing a consumer model for the masses. Smartwatches may fall into that category.
If we follow this logic, we need to look at Apple's activities in this field and see what they are planning. One way to look at what Apple is working on is to follow their patent trail related to augmented reality. This process reveals some interesting results.
A patent search at the US patent office for granted patents as well as patent applications resulted exactly six results. ther are three granted patents and three patent applications, all of which are related to the term "augmented reality". There may be other patents that could cover certain aspects of the technology without using the term in the patent claims. These patents would not have shown up in the search.
The oldest patent is " Synchronized, interactive augmented reality displays for multifunction devices " (patent number 8,400,548) published in March of 2013, followed by "Synchronized, interactive augmented reality displays for multifunction devices" (patent number 8,625,018) published in January of 2014 and "Transparent electronic device" (patent number 8,890,771) published in November 2014.
The three patent applications are all called "SYNCHRONIZED, INTERACTIVE AUGMENTED REALITY DISPLAYS FOR MULTIFUNCTION DEVICES" (patent application numbers 20110164163 , 20130155307, and 20140111547) filed in the time between July 2011 and April 2014. This seems a very low number of patents for any kind of field that Apple was strongly interested in.
All these patents and applications describe one basic approach for the use of transparent displays in mobile devices. Surprisingly, none of the patents describes any kind of glasses-based device or a virtual display. Instead, Apple describes a series of transparent displays that allow the showing of different content on the different displays and touch control surfaces including video and information layers.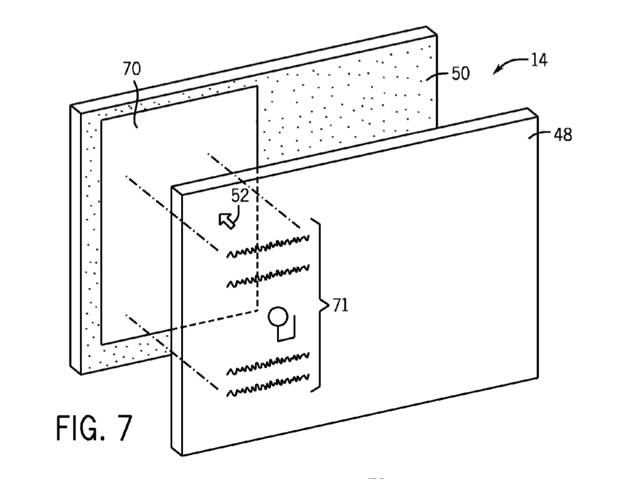 Source: US Patent 8,890,771
The basic idea is to add two or more layers of transparent displays with all the electronic components being installed in the bezel. This allows the devices also to be completely transparent and overlay information on images of real life behind the displays. The image above shows the design idea.
This describes a form of augmented reality that works without projection optics and is not a near to eye application, as all other augmented reality headsets are. As it's based on the basic idea of augmented reality to overlay information on the real world, it can of course be called that. However, this is also true for any smartphone today that overlays any kind of information on a display that shows the reality as seen by the camera on the back. The slight difference is that through the transparent display you see the real world instead of an image of the world.
Of course, today's transparent displays are somewhat limited in their transparency and when two or three displays are put on top of each other, the resulting transparency will be somewhat limited, as it is in sunglasses. On the other hand, it may be only a question of time until the transparency is good enough to allow for such a design. – Norbert Hildebrand