Smartphone display panel shipments are forecasted to reach approximately 1.85 billion units in 2023, marking an 8.7% YoY increase, according to the latest research from TrendForce. This growth is attributed to demand from aftermarket repairs, and the introduction of new smartphone models. However, 2024 could witness a reversal of this trend with a decrease in panel shipments to 1.82 billion, reflecting a 9% year-on-year decline.
BOE leads in global smartphone panel shipments with a projected 560 million units in 2023. But in 2024, the reduced demand for LCD panels could lead to a 7.2% decrease in BOE's shipments, to around 520 million units. In second place, Samsung's estimated shipments should hover around 350 million units for 2023. Samsung's 2024 figures are expected to remain largely unchanged from the previous year with shipments to Apple and its own branded smartphones helping it to maintain volumes.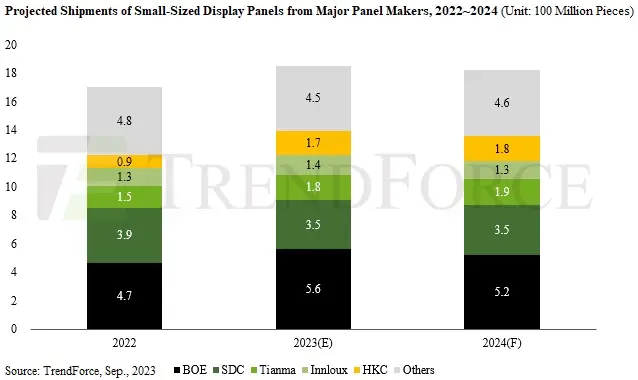 Tianma ranks third and is expected to ship about 175 million units in 2023. With a growing list of OEMs, Tianma's shipments might increase by 5.2% in 2024, reaching approximately 190 million units. Meanwhile, Innolux, in fourth place, anticipates shipping about 140 million panels in 2023. Due to declining LCD market demand, its 2024 shipments could drop to 125 million units, an 11.2% YoY decrease. HKC, in fifth position, is projected to ship 170 million units in 2023. Benefiting from icost advantages related to its G8.6 production lines, HKC's 2024 projections suggest 4.2% growth to 180 million units.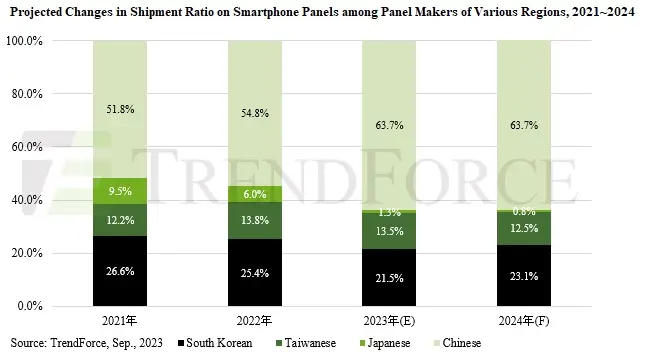 Samsung is the only top five company predicted to have a drop in shipments in 2023, primarily due to decreasing demand for rigid AMOLED panels. This market shift is also resulting in Chinese manufacturers starting mass production of competitively priced flexible AMOLED panels. South Korean manufacturers account for 23-25% of total shipments, driven by their flexible AMOLED technology that's favored by high-end smartphones. On the other hand, Chinese manufacturers are seeing an increase in their market share, from 54.8% in 2022 to 63.7% in 2023.