ViewSonic likes to say that its new display is foldable, but it is actually a folding display. The folding 135-inch LED display is designed for ease of transportation and setup, aimed at the hospitality and events industries.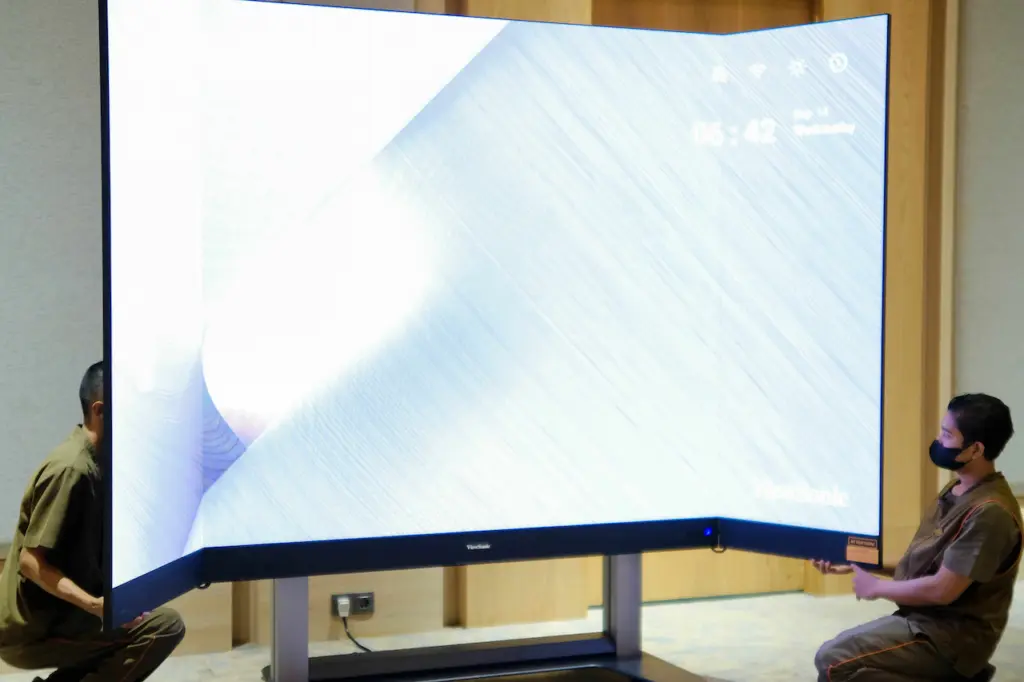 ViewSonic claims the foldable design allows for a higher degree of flexibility in event spaces, as permanent installations of bulky displays are seeing a decline in demand. ViewSonic's display can be transported easily, fitting into elevators, and can be moved between different floors or venues. This portability includes a wheeled flight case, making it cost-efficient for event organizers due to reduced logistics and labor costs.
According to the company, the display can be set up by two individuals in just 10 minutes, without requiring extensive knowledge in audiovisual technology. It also comes with built-in operating systems and wireless connectivity, making content streaming straightforward. The displays also have integrated Harman Kardon speakers, which eliminate the need for additional audio systems.
| Feature | Specification |
| --- | --- |
| Screen Size | 135″ |
| Display Area | 3000 (H) x 1687.5 (V) mm |
| Native Resolution | 1920×1080 |
| Panel Technology | Direct view LED |
| LED Package Type | SMD 3 in 1 |
| Pixel Pitch | 1.56 mm |
| Refresh Rate | 4440Hz |
| Brightness (max.) | 600 nits (8 levels adjustable) |
| Contrast Ratio (typ.) | 6000:1 |
| Orientation | Landscape |
| Viewing Angles (typ.) | H = 160, V = 160 |
| LED Lifetime (typ.) | 100,000 Hours |
| Local Storage | Total 64GB (56GB available storage) |
| Embedded OS | Android 9.0 |
| Resolution Support | VGA(640 x 480) to 1080p(1920 x 1080) |
| HDTV Compatibility | 480i, 480p, 576i, 576p, 720p, 1080i, 1080p, 2160P/60Hz |
| Horizontal Frequency | 23-120 kHz |
| Vertical Scan Rate | 15-135 Hz |
| Input | |
| – HDMI | x6 (HDMI 2.1 x 1, HDMI 2.0 x 2, HDMI 1.4 x 2, HDMI 2.0 internal x1) |
| – USB Type A | x3 (USB2.0 x3) |
| – RJ45 Input (Internet) | x1 |
| – IR in | x1 |
| – Wi-Fi Input | 2.4G/5G Hz |
| – USB Type C | x1 (Video input, Power output (5V/2A)) |
| Output | |
| – HDMI out | x2 (HDMI 2.0 external x1, internal x1) |
| – Speaker | 20W x2 (Harman Kardon) |
| – Audio out (3.5mm) | x1 |
| – USB Type A (Power) | Shared with USB input (5V/1.5A x3) |