Absen, a world-leading manufacturer of breakthrough LED solutions, will introduce its 'NXTGEN' technologies and products on stand 12C50, at this year's ISE (RAI Amsterdam, 6-9 February 2018).

Against the elegant and modern backdrop of its dominating 288sqm stand, Absen will introduce its new COBALT (Chip-on-Board Advanced Light Technology) platform featuring Absen Chip-on-Board and NanoShield technologies alongside its HBB (High Brightness Black) with Common Cathode solutions.
Absen's market-leading innovations underpin the product ranges unveiled this year. NXTGEN presentations will run three times daily on the stand, adding an extra knowledge layer to support the newly-unveiled Polaris Series, featuring a range of high performance products with innovative technologies for indoor and outdoor events; Altair Series, an ultra-lightweight rental system featuring advanced carbon fibre materials and the world's lightest touring frame solution; and Cassette Series, innovatively designed to support a direct-into-housing upgrade of existing paper based street furniture whilst giving customers a better long term technology choice to LCD.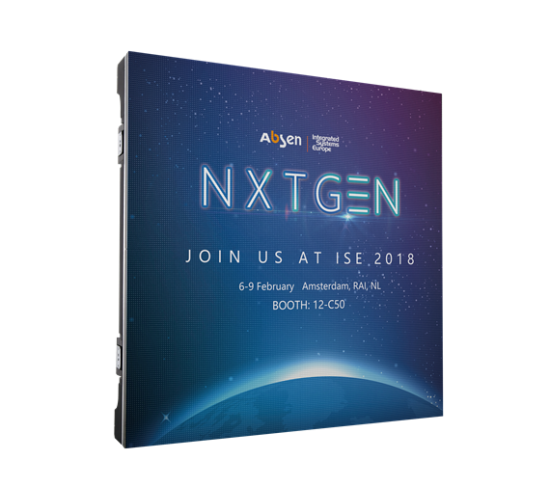 As a part of ISE's seminar programme, hosted in the AV Solutions Theatre (Hall 8) on February 6th from 12.30 – 13.00, Absen Europe's product director Liam Winter will highlight for attendees how Absen is taking the lead in this exciting new era of NXTGEN LED display technology innovations including Chip on Board (COB) LED encapsulation technology and Common Cathode LED driver technology. Absen's unique advances and, crucially, how they enable customers to better deploy LED display technologies in rental market applications will be explained.
Drawing visitors towards the Absen NXTGEN stand is a stunning 7.5m metre wide display boasting 4K UHD resolution and over 8 million pixels. Configured with the flagship PL1.9 model from Absen's new Polaris Series, the PL1.9 features Absen's COBALT with NanoShield Technology and demonstrates the new level of colour consistency and superior image quality.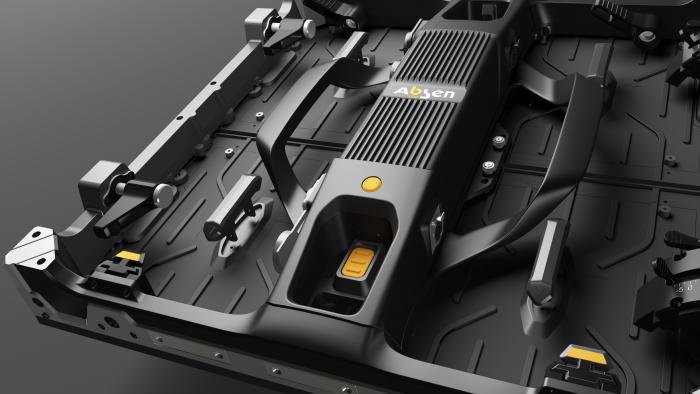 Absen is the first manufacturer to market with its NXTGEN COBALT technology with NanoShield which has been specifically developed to meet the demands of 1mm LED in live event rental applications. The Polaris Series with COBALT provides exceptional product stability as LEDs are surface bonded and solid-state. Low surface point temperatures and advanced heat dissipation technology deliver 50% lower pixel failure than traditional SMD LED. Absen NanoShield technology encapsulates the LED chips with a durable layer of advanced composite material that offers the highest level of pixel protection from physical damage, perfect for use in rental applications. Ultra-wide viewing angles, superior colour performance and optical seam blending ensure Absen PL1.9 with COBALT offers a new level of visual display performance for LED display.
Another industry first is Absen's NXTGEN HBB (High Brightness Black) technology, a new and unique way to drive black SMD LED at ultra-high brightness with ultra-high contrast. Employing the latest innovation in Common Cathode technologies each RGB LED chip is directly driven with precision power technology for maximum efficiency, resulting in a 20% decrease in heat and 20% increase in brightness. Absen HBB allows the Polaris PL3.9 PRO and PL4.8 PRO LED display models to achieve a 5,000nit brightness whilst employing the latest black SMD technology to deliver ultra-high contrast ratios. For the first-time customers have a true high-resolution LED display solution that has the brightness and contrast performance to meet the demands of both outdoor and indoor applications for maximum rental revenues and the fastest ROI.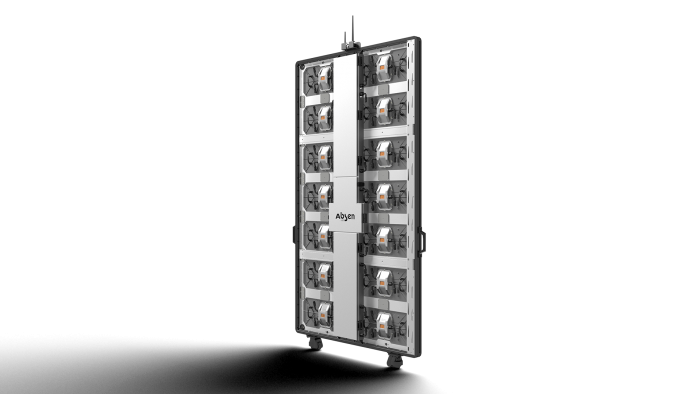 Engineered to deliver the perfect balance of speed, ease of use, robustness and precision, the Polaris Series feature a number of mechanical advances including Auto-Lock, Auto-Eject and Fast-Switch curve locking systems. A unique Anti-Collision PCB technology makes the Polaris Series the most robust rental series yet. Electronically, the Polaris series features advanced on-board components and heat dissipation technology to deliver high stability and powerful visual performance. With premium black LED, high-grade SPWM driver technology and 18bit image processing the Polaris series provides high contrast, high grayscale and high refresh rates for the ultimate display experience.
Absen's NXTGEN Altair ultra-lightweight Series, will be represented on the stand by the AT5 Pro display panel, carbon fibre LightFrame and a compact dolly system as a complete and comprehensive rental solution. The full Altair range is comprised of the AT3, AT3 Pro, AT5, AT5 Pro and AT7 models, offering pixel pitch variations suitable for indoor or outdoor use. AT3 Pro and AT5 Pro benefit from the integration of Absen's HBB (high brightness black) technology, giving an even greater edge as a hybrid indoor/outdoor solution and the highest levels of visual performance.
Tailored to the specific requirements of touring and ultra-large screen live event applications, the Altair series combines an ultra-lightweight panel under 19kg per sqm with advanced carbon fibre LightFrame (touring frame) system under 10kg per sqm. The result is one of the world's lightest and thinnest touring LED products with a total weight under 29kg per sqm, providing customers with a robust, fast installation, lightweight and high visual performance display with ultra-low transportation footprint for maximum operational efficiency and higher ROI.
Developed as a total rental solution, the Altair Series provides -15 to +15 degrees of curve, 90? corner, hanging beams and dolly system in addition to the lightweight panels and LightFrame. Optimised for superfast installation the Altair features a lightweight magnesium panel of 600x1200mm size, with a 600x600mm variant available for ultimate design flexibility.
Yet another new product line and completely new market innovation is the NXTGEN Cassette series. An exciting new take on the digital LED poster for street furniture, Absen Cassette solves two of the major challenges of using LED in outdoor advertising ad-boxes.
True to its name, the Absen Cassette is the world's first product engineered to slot directly inside existing poster-based advertising housings, simply remove the existing lightbox and replace it with a high brightness LED display. Absen Cassette can use existing power, incurs no cost to replace the housing, and critically, reduces complexities with planning permission and onsite works.
Overcoming another major challenge, Absen Cassette gives customers an exciting alternative to LCD display solutions, providing a higher level of visual performance through higher brightness and contrast, and critically delivering significantly higher uniformity over time.
Featured on the stand will be the flagship Cassette 2 model with a high resolution 2.9mm pixel pitch. Part of Absen's new street furniture product line, the range is completed by the Cassette 3 and all products comprises a 1000 x 1750mm LED panel with integrated modules, adjustable for existing housings or available with new purpose built housings. To ensure maximum operational stability and performance the Absen Cassette benefits from the integration of Absen's innovative HBB (High Brightness Black) technology, with ultra-high contrast black LED diodes and ultra-high 3,500nits brightness. A unique shadow mask system further enhances visual contrast and guarantees clear display performance outdoors, even in direct sunshine. The units are front-maintained for convenience and employ a one-click test function for simple onsite service.
Also attuned to the Corporate, Retail and OOH markets, Absen's Acclaim Series of 27.5" diagonal, 16:9 aspect ratio and 100% VESA-compatible screens will feature on the ISE stand. The 4K Acclaim A2715 display can be viewed on the booth, whilst the Acclaim A2712 FHD display countenances the meeting room. The Acclaim Series is a range of HDMI-direct, plug and play, bezel-free displays with Duo-Die-Cast Technology that can be installed multiple ways, wall-mounted, stacked or rigged. The range features ClearView, 18bit+ and SmartGamma image processing technologies for ultimate visual performance.
Finally, Absen's Control Room collection of displays will also be showcased at ISE. Spain-based Gesab, creator of mission-critical control rooms for the corporate sector, will present a control room configuration to their customers on stand P180, hall 10, which is centred around an Absen 165" CR1.2 screen from the CR Series, the fastest selling product in Absen's dedicated control room range. The Absen CR Series deploys CrystalView LED display technology designed specifically for control room applications, to improve image processing and generate accurate colours. Installation is made simple and precise thanks to advanced alignment technology, while the range is designed with redundant power and data supply as standard.
With so much innovation to discover, the Absen NXTGEN stand is set to be a highlight of the ISE 2018 show. Visit Absen at ISE 2018 on stand 12-C50.