Today I was wondering what to write about for my Display Daily. I'm at the Display Summit in Las Vegas, just before Infocomm, and I had lots of possible stories, but none that stood out. Then I heard the talk from Markus Ries of Lang AG in Germany, who set out a fascinating story of a renaissance in projection – or a phoenix rising from the ashes. What more could I want?

Lang is a highly regarded and respected rental and staging wholesale supplier (it rents and installs equipment for the people that deal with users) and is also a supplier to big companies in Germany. Ries said that although much of its inventory of rental projectors is based on single chip DLP projectors, none of the high brightness laser phosphor single chip DLP projectors that it was stocking could do a 'proper Rec. 709'. This came down to the long standing issue that bright single chip DLP projectors use a colour wheel with a white segment, and that kills colour saturation at high brightness.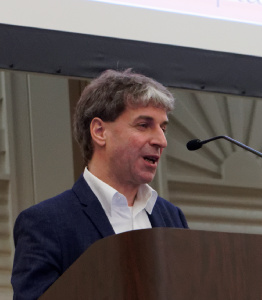 This topic has long been a bone of contention between the 3LCD camp (which likes the colour light output (CLO) metric from the IDMC) and single chip DLP. 3 chip DLP, on the other hand, has no problems with colour, but units tend to be big, heavy and expensive – all factors that are really negative for a rental company.
Ries said that his company was approached by Epson, which wanted to make a product that was suitable for rental and staging, but was based on 3LCD technology (which, Ries said, has always had better colour quality than single chip DLP). That suited Lang, which had a demand from its German customers (such as Audi, BMW and Volkswagen) who were demanding accurate colour.
Ries explained that his own staff thought he was crazy! 99.2% of Lang's inventory at the time was DLP-based and only the 0.8% left was 3LCD, although ten or fifteen years ago, much of the inventory was 3LCD, with projectors from NEC, Sanyo and Panasonic. The company had always liked the image quality of 3LCD, but in high brightness projectors, the organic components in the LCDs degraded quickly, reducing performance. They were also air-cooled, which meant that the optical path got dirty very quickly and that meant a lot of cost for a rental company. Image quality was never an issue, but cost and reliability were.
Anyway, Lang worked with Epson to define what it needed in terms of performance and specifications. Critical was the development of the 6th generation of Epson's transmissive polysilicon LCDs for projection. They use inorganic alignment layers which meant longer life. Epson also developed its own laser phosphor (LP) technology based on ceramic materials. Critically, because LP does not generate the damaging UV light that lamps create, there was also less 'dangerous' UV light to cause problems.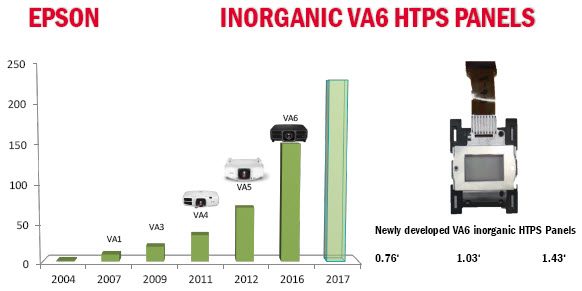 Epson's VA6 panels have inorganic alignment layers, prolonging the useful life
The company also put the phosphors on a reflective surface, which turns out to be a better approach than using a transmissive system, especially for speckle reduction. In addition, Epson sealed the optical path to avoid problems with dust and dirt.
While they were at it, Epson also significantly reduced the size and weight of the projectors. Despite that, the firm maintained the 50% vertical and horizontal lens shift required (in rental, the projector needs to be placed 'anywhere'). As well as this, the company set up pre-calibrated Rec. 709 and sRGB modes, which key corporates wanted to ensure accurate colours, simply.
Finally, Ries said, Lang had complained about the quality of lenses on TI-based UltraHD projectors. It seems that the native TI DLP UltraHD chips are large enough that true 4K lenses would be very expensive, and the impact would be limited on video content. However, Ries explained, Epson really did design lenses with enough quality for UltraHD.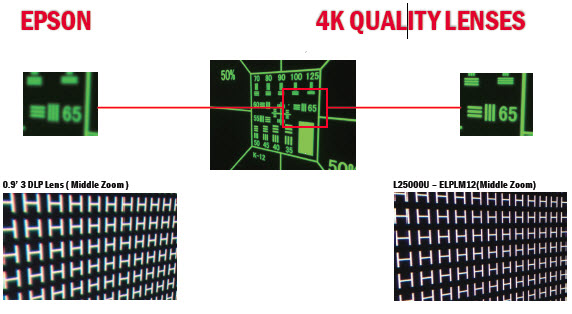 Ries said that lenses for DLP were not good enough for data, although OK for 4K cinema
So, Epson launched its L1000 series at ISE and will show a new L2500 series at Infocomm, this week. At the moment, they are not native UltraHD, but Lang expects that to arrive next year. The products are not only very competitive on image quality, but are also significantly smaller and lighter than the DLP equivalents: a key factor for rental companies.
– Bob Raikes