France's Dassault Aviation has been around since 1916. It provides aircrafts and aeronautical systems for defense, space, and civilian markets. It's flagship civilian aircraft is the Falcon 10X, a $75 million jet that can fly non-stop from New York to Shanghai. Each plane has a modular design which basically translates into, if you can afford one, you can pick a layout and have it custom designed to your personal needs. Seats, dining areas, bedrooms, and bathrooms, it is all possible.
The Falcon 10X flight deck comes with a host of advancements and innovations to enhance pilot control, efficiency, and situational awareness. It features the next-generation Epic flight deck, which was developed with a new avionics design language system to support touch-based interactions on the touchscreen displays and the new touchpad cursor control device.
With eight touch-enabled high-definition displays, the Falcon 10X provides clearer visual information in both high and low light conditions. Pilots can choose from flexible window application layout presets based on Phases of Flight or create customized configurations according to their personal preferences, which can be saved as presets for easy access.
The smart display units (SDUs) on the flight deck enable quicker data entry, instant insertion of radio frequencies, or queuing up of radio frequencies for future use. They also facilitate quicker access to information and systems, with every control accessible within 2-3 taps/clicks.
To support the longer ranges that the Falcon 10X can fly, there is an advanced navigation system capable of displaying spherical projections of flight plans on the high-definition displays. This new INAV (interactive navigation) upgrade allows pilots to see the entire international flight plan from origin to destination in one view, reducing the need for panning and map manipulation.
The flight deck also includes a larger vertical situation display (VSD), giving pilots better manipulation of waypoints associated with newer, more complex departure and arrival procedures. This larger window option for the VSD can now integrate airspace and weather information, which was previously restricted to lateral mapping display applications.
Honeywell's patented vertical graphical flight planning is another exciting feature. It extends the intuitive graphical interaction to the VSD, allowing pilots to perform a Vertical Direct To graphically on the waypoint and easily insert or amend altitude, speed, or time of arrival constraints.
Additionally, the flight deck features a single power lever smart throttle, inspired by the Rafale fighter jets. The smart throttle can control all thrust management and fly-by-wire aspects of the navigation system. Airbrake and thrust reverser controls are also integrated into the smart throttle, and separate controls allow pilots to control each of its Rolls Royce Pearl engines individually.
The Falcon 10X Interior
The Falcon 10X boasts the largest interior among ultra-long-range jets, spanning 3,300 square feet of space. The cabin offers a remarkable 9'1" width and 6'8" headroom. Owners have the option to configure the interior into as many as four lounges, which can include a private bedroom with a sitting area and a fully equipped bathroom with a shower. The private living area benefits from four large windows that flood the space with natural light, adding to the luxurious ambiance. And, of course, you can have whatever TVs you want, how you want them.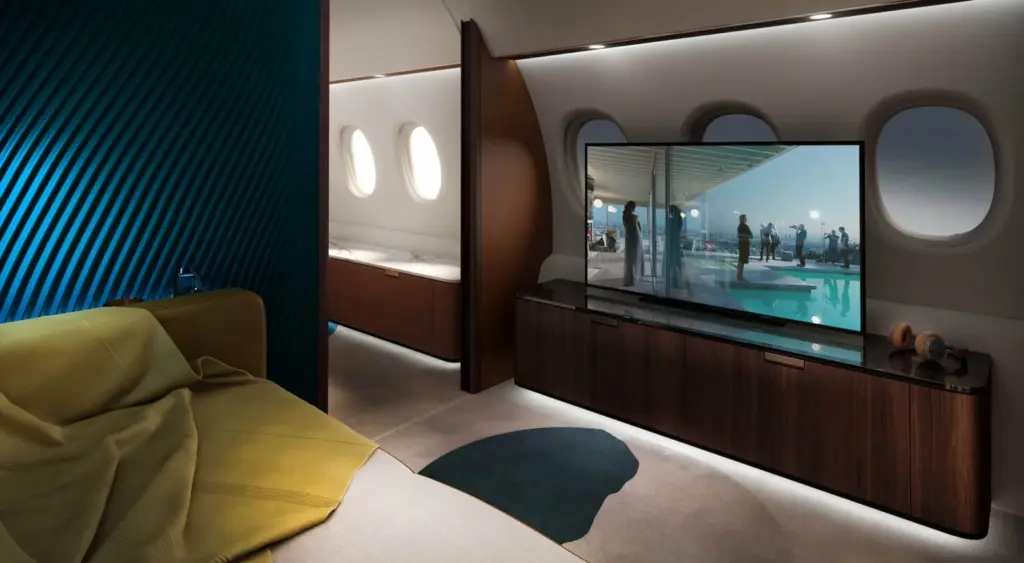 The cabin air is fully refreshed up to 10 times faster than in most modern office buildings, thanks to a highly efficient filtration system comparable to those found in hospital ICUs. Despite the aircraft's impressive flight ceiling of 51,000 feet, the onboard pressurization creates a comfortable and relaxed atmosphere akin to strolling around a mountain resort. These comfort-enhancing features were deemed non-negotiable, particularly considering that flights on the Falcon 10X could extend beyond 15 hours, ensuring passengers enjoy a luxurious and pleasant journey. Unfortunately, Dassault will not take a post-dated check for any plane purchase and so it's back Southwest for me.
| External Dimensions | |
| --- | --- |
| Wing Span | 110 ft 3 in / 33.6 m |
| Length | 109 ft 7 in / 33.4 m |
| Height | 27 ft 7 in / 8.4 m |
| Weights | |
| --- | --- |
| Maximum Takeoff Weight | 115,000 lbs / 52,163 kg |
| Maximum Zero Fuel Weight | 67,800 lbs / 30,754 kg |
| Maximum Fuel Weight | 51,700 lbs / 23,451 kg |
| Engines & Avionics | |
| --- | --- |
| Type | 2 Rolls-Royce Pearl 10X Engines |
| Cockpit | Next Generation Flight Deck (Honeywell Primus Epic System) |
| Cabin Dimensions | |
| --- | --- |
| Cabin Height | 6 ft 8 in / 2.03 m |
| Cabin Width | 9 ft 1 in / 2.77 m |
| Cabin Length | 53 ft 10 in / 16.4 m |
| Cabin Volume | 2,780 cu. ft. / 78.7 m^3 |
| Baggage Volume | 198 ft^3 / 5.60 m^3 |
| Performance | |
| --- | --- |
| Range at Mach .85 | 7,500 nm / 13,890 km |
| MMO (Maximum Mach Operating Speed) | Mach .925 |
| Maximum Certified Altitude | 51,000 ft / 15,545 m |
| Balanced Field Length | < 6,000 feet / 1,829 m |
| Landing Distance | < 2,500 ft / 762 m |