New research from Parks Associates shows that ownership of streaming media players has risen from about 6% of US broadband households in 2010 to almost 40% at the beginning of 2018. The data indicates that Amazon's share of streaming media players owned in US broadband households has increased by 4% since last year, taking some of Google's share of the installed base. Roku's share has held steady at 37% for the past year.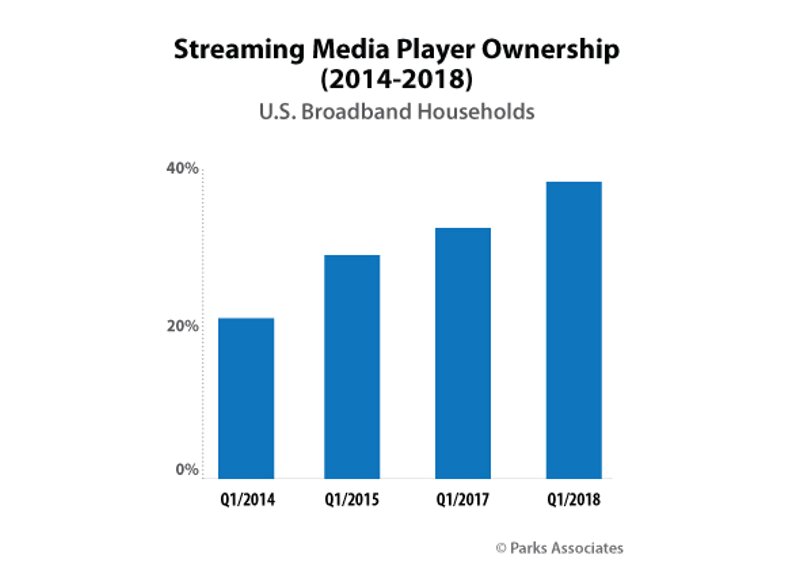 Research analyst Kristen Hanich commented:
"Since their inception about a decade ago, consumers have purchased streaming media players due to their modern and friendly user-interfaces, wide app support and low cost, making them easier to upgrade and replace than a TV set.

In terms of usability, consumers score Roku, Apple TV and Amazon's Fire TV highly. When ranking these devices, Roku leads in multiple usability categories, while Apple TV leads in terms of gaming and the ability to purchase content.

Amazon's Fire TV has moved up to second place in the ease-of-setup category and is close to the Apple TV's score in several more, including ease of finding something to watch and ease of purchasing content, which could account in part for its growing market share".
While adoption of streaming media players is close to 40%, more than half of US broadband households own a smart TV. (Over Half of US Broadband Households Own a Smart TV)
The firm notes that ease-of-use is the most important factor to consumers when it comes to choosing which entertainment device to use,and these two devices are competing directly in terms of usage, while usage of gaming consoles for video has declined.
The research highlights key data specific to smart TVs and streaming media players, including:
More than 70% of streaming media player (SMP) owners use their devices at least once per week, compared to 59% of smart TV owners.
44% of SMP owners use their device daily as compared to 37% of smart TV owners.
Almost 50% of smart TV owners also own a streaming media player.
Between 2015 and 2017, flat-panel purchases including Ultra HD technology rose from 14% to 30% among US broadband households.
Hanich concluded:
"Smart TVs earned the highest net promoter score among consumers out of all the CE products Parks Associates tested but streaming media players still have higher usage rates, indicating these devices have firmly established their role in their ability to connect users with content quickly and easily".