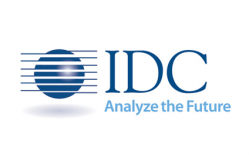 According to IDC, the worldwide tablet market contracted in the first quarter of 2017 with total shipments of 36.2 million, which represents a fall of 8.5% when compared to the same quarter last year. This fall marks the tenth straight quarter that tablets have experienced a decline.
The tablet market is comprised of two different product categories, detachable tablets that have keyboards and slate tablets with no keyboard. Detachable tablets continue to grow for the most part and slate tablets, which saw shipments peak in 2014, are now in a steep decline that IDC believes will continue throughout the forecast period.
According to Ryan Reith, a VP with IDC, the rate at which the tablet market grew from 2010 to 2013 was unlike any other consumer-oriented device market seen before. However, consumers became less eager to refresh these devices, or in some instances purchase them at all mainly due to their increased dependency on smartphones. At the same time that this tablet growth peak and decline was taking place, the PC market was experiencing one the worst declines in history. Now, traditional PCs have returned to growth, albeit relatively flat growth, for the first time since the beginning of 2012.
IDC's outlook is that detachables will continue to far outpace convertibles in shipments, but the market pendulum seems to be swinging back in favour of convertibles. The detachable market has proved it will move with major product launches and Microsoft and Apple have yet to launch their 2017 products.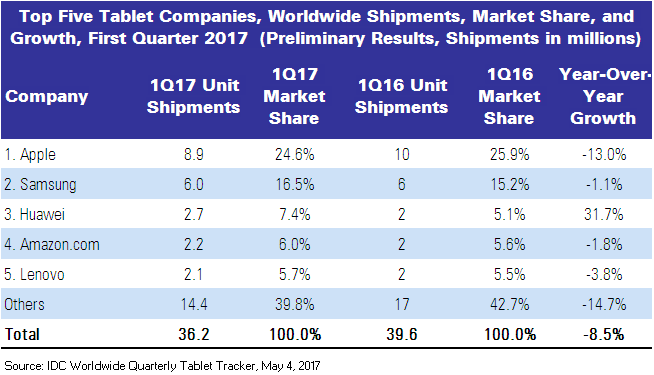 Apple has experienced its thirteenth consecutive quarter of shipment decline despite being the market leader in the first quarter of this year. Apple's results show that it is not immune to the changing dynamics of industry and consumer demand. Apple's first full year of iPad Pro shipments quickly elevated it to the top of the growing detachable tablet market segment, and IDC believes that Apple is in a good spot to remain competitive at the top of this segment.
Samsung remained the number two tablet provider despite seeing shipments decline. Much like Apple, Samsung continues to migrate its tablet portfolio to the detachable segment and to support this the company launched three new products at this year's Mobile World Congress event in Barcelona in February. After supposedly leaving the PC business in 2014, Samsung has now entered the market again with a handful of Windows 10 detachable tablet models.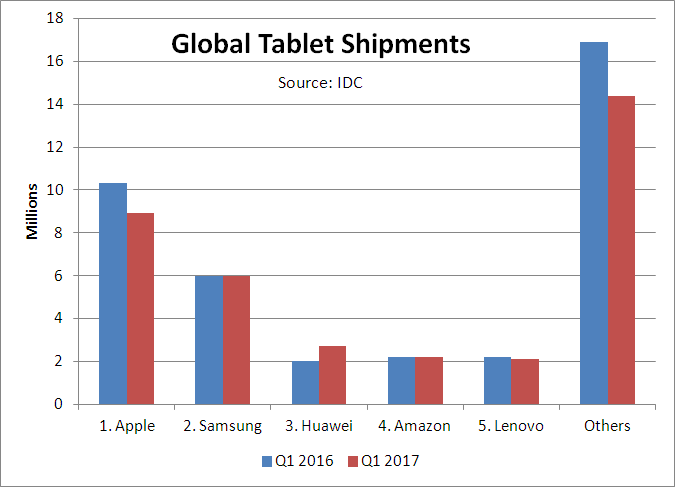 Huawei was the only company among the top five to experience positive growth in the first quarter of this year, with shipments of 2.7 million, which was up 31.7% from the 2.0 million shipped in the first quarter a year ago. Like Samsung, Huawei has also slowly migrated its tablet portfolio from an Android slate tablet line-up to now include a mix of Windows-based detachable devices.
Amazon.com continues to fluctuate in and out of the top rankings with its low-cost Kindle Fire devices. In the first quarter, the company shipped 2.2 million devices, all of which continue to be aimed at a very aggressive price point with a strategy to drive content and product sales via the device. Amazon seems poised to remain a competitor given its market strategy.
Lenovo shipped 2.1 million tablets in the quarter. Of all the companies in the top five, Lenovo is best positioned in terms of channel strategy to grow its tablet business and IDC expects to see more of its successful notebook PC line-up migrate into the detachable tablet category. Lenovo captured 5.7% market share in the first quarter, which was down just slightly from the 5.5% market share it had at this time last year.