I find social media to be a soul-sucking void of meaningless affirmation.

Wednesday Addams
An estimated 120,000 people from around the globe gathered in Las Vegas – double 2022 – to see what is new, improved, exciting. And the chip, system, screen producers didn't disappoint us. Bigger, badder chips, computers and screens all got their share of lookers and attention at CES 2023; the eye candy often overshadowed the most important message … we're doing more and using less!
While she promoted the company's next generation of processors, AMD's Lisa Su stressed they're more powerful and more energy efficient. Asus trotted out some excellent new computing options while emphasizing they were using tons of recycled plastic in their products. Samsung highlighted that they had a major initiative underway to not only use recycled materials but also reduce microplastics in the world's water supply.
"Sustainability is a major strategy for today's consumer electronics firms," said Lopez Research's Maribel Lopez. "Not just because it's a consumer hot button but because it's vital for the world, the industry and the company."
AMD's Lu announced the company's new Ryzen 7040 notebook processor designed to meet a wide array of application needs including AI, adaptive computing and gaming as well as economic, high-performance, energy efficient video content production such as this year's blockbuster, Avatar: The Way of Water. Intel announced that XeSS upscaling was coming to the firm's graphic solutions, that Raptor Lake laptop chips were being delivered rivaling the best desktop processors and that desktop chips were rolling out that were not only more powerful but, more importantly, ultra-efficient. Nvidia's Jensen Huang and his crew gave sneak previews of their next-generation mobile GPUs including the flagship RTX 4090 as well as the RTX 4080 12GB desktop card and refresh of their GeForce Now products.
Samsung showed off an interesting concept device, the Flex Hybrid, which could be the next generation of their Galaxy Fold smartphone — a really neat tablet that folds and rolls out to a 12.4-in easy to carry, easy to use tablet. The best we can say is that it would be "interesting" for work or entertainment.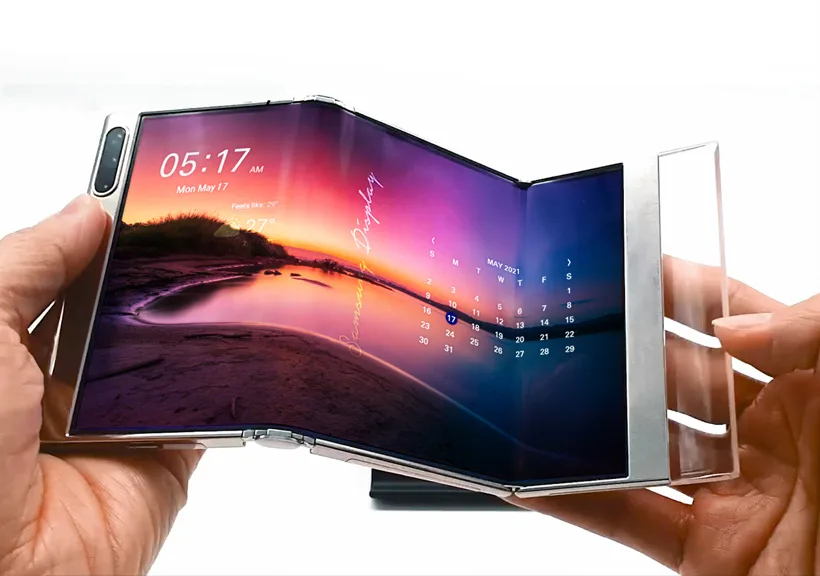 Lenovo gave folks a whole new way of looking at portable computing with their new slim, lightweight and versatile Yoga Book 9i. It provides dual-screen versatility and multi-mode functionality that lets you use the new screen horizontally or vertically with a full-function keyboard or as a tablet, entertainment device. In addition, you can work cross screen or multi-task with the two screens watching video content on one screen while working/researching on the other screen.
These and a few other new computing screens were interesting at CES but this year, we came with a mission…it was time to upgrade our traveling computing/communications system. You know, something a little bit sexy but functional, powerful, light, a hint of stylish practicality and yes, a "huge" 18-inch screen. While we're at it, we'll probably replace/upgrade our desktop system, which is begging to retire.
Timing might be right because IDC reported PC sales were down 16.5 percent and everyone in the food chain is probably going to be offering some nice discounts in the months ahead. And with Win 10 support ending in a couple of years folks may be ready to upgrade. We're not a gamer but there were a number of performance beast laptops unveiled this year and even though we don't play, we are impressed with the new beasts packed with CPU and GPU power that deliver all the performance you would only expect from a desktop system. Acer, Dell, HP, Asus and a few other folks all had some attention-grabbing portable systems, but we narrowed our options to two.
While it's a hybrid gaming laptop, we can still justify the new Acer 18-in Predator Helios. The backlit 250MHz mini-LED display is one you can create at for hours (graphics or written content) and the Nvidia GPU is fast and powerful. The mini-LED backlit keyboard is very responsive and there's an array of ports to keep work flowing. And yes, the display is a treat to the eyes.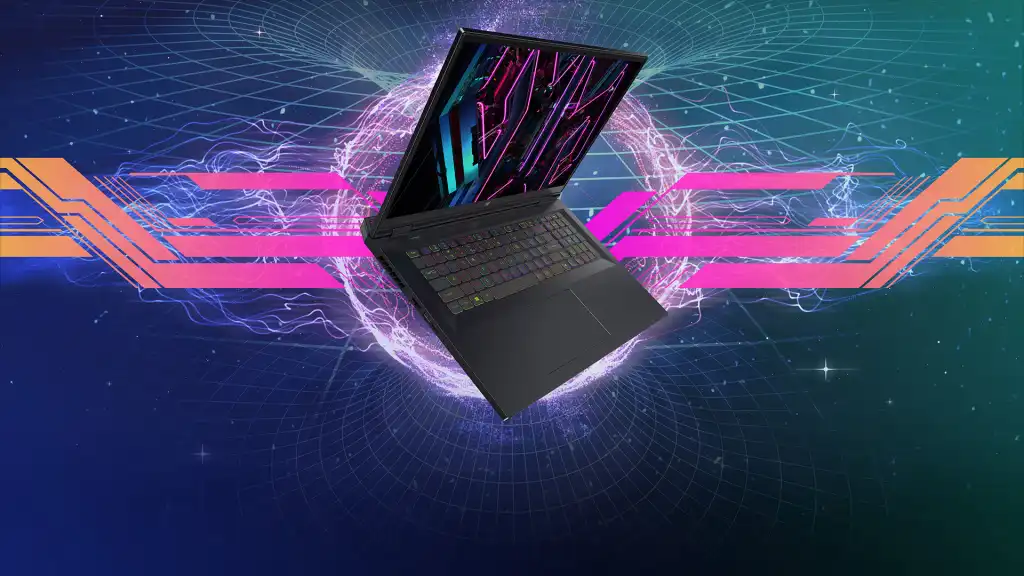 HP's new Dragonfly Pro is unique in that the company has been so aggressive in recycling and using recycled materials. From a workflow perspective they include the AMD Ryzen processor and Radeon graphics. The display features 1920×1080 resolution and max brightness of 400 nits.
We'll just have to see which we get or if one of the other new systems fit our long-term needs.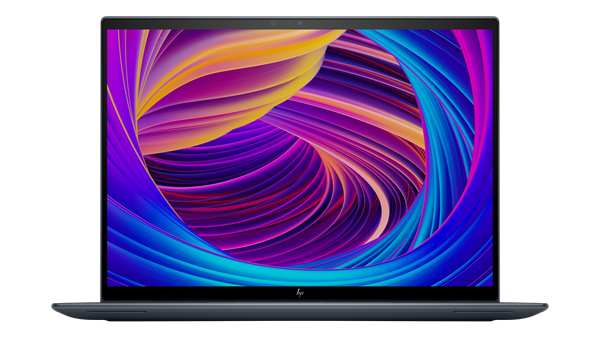 We hadn't really thought about getting a new desktop monitor until we saw Dell's new UltraSharp 6K monitor. The IPS Black panel delivers 41 percent deeper blacks and significantly better color accuracy. The 32-in screen delivers excellent color gamut from almost any angle making your work easy on the eyes. In addition to a built-in HDR 4K webcam for those tiresome zoom calls, it also includes an echo cancellation mic and dual 14W speakers.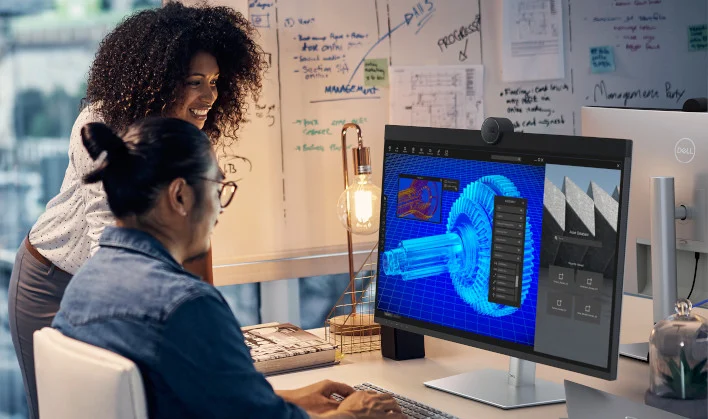 The Real Screens
While folks spend a lot of time kicking the tires on all of the advanced modes of transportation and looking at the "isn't that neat, cute" stuff that is unveiled at CES, it's still a TV show where home screen manufacturers trot out the latest in TV/home entertainment display technology that deliver mind-blowing dynamic range, brightness, images realer than real and giant scenes that overwhelm.
The new screens of every shape, size, technology and advance are breathtaking. Screen/set manufacturers do it every year. They refresh their product line with minor tweaks to proven designs along with a lot of noise as to how much better the enhancements are compared to last year's models. Or, they roll out bleeding-edge technology (priced accordingly) that make you ashamed of the screen you've enjoyed for the last year or two.
DSCC (Display Supply Chain Consultants) estimated that advanced TV shipments increased seven percent last year but will slow down this year so manufacturers/retailers may be "stimulated" to offer consumers better prices to keep production lines busy. OLED screens are projected to move faster to 12.5M units over the next two years while LCD screen sales will grow 12 percent (21.8M) and MicroLED will still represent less than 0.2 percent of the market.
LG did a complete refresh of the firm's OLED units for 2023 including a high-end 8K unit, high-end 4K model – delivering ultra bright OLED performance, a mid-range unit and an affordable B3 model. Incorporating outstanding OLED implementation, the new 97-in OLED unit features 4K resolution and ultra-smooth 120Hz game/movie presentation. The biggest feature of the new unit was that except for the power cord, it is completely wireless so the entire setup can look sleek and attractive as well as breathtaking.
For the gamers in the family, all of the LG models include VRR support over HDMI 2.1 and an image processor for enhanced picture quality. The Z3, G3 and C3 models feature the firm's a9 Gen6 processor which applies HDR tone mapping and sharpness processing to deliver breathtaking images. The G3 promises to be 70 percent brighter than conventional OLED models and better viewing from almost any angle. The company also upgraded the new sets with a WOW orchestra feature that enables smooth integration between the firm's sound bar and set's built-in speakers with wireless lossless audio connection rounding out the listening enjoyment.
Never one to stand in the background during the show, Samsung rolled out a family of new 55-, 65- and 75-in QD-OLED, OLED screens that they say can reach 2,000 nits of peak brightness. The new QN95C is a high-end 4K QLED set that uses a separate OneConnect box tethered to the set with a single wire holding all of the necessary ports. The company's top-of-the-line QN900C 8K TV which in their tightly orchestrated show demo shows every bristle of hair.  Also announced was a 76-in Micro LED model that was designed so any homeowner could professionally install and enjoy their entertainment in a matter of minutes. 
TCL rolled out two lines – the Q-Series with advanced display technologies and S-Series more economical models. The company's flagship QM8 is a Mini-LED Ultra screen that provides twice the peak nits of brightness than earlier models and five times the number of dimming zones.  The Q7 is an LED backlight system that delivers "similar" performance. The firm's entry-level QLED screens use quantum dot technology with 120Hz refresh rate and compatibility with most home theater installations.  The budget line – S8 – is a 1080p, 4K unit including Dolby Vision HDR and Dolby Atmos sound.
Hisense has made some major improvements in their screen family including a new backlite Mini LED X model driven by a 16-bit neural processor as well a new Dynamic X display with 5x less reflection an overload of unique colors. The company showed off the new 110-in 8K demo-only ULED set as well as a complete line-up of laser TV and cinema systems. Colors are more colorful and vibrant, and brightness is improved along with a 144Hz refresh rate for gaming and sports viewing. The inclusion of Dolby Vision, Dolby Atmos adds to the entertainment enjoyment.
While they've had product/service bundling relationship with TCL and Hisense, Roku announced this year that they'll be selling (private labeling) their own screen brand going forward in addition to bundling their software/solutions with as many manufacturers as possible. The company's new Roku Plus Series TVs include 11 models – 24 – 75 inches – incorporating the Roku OS and new Roku TV Wireless Sound Bar.
Speaking of sound, people often wonder what's the difference between a film they see at the theater and one they watch on their home set. More than 50 percent of the impact of a sci-fi, horror, drama, whatever is audio. That's one reason so many homeowners not only bought a new screen but are adding audio surround/immersive systems so they can really get the crap scared out of themselves, almost feel the pressure as the jet accelerates to 5Gs, enjoy/be part of the love scene, or feel the adrenaline flow in the car race or as bad guys hunt you down. The best thing is there's a home theater/family room audio system to fit almost every budget for folks interested in getting the absolute most from their movies/shows.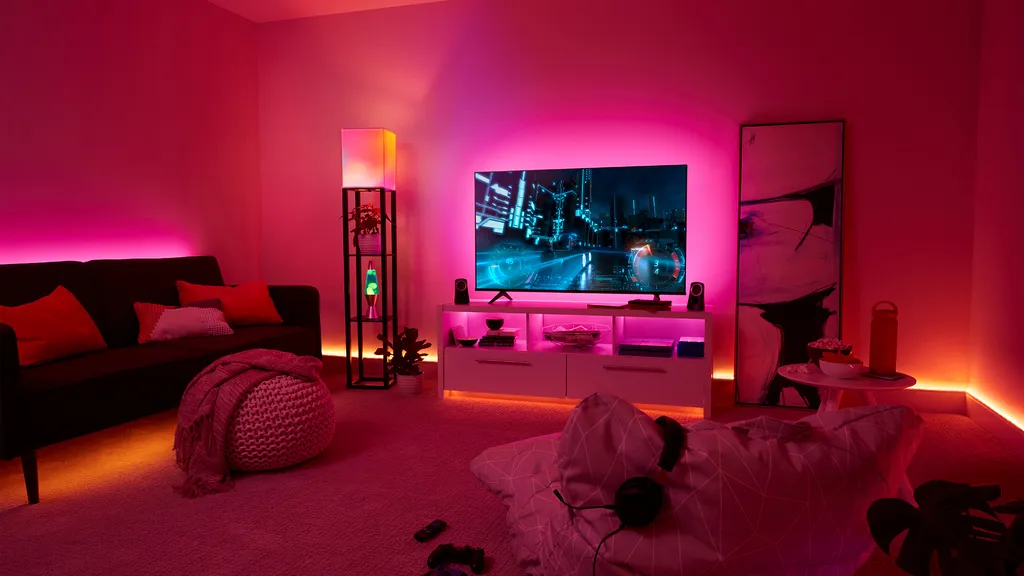 And, if you're interested in really "setting the mood" of your home viewing don't worry, GE and several other CES exhibitors had just the solution for making your home entertainment area really special. A wide array of color-changing LED lighting solutions are available to go from dimmable white to neutral backlighting to an array of colors. The kids will love the addition, trust us. Our daughter was in full agreement with Wednesday when she said, "Every day is about me. This one just comes with cake and a bad song."
Andy Marken – [email protected] – is an author of more than 700 articles on management, marketing, communications, industry trends in media & entertainment, consumer electronics, software and applications. An internationally recognized marketing/communications consultant with a broad range of technical and industry expertise especially in storage, storage management and film/video production fields; he has an extended range of relationships with business, industry trade press, online media and industry analysts/consultants.