Everyone, or at least every Display Daily reader, has heard about 5G and ATSC 3.0 technologies. Another emerging high-speed wireless technology likely to have a major affect on computer and IoT users (i.e. everybody) is Wi-Fi 6 (IEEE 802.11ax). This emerging technology is said to have up to 3-4X faster file transfer speeds than Wi-Fi 5 (IEEE 802.11ac).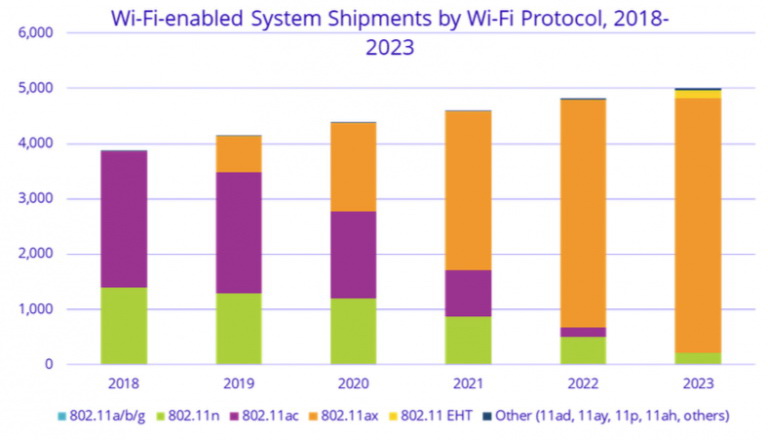 Forecast for the growth of Wi-Fi 6, 2018 – 2023. (Credit: IDC)
While Wi-Fi 6 is relatively unknown among end users, especially compared to 5G, its growth is expected to surpass the growth of 5G. IDC Research Director Phil Solis said at the Wi-Fi Now conference in May that Wi-Fi 6 chipset revenues are expected to exceed even 5G chipset revenues towards 2023. IDC expects that by 2023, Wi-Fi 6 will essentially replace the existing Wi-Fi 5, as shown in the figure. There were no Wi-Fi 6 sales in 2018 and shipments are expected to start this year. By 2023, most Wi-Fi systems shipped are expected to be Wi-Fi 6. Note the overall growth in Wi-Fi systems shipped is expected to be modest, about a 5.4% CAGR, over this time frame and the growth in Wi-Fi 6 is expected to come at the expense of Wi-Fi 5 (802.11ac) and Wi-Fi 4 (802.11n) systems.
While Wi-Fi 5 is expected to vanish in new systems by 2023, IDC expects that Wi-Fi 4 will still have modest sales. Because Wi-Fi 6 is not being hyped the way 5G or 4K has been; an end user buying a Wi-Fi 6 system may not actually realize what he is getting because Wi-Fi 6 systems are expected to be backward compatible with previous Wi-Fi systems. If an end-user has a Wi-Fi 4 or 5 router, he should have no problem connecting to it with his new Wi-Fi 6 system. If his router is Wi-Fi 6 compatible, the user may notice a significant increase in throughput. Of course, since his Wi-Fi 6 laptop or other system is likely to be newer and faster than his old Wi-Fi 4 or 5 system, he may not even attribute the higher speed to the newer Wi-Fi protocol. This backward compatibility goes two ways: if a user upgrades his router to Wi-Fi 6, his older Wi-Fi 4 and 5 devices should have no problem talking to the router. It is this full backward compatibility that will allow Wi-Fi 6 to replace Wi-Fi 5 and 4 so quickly.
Wi-Fi 6 is able to use multiple RF bands from 1GHz to 7GHz, including the existing 2.4GHz and 5GHz bands used by Wi-Fi. One of the new bands Wi-Fi 6 is going to operate on is the 6GHz band used by 5G systems operating on the mid-wave frequencies. In October 2018, the FCC in the US voted to allocate up to 1.2GHz of mid-band 6GHz Wi-Fi spectrum for next generation Wi-Fi systems. Wi-Fi 6 will also operate on the relatively low frequency 1GHz band. Besides the RF mid-wave band, 5G also uses the mmWave bands in the 24 – 60GHz range. Wi-Fi on the 60GHz mmWave band is coming in the future but Wi-Fi 6 on the 6GHz mid-wave band and other bands is here now and is the focus of this article.
There are several reasons why it is desirable to operate Wi-Fi on multiple RF bands. First is the trade-off between data rates and RF range. Higher frequencies, including the mid-wave 6GHz band and the mmWave bands are able to carry more data than the lower frequency bands. On the other hand, the lower frequencies have longer range and can penetrate or go around obstacles in the line-of-sight path more easily. In addition, the original 2.4GHz Wi-Fi band is now so crowed with users it was necessary to allocate additional RF bands to allow the users to transmit their data.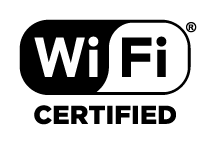 The Wi-Fi logo is controlled by the Wi-Fi Alliance.
Wi-Fi and the IEEE 802.11 series of specifications are often discussed interchangeably but the two terms are not properly interchangeable. The IEEE 802.11 series are technical specifications for communication protocols. These protocols can be (and are) used in wireless communications systems that are not Wi-Fi compliant. The Wi-Fi Alliance controls both the term "Wi-Fi" and the Wi-Fi logo. For a device such as a laptop, router, smartphone, etc. to claim Wi-Fi connectivity and use the Wi-Fi logo, it must be certified by the Wi-Fi Alliance to be interoperable with all the other existing Wi-Fi systems. The Wi-Fi alliance is now celebrating its 20th year. In those 20 years, the Wi-Fi alliance has certified over 45,000 devices as "Wi-Fi Compliant." In addition, the Wi-Fi Alliance says Wi-Fi is the most commonly used wireless communications technology with 4 billion devices shipped world-wide in 2018 and 13 billion devices in use.
Some devices that label themselves "802.11n" or "892.11ac" will, in fact, work with Wi-Fi certified systems. If you expect them to work but they don't, you're out of luck and the Wi-Fi Alliance will metaphorically shrug it's shoulders and say "That system is not Wi-Fi Certified." The system manufacturer is likely to echo this and say they never claimed it was Wi-Fi compliant.
High Efficiency (HE) Wireless LAN (802.11ax) Task Group AX Leadership (Credit: IEEE)

Chair

Osama Aboul-Magd (Huawei Technologies)

1st Vice Chair

Ron Porat (Broadcom Ltd.)

2nd Vice Chair

Alfred Asterjadhi (Qualcomm)

Secretary

Yasuhiko Inoue (NTT)

Technical Editor

Robert Stacey (Intel)
The work on the IEE 802.11ax specification is being done by the IEEE High Efficiency (HE) Wireless LAN Task Group AX. At this point, this work is essentially finished. Leadership of this Task Group is shown in the table above. The IEE 802.11ax specification has been under development since 2014, as shown in the timeline below.
Current Timeline for High Efficiency (HE) Wireless LAN (802.11ax) Task Group AX
(Credit: IEEE)

May 2014

Start of TG

November 2014

First draft of the TG SFD approved

January 2016

Proposed TG draft

March 2016

Draft 0.1 was approved and Comment Collection started

November 2016

Issue Draft 1.0 and start WG Letter Ballot — Failed (57.77%)
LB 225: opened Dec. 1st, 2016 and closed Jan. 8th, 2017

September 2017

Draft 2.0 and WG Letter Ballot — Failed (62.84%)
LB 230: opened Oct. 5th, 2017 and closed Nov. 4th, 2017

May 2018

Draft 3.0 and WG Letter Ballot — Passes (86.5%)

January 2019

Draft 4.0 and Recirculation Ballot — Passes (92.2%)

February 2019

Formation of Sponsor Ballot pool

March 2019

Mandatory Draft Review

July 2019

Initial Sponsor Ballot

January 2020

Final 802.11 Approval

March 2020

Conditional EC Approval

June 2020

RevCom submittal and publication
At this point, components such as the silicon chip sets and the 6GHz antennas needed to build a Wi-Fi 6 system are appearing. For example, October 27, 2016, Quantenna announced the first 802.11ax silicon, the QSR10G-AX, said to be compatible with Draft 1.0 of the specification. Since then, Qualcomm, Broadcom, Marvell, Intel and MediaTek have all announced their own chipsets. In August 2017, Asus announced the first 802.11ax router, the RT-AX88U, which uses a Broadcom chipset. Recently, Airgen announced an electronically steerable RF antenna for use in the new 6GHz (5.9-7.125GHz) Wi-Fi 6 band. They also announced tri-band antenna options that support the 2.4GHz, 5GHz and 6GHz Wi-Fi RF bands.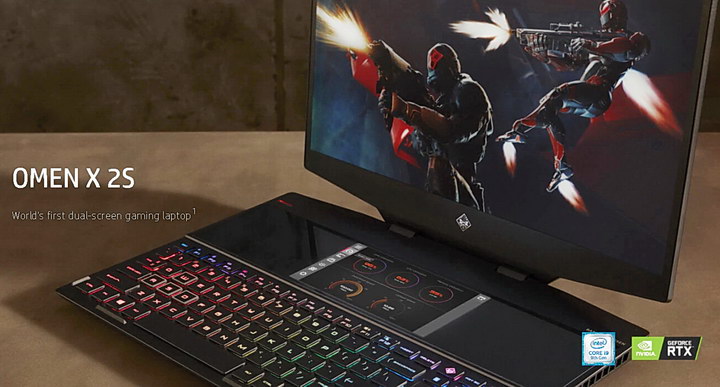 Wi-Fi 6-enabled Omen X 2S dual-screen gaming laptop from HP (Credit: HP)
The first commercial consumer device with Wi-Fi 6 compatibility is said to be the Samsung Galaxy S10, released in March 2019. In May, HP announced the Omen X 2S dual screen gaming laptop, with June availability. An interesting feature of this computer, besides Wi-Fi 6, is the second screen visible just above the keyboard. This is a 6" 1080p touch screen and can be used as a touch screen controller, as shown, or as a repeater of the main image. The main 15.6" screen is either 144Hz FHD (1920 x 1080) or, optionally, 4K (3840 x 2160). HP uses the Intel Wi-Fi 6 (802.11ax) chipset and solid state storage "designed to support gigabit speeds ups the wireless game with up to 3X faster file transfer speeds than Wi-Fi 5(802.11ac)." The original HP Omen 15 and 17 laptops used Wi-Fi 5 and only had a single screen. The Omen X 2S is available now at a starting price of $1800.
Note that you can be Wi-Fi 6 compatible but not support the 6GHz RF band. There are other important changes between Wi-Fi 5 and 6 besides the support for a wider variety of RF bands, including OFDMA RF modulation and reduced system latency. While the increase in the RF frequency accounts for perhaps a 37% increase in throughput of Wi-Fi 6 in the 6GHz band compared to Wi-Fi 5 in the 5GHz band, the 3-4x speed increase consumers can expect to see come from these additional changes.
By the way, 5G has run into major political problems in the US because one of the major players in 5G, Huawei Technologies, is a Chinese company. President Trump believes that even though Huawei is not a government-owned company, it could embed software into the 5G Network that could give the Chinese Government a back-door into all traffic over a 5G network that uses Huawei hardware and its accompanying software. I wonder when President Trump is going to realize that Huawei is also a major player in Wi-Fi 6 and the IEEE task group formulating IEEE 802.11ax, the basis for Wi-Fi 6, has Osama Aboul-Magd of Huawei as its Chair? Huawei, of course, has plans to develop Wi-Fi 6 hardware and software. On the Huawei Wi-Fi 6 page, the company states:
"Huawei is a major contributor in the coming Wi-Fi 6 era.

"Wi-Fi 6, the sixth generation of the Wi-Fi standard, introduces key 5G technologies, such as Orthogonal Frequency-Division Multiple Access (OFDMA), uplink Multi-User MIMO (MU-MIMO), and higher-order coding 1,024-QAM. Wi-Fi 6 achieves four times higher network bandwidth and four times more concurrent users than Wi-Fi 5, as well as reducing the average network latency from 30 milliseconds to 20 milliseconds. Huawei experts are chairpersons of five 802.11 standard working groups. With such extensive understanding and strong expertise in 5G technologies, Huawei is a major contributor to Wi-Fi 6 (802.11ax) standards."
– Matthew Brennesholtz