American manufacturers are spending less on warranties than they used to, says Warranty Week. The site's 2015 warranty expense data collection is almost complete, and it has examined the data to determine why this is the case.
For 10 straight years, American manufacturers – of a wide range of products, not just consumer electronics – cut their warranty expenses by improving efficiency, raising product quality and spotting patterns of failure that could be eliminated. However, the trend has changed over the past three years, to 'no trend'.
Claims payments in 2015 were down around $500 million (1.8%) YoY, to $26.4 billion. Accruals – money set aside to deal with future claims – fell a much steeper $13.6 billion (almost 13%), to $25 billion. Reserves (accruals less claims) were down $1.3 billion (3%), to $43.1 billion.
Although some companies are still to report their year-end financials, they are not expected to alter the totals below by much: about $40 million in claims and $40 million in accruals.
One significant change is that Warranty Week is no longer tracking data from FCA US (Chrysler Group), as the firm stopped reporting its warranty expenses in Q3'15. Because of this, Chrysler warranty data from 2009 – 2015 has been removed. This makes the 2014-2015 downturn appear even larger.
Warranty Claims
Automotive OEMs are still the largest warranty provider of any industry segment for US-based companies, representing more than 38% of the $26.4 billion total. Computer OEMs are second, at 25%, and appliance makers third at 6.6%.
Of the 17 industry categories that Warranty Week tracks, only five saw growth in claims payments last year: telecom equipment, computer peripherals, computer OEMs, home builders and sports equipment. Other categories declined – but is this a good thing? Nominally yes, because warranty claims are an expense. However, falling claims could be due to falling sales or shorter warranties; while rising claims could be due to climbing sales.
Automotive OEMs' claims were down because of the annual decline in recall expenses; they are still recovering from unusually high costs in the past. Computer OEMs' claims rose, largely due to Apple's iPhone.
Warranty Accruals
Automotive OEMs, computer OEMs and appliance makers also lead the warranty accruals section. Of the $3.6 billion decline in accruals last year, automotive OEMs contributed almost $2.8 billion. Computer OEMs contributed $687 million, and aerospace firms $270 million. Appliance makers saw the largest rise in accruals ($168 million).
Overall, 11 industry categories saw declining accruals, while six saw gains. Despite this, 2015 was the second-highest year for accruals that Warranty Week has ever measured, with a year-end balance of $43.1 billion (down $1.3 billion).
Warranty Reserves
Of the 17 industry categories, 11 saw declining reserves in 2015 – led by automotive, with a $1.26 billion drop. Other declining industries included computer peripherals and data storage. Semiconductors, however, saw a large increase.
Putting it to Use
Warranty Week also calculates claims and accrual rates, which represent the percentage of revenue going towards paying warranty expenses. In early 2015, the accrual rate hit a new low of 1.2% – however, it did not stay that low for long.
Between 2003 and 2012 – minus a recessionary bump in 2009 – warranty expenses were trending downwards, from around 1.8% to 1.3%. However, they began to rise again in 2013 – then fall – then rise again. As mentioned above, the trend was 'no trend'!
This may be because manufacturers have stopped cutting warranty costs. Perhaps there are no more excess costs to cut; or perhaps product reliability has reached a new high, or repair costs a new low. Alternatively, it may be because the cost of warranty work on the latest generations of technology aren't as easy to keep under control as the older ones.
Warranty-providing companies, for simplicity, are divided into three groups: vehicles, high-tech and buildings (which also includes things like clothing and jewellery). The vehicle sector typically comprises just over half of the total claims and accruals, and high-tech just over a third. However, because vehicles have more warranty claims and longer-lasting warranties, their reserves are about 60% of the total, compared to 25% for high-tech.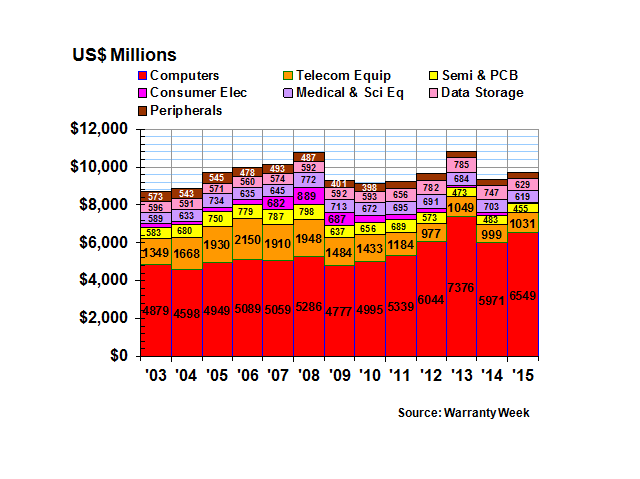 In the high-tech sector, Apple surpassed GM to lead the list of US-based warranty providers. The firm paid out almost $900 million more in 2015 claims than it did in 2014, and that more than offset some of the declines from other high-tech companies.
The overall gain in claims in the high-tech segment was $382 million, mostly due to a big jump in claims for computer OEMs – and, again, that was mostly down to Apple – and a decline for data storage companies. The other five industries in this segment saw only minor changes.