Vuzix is most well-known for its M100 augmented reality smart glasses, which are firmly aimed at the B2B market. The company has developed its wave guide technology, which bounces the image (from a 0.22″ LCD panel with 960 x 540 resolution) between the sheets of glass that form the glasses' lenses. The result is a smaller form factor for upcoming glasses.
To further reduce size and weight, Vuzix has chosen to move almost all of the electronics from the glasses to a dedicated smartphone, which will be required to use the glasses. The tethered battery remains, however.
B2B is the still main focus of these glasses, but they are open to consumers as well (I am not convinced that a consumer would want anything that needs a tethered battery in today's day and age – especially if it means giving up their smartphone, or carrying another – TA). They will be launched later this year, for between $1,500 and $2,000.
In December of 2013, Vuzix announced it was licensing technology from Nokia to enable waveguide-based see-through displays for augmented reality applications. At CES 2015, it expanded its relationship with Nokia by announcing a licensing deal to bring its HERE mapping and navigation apps to the M100 Smart Glasses.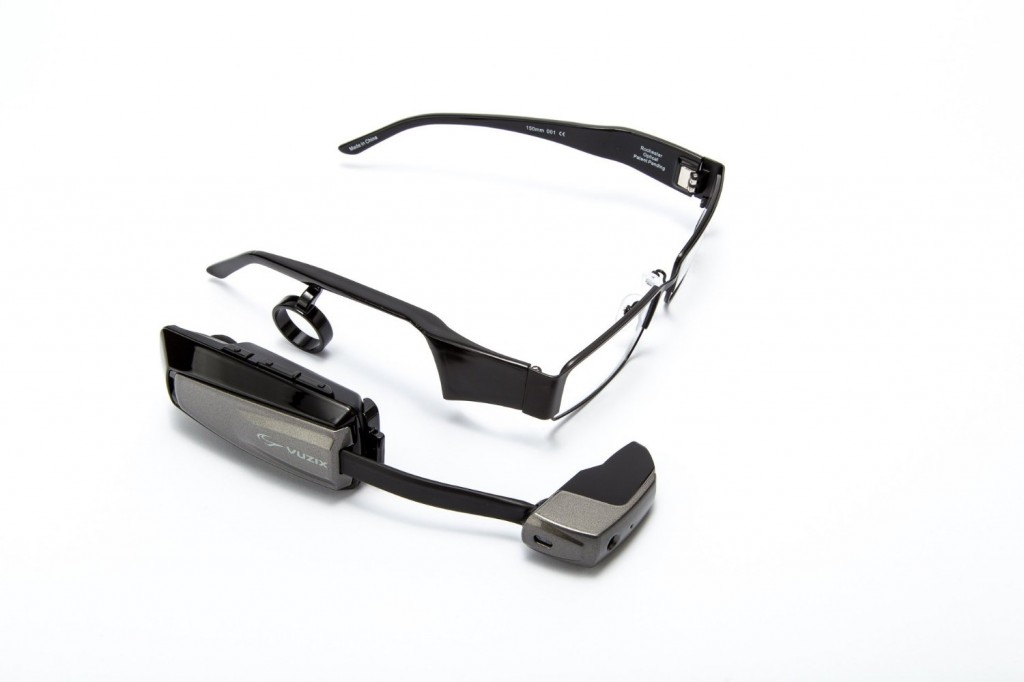 The HERE apps add a robust location services engine to the glasses, with features such as turn-by-turn drive or walk guidance without an internet connection, public transport maps and integration with short-range location devices such as Bluetooth beacons.
Nokia will be allowing developers to make apps for Vuzix M100 smartglasses. Much like the mobile version, the smartglasses app will let users download detailed maps, access online and offline drive and walk navigation, and route planning and search in more than 100 countries. The service, for now, offers live traffic information in more than 40 countries. Users will be able to search for location, and check route and directions without ever touching the device, using gestures.
According to Vuzix president Paul Travers, the mapping function is geared toward pleasing the company's highly valued enterprise customer base.
Vuzix also announced a $24.8 million investment from Intel that gives the chipmaker a 30% ownership of Vuzix, while also giving the eyewear maker the funds to carry out its growth plan.
The M100 is said to be doing well in its target enterprise markets. It is now sold by SAP, Salesforce, Amazon and in China via a deal with Lenovo.