Mobile Displays – Consumer adoption of ereaders and tablet PCs has been a key driver for small display unit shipments and revenues. Over the past several years, display market dynamics have been volatile as users adopt new mobile devices. 
For example, at the recent 2014 Printed Electronics conference held in Santa Clara, CA, November 18-20, a presenter from IDTechEx discussed how the "iPad effect" has driven readers to the use of tablet PCs with color LCDs which has led to a substantial decline in the unit sales of ereaders with electrophoretic displays as illustrated by his data and observations below.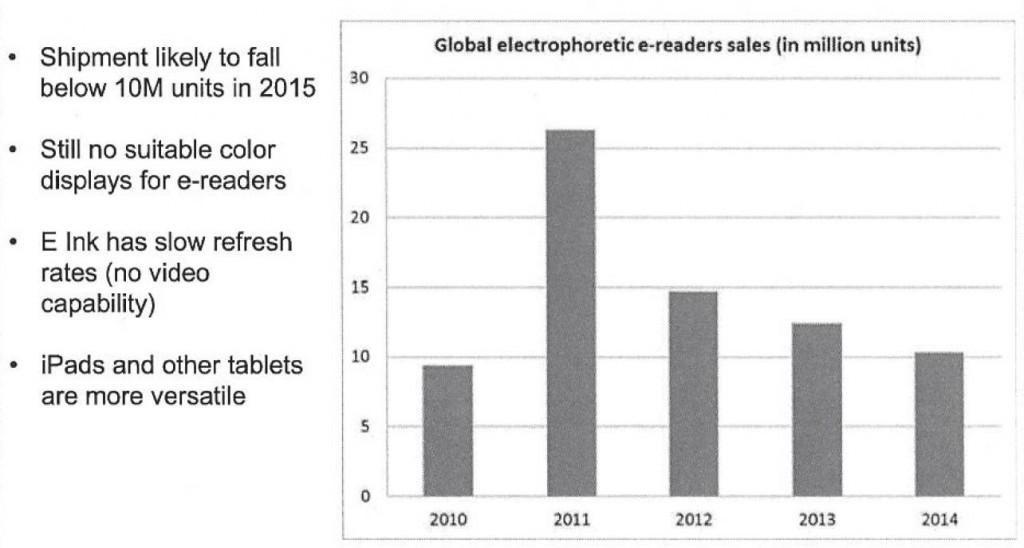 After seeing shipments of more than 25 million units in 2011, IDTechEx's forecast that shipments of electrophoretic display ereaders are likely to fall below 10 million units in 2015 suggests a bleak future for this once promising display technology.
A similar wave of disruption is just now being observed in Apple iPad sales. The data below from Statista show iPad sales by quarter from Q3 2010 through to Q4 2014.
Source: Statista
The seasonality of iPad sales is evident in the chart above but based on these data, annual iPad sales would appear to have essentially saturated. Recent reports from Digitimes Research and IDC deliver similar accounts of declining iPad sales. Digitimes has reported that in 2015, "iPad shipments are expected to continue decreasing to reach around 55 million units". IDC reports: "The worldwide tablet market is expected to see a massive deceleration in 2014 with year-over-year growth slowing to 7.2%, down from 52.5% in 2013 … At the core of this slowdown is the expectation that 2014 will represent the first full year of decline in Apple iPad shipments. Both the iPad and the overall market slowdown do not come as a surprise as device lifecycles for tablets have continued to lengthen, increasingly resembling those of PCs more than smartphones".
Reporting on another IDC study, the Financial Times states: "Apple has lost its long-standing lead over Google in US schools, with Chromebook laptop computers overtaking iPads for the first time as the most popular new device for education authorities purchasing in bulk for students. Google shipped 715,500 of the low-cost laptops into US schools in the third quarter (Q3 2014), compared with 702,000 iPads, according to IDC, the market research firm. Chromebooks, which sell for as little as $199, have gone from a standing start two years ago to more than a quarter of the market".
This rapid evolution of user adoption of mobile device brands and categories will likely continue to have a strong influence on the unit shipments and revenues for various display types and manufacturers. While overall it seems that revenue and shipments will continue to increase, it is not so clear which display type and display manufacturer will profit in the New Year. – Phil Wright