Notebook PC – The ASUS ZENBOOK NX500 has arrived in retail stores for sale. Featuring 3M's Quantum Dot Enhancement Film, it is the first commercialized Notebook PC to leverage this new color enhancing technology. 
The ASUS ZENBOOK NX500 is available for purchase at B&H Photo and Video New York store and online from Amazon with a MSRP of $2,699 USD.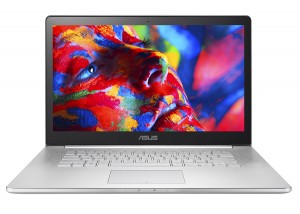 The limited-edition Ultrabook™ creates a superior viewing experience with 3M's color enhancement film in a 15.6-inch, 4K resolution display that will inspire creative professionals and enthusiasts to create vibrant graphics for work and play wherever they go. 3M's color enhancement film enables color-on-the-go as it is one of the most efficient ways to achieve high color gamut in a display.
"We are proud to have 3M Quantum Dot Enhancement Film enabling superior color quality in the NX500 display in conjunction with ASUS," stated Erik Jostes, 3M LCD Business Director. "The enhanced color capabilities will enable a new era in creative content as artists and designers discover the full potential of sophisticated design and editing programs on-the-go."
In addition to a superior visual experience, the ASUS ZENBOOK NX500 features Bang & Olufsen™ speakers, a sleek and stylish all-aluminum unibody design and is touchscreen enabled. On the inside, the NX500 carries an Intel® Core™ i7-4712HQ CPU, NVidia's GeForce® GTX 850M graphics processor, 802.11ac, and USB 3.0 ports.
"The award-winning ZENBOOK NX500 brings even more sophistication and power to our classic ZENBOOK tradition," stated Steve Chang, ASUS Computer International President. "ZENBOOK NX500 is the world's first notebook using 3M Quantum-Dot Enhancement Film (3M QDEF) technology to deliver richer and stunning colors."
IHS Technology (NYSE: IHS) forecasts unit demand for quantum dots in notebook PC LCDs to increase over 3600% Y/Y from 171 thousand units in 2014 to 6.328 million units in 2020. An Ultra High Definition standard for televisions issued by the International Telecommunication Union called Rec 2020 is driving demand for even more color capable displays.
To learn more about the ASUS ZENBOOK NX500 and 3M Color, visit: 3MColorMatters.com