When we talk about wearables we typically have some gadgets like smartwatches or health bands in mind. We even have seen jewelry with some light effects showing up in the market and who has not seen the sneakers for little kids that light up some LEDs when they run around? Now, Vixole, a New York, USA-based start up design and art studio took this idea one step further and put on Indiegogo their idea of a shoe with a display embedded on the heel. It allows the wearer to express some fashion depending on their mood. There are several designs to chose from.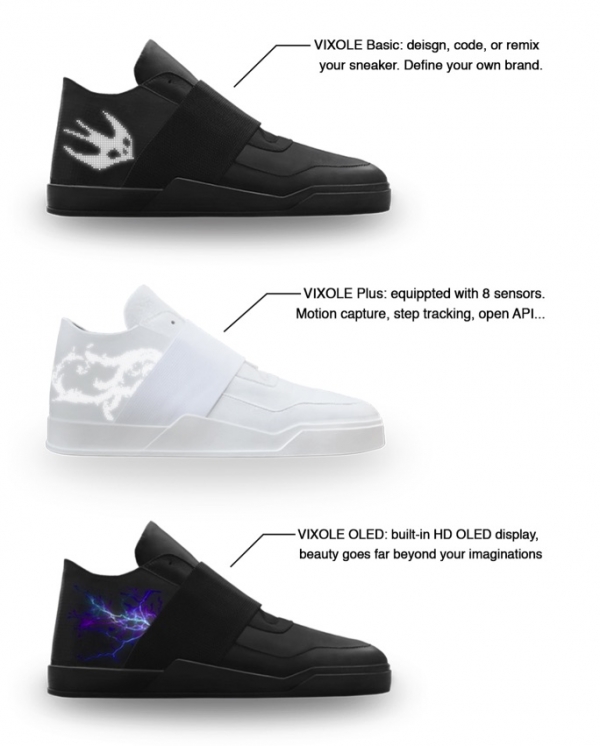 Source: Vixole.com – The E-Sneaker
The E-Sneaker comes in three forms, the Basic, Plus and OLED. As expected, the price increases with added functionality and allows the user to use the sneakers for more than just walking in fashion. While the Basic has a LED display on the heel that can be programmed via a paired smartphone, the Plus adds sensor technology and the OLED does indeed add a high resolution OLED screen to your shoe.
The Plus uses sensor technology to allow your shoe to ring and remind you of an incoming message (hmm, why does that sound familiar?) it also counts your steps and communicates with other Plus shoes in close proximity (touching). It can also react to music and create a mini light show on your heel.
According to the website, the OLED one is even capable of playing moving images on your shoes. There is no description on what resolution the OLED display has or how the the moving images are stored. (are they stored in the shoe or are they streaming from your smartphone?) If it is the latter, one can expect a pretty strong battery draw from that app. The app comes for free and allows the user to define the image to display or allows you to create your own logo if you feel inclined to do so.
All shoes come with wireless charging. The displays will run for 8h on a full charge, Vixole promises, after charging for two hours.
Pricing starts at $150 for the early bird Basic ($275 MSRP) and $195 for the early bird Plus version ($345 MSRP). In case you have set your heart on a pair of sneakers with an OLED display, I have to disappoint you, they are already all gone. They would have set you back a cool $300 though. Vixole isn't so sure about the OLED idea and only said they would make only 300 pairs in the first production run. Since they are gone, together with their price tag it is no surprise that Vixole has already reached 495% of their $30,000 target funding within the first two weeks.
The time line foresees them shipping in June of 2017 at earliest.
Analyst Comments
I love these kind of silly ideas that create a kind of cult following in an instant without any other backing than nice images on a webpage. When you think about it, these sneakers will cost the user abut what a pair high end Nike's will cost you. Maybe not a bad value for something that will make you stand out until everyone has one? Isn't that the idea of an impulse buy? Maybe next holiday season we will be looking at LED sneakers and I can't wait until CEA adds this to their holiday spending forecast.
Now, I do have one issue with the whole idea. Having tried shoes on that do not fit my foot for my whole life, I wonder what you do if that happens to your E-Sneaker? Well, I guess that you can still give it away to someone who has a foot that fits. Norbert Hildebrand