GWS Displays in Shenzhen, China is a company that is not well known to Display Daily readers – there are no hits on "GWS" for either free or subscriber-only news on the Display Daily website. The company is said to have invented the transparent LED display in 2011 and is currently the world's largest supplier. They have 20 patents on the technology, according to the company, although only one shows up on the US PTO website, published patent application 20150362133, LED Screen Display Unit and Production Method Therefor.
Assembling GWS Transparent LED Displays
The companies W-series displays have pitch ranges from 5mm – 16mm and transparency ranges from 64% – 90%. When turned off, the displays are said to be virtually invisible from 5M away, except for their supporting framework. When turned on, the brightest of the W series displays, with 6000 cd/m² output, are able to compete with daylight as shown in the picture. For example, the company's W16(H) unit has 6000 cd/m² of peak brightness, 90% transparency and comes in a 960mm x 400mm (37.80" x 15.75") module size. Power consumed is a maximum of 830 Watts/m² and an average of 290 Watts/m². This unit has an Ingress Protection of IP20. This means objects 12mm in diameter and larger cannot penetrate the display and the unit has no protection at all against liquids. In other words, this is indoors-only and the end user has to protect the unit and the child from probing fingers. For outdoor use, the company offers the N-Series with a rating of IP67, This means they are fully protected against dust and are rated for submersion up to 1M depth.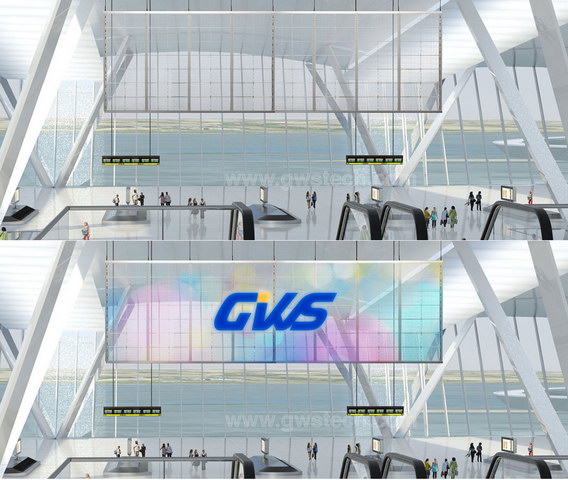 GWS transparent LED displays are largely invisible in the off state (top) and bright enough to complete with daylight in the on state (bottom).
The company's new P (Poster) series, formerly known as the XT series, comes in three fixed sizes, 42", 55" and 63". The pitch of the 42" unit is 3 mm V and 6 mm H with 55% transparency while the 55" and 63" are both 3.3 mm V x 6.6 mm H with 60% transparency. All three units have ? 5500 cd/m² output. These P-series units are intended for small businesses and no professional installation is required. These units come with content management software from GWS. However, you may also use third party content management software, if desired, or any source at all – they have HDMI inputs for the video. These units also have IP20 ingress protection.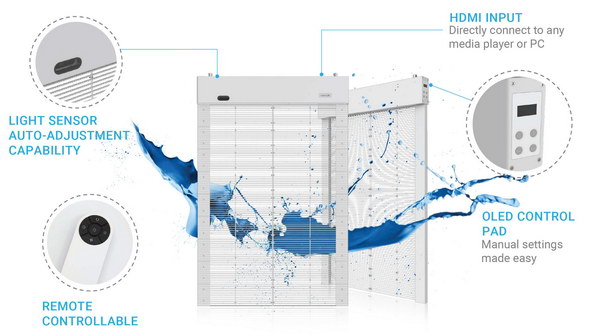 GWS P-Series displays are designed for ease of use by small businessmen.
Who would want a transparent LED display? GWS stands for "Global Window Sign" and all their displays target digital signage applications. These displays are not designed for information such as airport departures, they are mainly for advertising. Not just any advertising, but for flashy, attention-getting advertising. The company says its signs are good for applications such as storefront window displays, restaurant chains, shopping malls, airports, museums, financial institutions, trade shows, special events, festivals, stage productions, media architecture, plus a host of other uses. A 1 minute video of GWS Displays in action Chow Sang Sang (sic) Jewelry Shop in Hong Kong is available below, as are other videos of applications of GWS displays.
GWS will be at Integrated Systems Europe (ISE) 2017 in Amsterdam February 7th through the 10th. Well, so will I and I expect to be able to give you a first hand report on their products then. –Matthew Brennesholtz