Two developers caught my attention during my visit to the 2015 SID Display Week Innovation Zone (iZone). Redux Technologies and TouchNetix were exhibiting new embedded haptics and touch sensor products, respectively. The Redux Embedded Haptics Controller was being demonstrated on the firm's tabletop display in the iZone. Redux Labs showed its tablet-sized touchscreen demonstrator (photo below) with re-configurable control layouts, haptic sensations and audio (speaker) capability. The Redux reference design uses bending wave actuators mounted on the touch panel to deliver haptic feedback and audio output to the touch screen user. The system also senses and utilizes touch force data that the company states can be used to enable lifelike tactile responses to be delivered directly to the point of touch. The firm also claims that decent audio quality can be obtained directly from the touch screen equipped with their actuators without the need for additional loudspeakers.
Source: Redux Laboratories
In using the demonstrator, I found that the Redux haptics equipped touch screen user interface offered one of the better touch screen haptics experiences that I have observed (touched) over the past several years. I, for one, will be watching to see if Redux obtains significant design wins for its technology and thus enables touch screen devices with an improved haptic feedback experience beyond the buzzes, clicks, and taps we are currently accustomed to.
Also in the SID iZone, TouchNetix exhibited its new human machine interface (HMI) technology labeled "the capacitive pressScreen" (illustration below). TouchNetix, founded by former Quantum Research Group personnel, describes their new technology as "adding an extra user interface (UI) layer to verify user intent as the screen is pressed and touched at the same time." The capacitive pressScreen is based on a full multi-touch "industrial grade" capacitive touch screen that offers uniform press sensing with multiple definable thresholds. With additional hardware the touch screen can also incorporate "realistic haptic effects." The pressScreen measures 10's of microns of front lens displacement as the surface is pressed and is environmentally sealed and capable of use in noisy and vibration prone environments.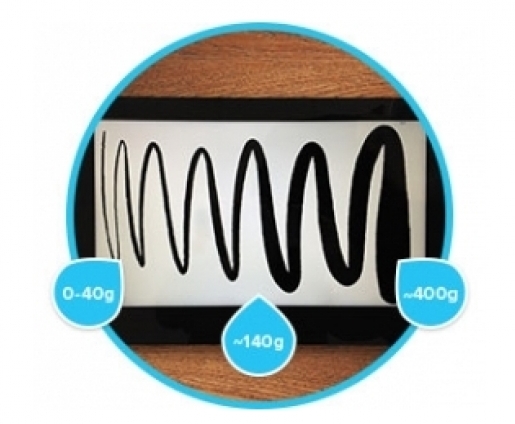 Source: TouchNetix
As in past years since the introduction of iZone at SID Display Week, the innovative companies invited to participate offered up an interesting and in fact exciting range of new technologies for use in display related products and applications. – Phil Wright