Toshiba has announced a range of laptops that will go on sale at the start of July, just before the launch of Windows 10. Each one uses either a new AMD Carrizo or a fifth-generation Intel chip; they will run Windows 8.1, with a free upgrade to Windows 10 later in the month.
The four ranges mark an overhaul of Toshiba's consumer laptop line; further models will be introduced later in the year. New business notebooks will also be launched in the coming months. So far, Toshiba has simply announced the products, without going into specifications.
The Satellite C series is the entry-level, followed by the Satellite L, Satellite P and Satellite Radius products. Toshiba's Satellite C40-C is the first model, with a dual-core Celeron processor (2GB of RAM, 32GB SSD). This model is 14″, with 1366 x 768 resolution and a dual-array microphone to recognise voice commands to Cortana.
Larger Satellite C models are the 15.6″ C55-C (1366 x 768) and 17.3″ C70-C (1600 x 900). These have processor choices up to Intel Core i5 or AMD A8-7410; up to 16GB of RAM; and a 2TB HDD or 256GB SSD.
Designed for everyday computing, the L50 series will have 15.6″ (L50-C) and 17.3″ (L70-C) sizes. Both will have 1920 x 1080 resolution as an option. They are 20% slimmer than 2014's L50 models and feature processors up to Core i7 or AMD A10-8700P. They have 2TB HDDs or 256GB SSDs.
Built for demanding graphical work or gaming, the P50 notebooks feature a discrete Nvidia Geforce GTC 950M GPU. Users are also able to choose an UltraHD resolution display as an option on the P50t-C model, with ChromeTune colour calibration. This was introduced on last year's P55t and enables users to adjust the colour balance of the display.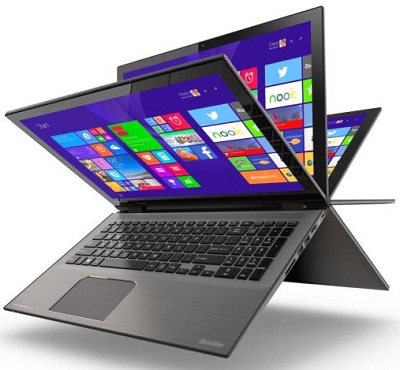 As well as the P50t-C, the P50-C and P50D-C models are part of the P50 series. They have the same processor and storage options as the L50 series.
Finally, the Satellite Radius 14 and Radius 15 are larger (14″ and 15.6″) versions of the Radius 11 convertible PC, which was launched in 2014. By default, they have 1920 x 1080 resolution (IPS panel), processors up to Core i5, 16GB of RAM and a 2TB HDD/256GB SSD.
Battery life is up to seven hours. The notebooks feature USB 3.0 (x2) and USB 2.0 ports. An UltraHD edition of the Radius 15 will also be launched, which will have Harmon Kardon speakers.
Although specifications are in short supply, Toshiba has shared starting prices for the new lines. The Satellite C notebooks will start at £165 ($260); the Satellite L at £330 ($525); the Satellite P at £415 ($660); the Radius 14 at $585; the Radius 15 at £500 ($800). All prices are ex VAT.