It is the time of the year to look forward to the industry trends for 2019.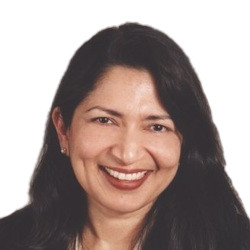 Foldable Display – starting a new era
After the long wait, foldable display era will be finally starting in 2019. Samsung has announced (Developer Conference 2018) its plan to start mass production of its first foldable smartphone in 2019. The company showcased its "Infinity Flex Display" foldable smartphone display with a cover display (4.5″) and a main display (7.3″). A big advantage of a foldable display is the ability to have "a thin light larger screen size display in a smaller form factor". According to Samsung, they used an ultra thin polarizer, which was 45% thinner than the previous version to create a flexible and durable display that can be folded and unfolded more than 100K times. Samsung replaced the cover glass with a flexible polymer cover film and used a new type of adhesive.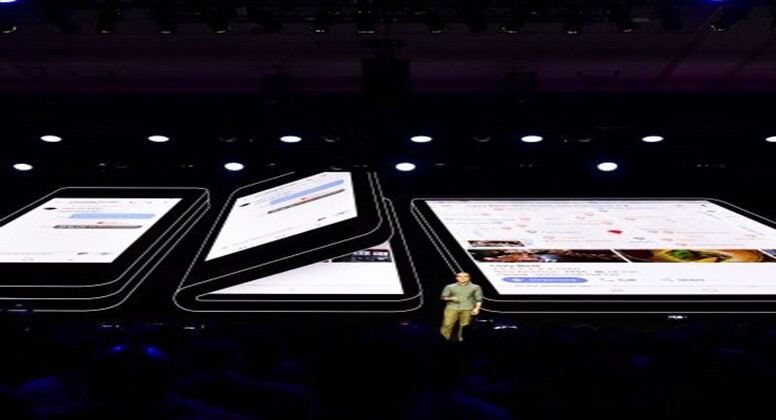 Head of Android UX @ Google- adding support for Infinity Flex Display's foldable form factor
Royole has also showcased a foldable smartphone, "FlexPai", with an outward fold (not an inward fold like Samsung), that unfolds to a tablet. Also companies such as Huawei, LG, Google, Lenovo and others are planning to introduce foldable smartphones. BOE and Visionox have also shown prototypes. Foldable smartphone prices are expected to be in the range of $1500 to $2500, which is substantially higher than current high end prices. There are still many challenges including process technology, materials, manufacturing issues, high capex, higher costs, durability of the products, design acceptance, and consumer willingness to pay higher prices for the new designs.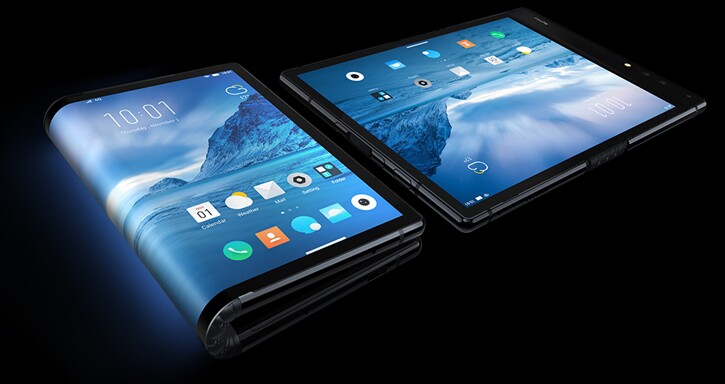 Royole- Foldable phone "FlexPai" smartphone + tablet
Foldable smartphones will dazzle the market with technology breakthrough and new form factors, but high price and complex manufacturing process will limit demand and unit shipments in 2019.
Flexible Display – strong presence and higher market share
Flexible OLED is expected to gain market share in the smartphone market due to its ability to offer innovative design differentiation. Apple's iPhone X and Samsung Galaxy smartphones are helping flexible OLED volume growth. Chinese brands, influenced by Apple, have started to adopt OLED displays for their smartphone models. The trend towards "full screen" format also requires super narrow bezel or bezel-less designs and flexible OLED is more suitable for " full screen" designs. Sony, Huawei, HTC, ZTE and many others have introduced smartphones based on flexible OLEDs with diagonals above 6″.
Samsung was the top flexible OLED display supplier with very high volume production and market share. Its fabs faced lower utilization rates in 2018 due to slower iPhone sales than hoped for. LGD, BOE, Tianma and others are increasing production in 2019. This will help to reduce prices and increase market shares.
Complex manufacturing process, lower yield rates and other challenges will keep cost at a higher level in 2019. Even though the potential future of next generation flexible and foldable displays is very promising, higher performance and differentiated form factor will not be enough; it has to be combined with more competitive prices if flexible display is to dominate the mature smartphone market.
OLED display – higher market shares
OLED display technology is in the forefront for flexible and foldable display. OLED displays are ready to excel in next generation smartphones by bringing in thinner, lighter, lower power and higher performance products with differentiated designs and form factors.
Rigid OLED display cost has the potential to come closer to LTPS LCD's cost level. But, there is very little design differentiation between LTPS LCD and rigid OLED smartphones.
Chinese suppliers including BOE, Tianma, and many others are bringing in OLED capacity. Many suppliers including Universal Display, Cynora, Kulux and others are working towards improving the efficiency, resolutions, lifetime and costs. Combined with printable OLED manufacturing capabilities, they have the potential to enable lower-cost displays, although that will take a few more years.
OLED has secured a strong presence in the premium TV market because of picture quality, design differentiation, perfect black and an infinite contrast ratio. LG Electronics is the most successful brand with LG Display's OLED TV panels. Other brands such as Sony, Panasonic, Skyworth, TPV, Hisense, Konka and others have joined in, using LG Display's panel. LGD is converting LCD TV capacity to OLED TV and may be accelerating its plans to develop 10.5G fab capacity. Ink jet printing (IJP) can offer lower manufacturing cost due to lower capex, lower material cost from simple structure and color filter elimination. But the lifetime of soluble blue OLED needs improvement.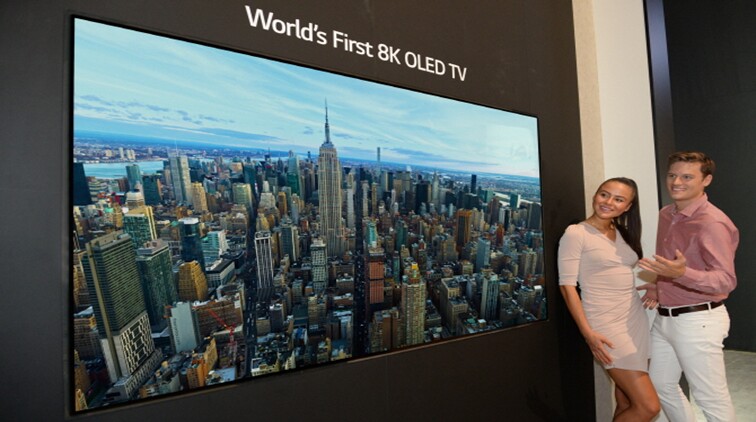 LG showed its first 8K OLED TV concept at IFA
OLED display will take more market share away from LCD and increase its presence in the smartphone, TV, AR/VR and smartwatch markets. It will also open up new opportunities in automotive, tablet, notebook and other applications
LCD technology – lower market share with continued dominance
LCD will continue to lose market share, especially in the small and medium display market to OLED. Strong competition has also impacted LCD's profitability resulting in fab closures (especially for a-Si LCD). The market has moved towards LTPS LCD and OLED display in the smartphone market.
Companies such as AUO, Tianma, BOE, JDI, Sharp and others have invested in 6th Gen LTPS capacity. Higher capacity, fierce competition and a slow down in the smartphone market, combined with Apple's adoption of flexible OLED display, have resulted in aggressive price reductions. These reductions have enabled the technology to meet mid-range product price points. In 2018, LTPS LCD fab utilization has been higher than OLED as they meet the lower price point requirements of the smartphone market with more advanced features. This has enabled some Chinese brands to gain market share. In spite of expected major unit market share gain by OLED, LCD will continue to be dominant in terms of units in 2019.
Companies in China such as BOE, China Star and others are bringing in massive 10.5 Gen and higher LCD capacity over the next three to four years that are optimized for 65″ and above size TV panels. This will result in more aggressive price reductions for TV panels in 2019, leading to a shift to larger size TVs. 2018 saw the introduction of more 8K TVs. Manufacturers will bring 8K TV to drive replacement demand. QD technology and mini LED backlight can also help LCD to reduce performance gap with OLED and even exceed performance in certain segments. This will enable LCD technology to keep TV market dominance in 2019 and beyond.
MiniLED backlight – entering the market
MiniLED can help LCD performance by improving contrast ratio, increasing color gamut, reducing response time, and increasing brightness. It can also be combined with direct backlight and local area dimming, to provide very high contrast and better HDR performance. Performance can even improve further with the use of quantum dot (QD) technology. However, higher cost is a major issue.
A higher number of MiniLED chips can enable better picture quality but may lead to higher costs. MiniLED TV is expected to come in 2019, but it may be 2020 or even later before significant cost reductions can be achieved.
For smartphones, MiniLED backlight can empower LTPS LCD by offering higher contrast by supporting local dimming, higher brightness and faster response time. Suppliers will really need to reduce costs and increase production in order to exploit this small window of opportunity in 2019 and beyond.
Quantum Dot technology – higher growth potential
QD can really empower LCD TV by enabling higher brightness (4000 cd/m² and above) and a significant increase in the color gamut (supporting more of BT 2020). It can bring LCD TV performance closer to OLED and can even exceed it in certain areas such as brightness.
In recent years, there have been various QD technologies and applications available or under development for display (QDEF replacement films, QD on glass light guide plate, QD color convertor replacing color filters, and Electro Emissive QD).
Samsung QLED TVs have been in the forefront, serving the premium market. In 2018, prices have come down. Chinese brands, TCL and Hisense have also joined in. Very high 10.5 Gen fab larger size LCD capacity fabs are coming in 2019 that can help to reduce QD-based LCD TV costs, leading to higher adoption rates.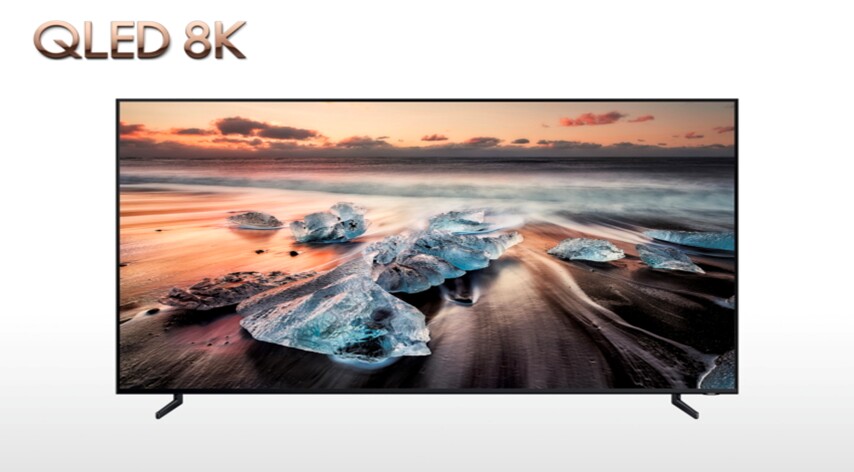 Samsung's first QLED 8K TV
Samsung Display is building a pilot production facility for QD OLED (with QDCC), which will start production in 2019. It simplifies the panel structure and fabrication process and eliminates shadow mask patterning. However the process needs highly efficient blue OLED materials with a long lifetime. This can open up new opportunities for QD. QDs can improve MicroLED manufacturing process and yield.
MicroLED – coming to market
MicroLED displays are capable of very high brightness, high contrast ratio, wide color gamut, fast response time, low power, high flexibility and higher transparency. It still has many manufacturing challenges that need to be resolved. Manufacturers are planning to focus more on automotive, VR, wearable and indoor cinema applications before trying to focus on mainstream general applications such as TV, laptops or smartphones. MicroLED based display devices are expected in 2019 for AR/VR and wearable market. – Sweta Dash
You might want to look back at Sweta's 2018 article.
Sweta Dash, President, Dash-Insights
Sweta Dash is the founding president of Dash-Insights, a market research and consulting company specializing in the display industry. For more information, contact [email protected] or visit www.dash-insight.com