Warranty Week had its annual look at the top warranty providers in the US and concentrated on those that had changed the most. The blog covers all industries, but we thought we'd pick out just a couple from the report that are relevant to our readers.
Overall for high tech electronics companies, the total of claims fell by nearly $1.3 billion in 2017. The segment of US-owned consumer electronics companies dropped after Samsung bought Harman the blog said in a separate report on product warranties.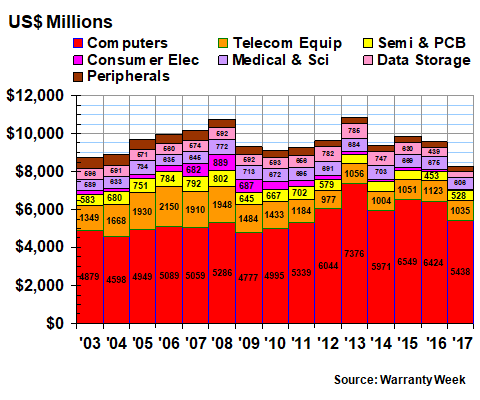 Worldwide Warranty Claims Payments of U.S.-based High-Tech Manufacturers (claims paid in US$ millions, 2003-2017)
Looking at those that saw the biggest drop in claims (as a percentage of sales) Apple is the big spender, with $3.967 billion paid out in 2017, but this was just 1.2% of product sales value compared to 1.9% a year ago. Diebold Nixdorf saw its claims drop from 5.5% a year ago to 3.8% in 2017, at $65 million. HP dropped from 3.3% to 2.6% and saw its claims at just under the billion at $999 million.
Looking at those that saw claims increase, the only company in the top 10 that uses a lot of displays was Visteon, which went from 0.7% to 1.3% to $41 million. Part of the reason that it made the list is that it has done a lot to have a very low base level initially. Another familiar name was Coherent Inc., whose lasers are used in the display making field and that company saw its claims rise from 1.8% to 2.6% ($38 million).
Companies also adjusted their accrual rates in the light of changes and expected provisions and Apple cut its rate from 3.3% to 1.8% which is equivalent to a cut in expenses of $600 million. Diebold Nixdorf also cut its rate from 3.8% to 2.1% but this only represents $15 million in savings. Those increasing their accruals didn't cover any companies that we track, but Diebold Nixdorf reduced its reserves from $99 million to $77 million. Apple didn't make the top 10 but cut its reserves by $375 million, down 8% and back into 14th place.
Rockwell Collins saw an increase of 121% in its reserves to $186 million from $84 million and Tesla saw a boost in reserves from $267 to $402 million.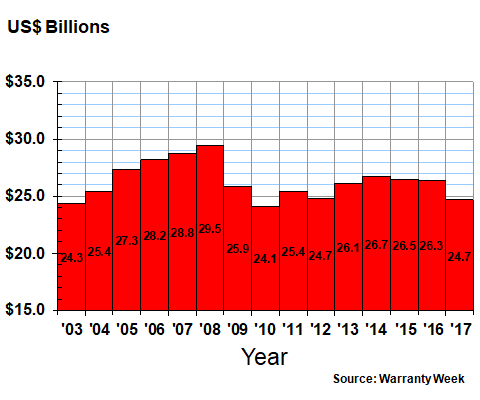 Worldwide Warranty Claims of U.S.-based Companies (claims paid in US$ billions, 2003-2017)
Over the top 100, claims fell by 6.5% to $24.6 billion and accruals by 3.6%, while reserves are down by 1.4%. A decline in sales for the top 100 meant that average claims are down to 1.3%, from 1.8% fifteen years ago. The absolute value of claims has been broadly constant, while sales have grown.