Tianma, a joint Japanese-Chinese company, was at SID showing off a number of commercially-oriented display solutions.
In automotive, the company showed a HUD display, for the first time, we believe. This is based upon a 1.8" LTPS panel with a resolution of WQVGA (480 x 240) with a contrast ratio of 1000:1 and 18-bit color. It was a prototype and the company is now seeking to engage with Tier One auto suppliers. The HUD must be designed for each car windshield to allow an undistorted image.
Also for automotive cluster displays is an SFT (IPS) LCD unit with 12.3″ diagonal and with cut-away top corners. The company can also make circular and "free form" displays and production is expected in 2016/17.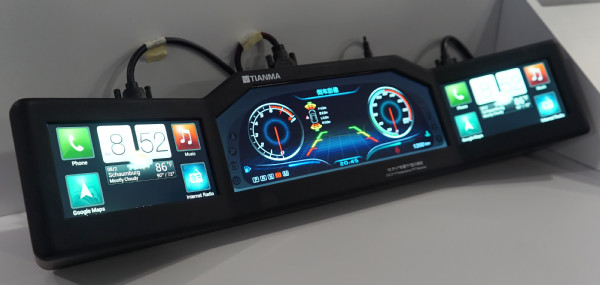 Finally for automotive, there were some passive VA panels in 3.5″ for lower cost auto applications.
Tianma also showed two state-of-the-art high density panels as well. One is an 8k panel with 7680 x 4320 resolution that offers a high level of 847 PPI. This is in a 10.4" tablet size with a MIPI interface, 1000:1 contrast and 400 cd/m² of luminance.
Using the same PPI, the company also showed a 5.2" 4k panel (3840 x 2160) with 1200:1 contrast and 400 nits. The aperture ratio is 35%, and manufacturing is based on LTPS.
A 19.5" 4kx2k prototype was also on display aimed at the medical community. This has a contrast of 1,300:1 and a high 1000 cd/m² luminance and wide viewing angles. It uses the company's Super Fine TFT 2 (SFT2) technology which is designed to offer high aperture ratio, although it was not specified.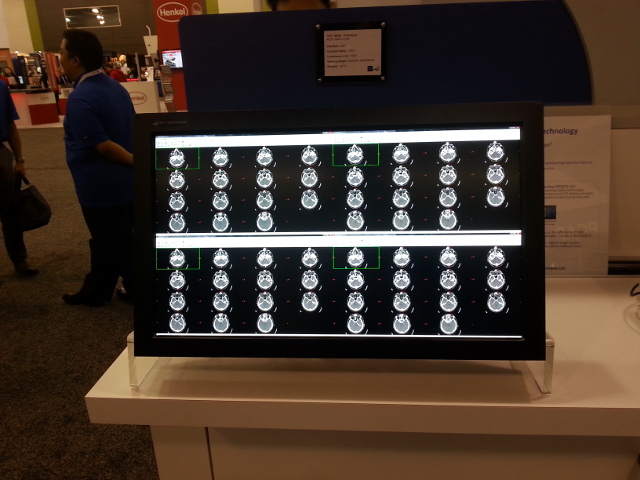 A 21.3″ 3 megapixel (2048 x 1536) quantum dot monitor prototype was also shown and is aimed at medical applications as well. Here, the wider color gamut is prized especially for the ability to show the red blood and tissue tones more accurately. It uses a film-based QD implementation and has 100% support of AdobeRGB. Brightness is 700 cd/m².
The latest version of Tianma's 21.3″ monochrome radiography panel has 10 bit support and an LED backlight. The firm is looking at developing a 30″ version.
Tianma showed two 3D displays. One was a small phone-sized panel that was not very good and the other was an 8" WXGA resolution panel that uses the HDDP pixel structure developed by NLT Technologies (acquired by Tianma). This was showing a two-view implementation that was pretty good, but it is also prone to 3D inversion.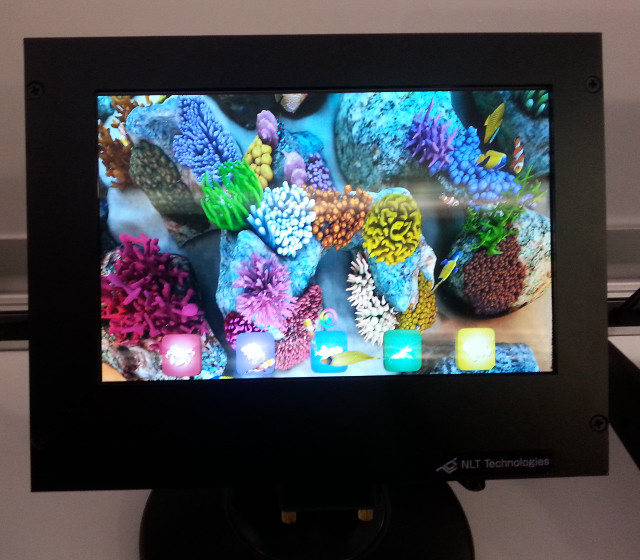 Figure 1: Tianma HDDP 3D display
The NLT part of the company used to be the NEC industrial display, including touch panels. Over the last couple of years, more and more integration has been done and now the company is on to the second generation of its total solution, which includes the controller, sensor and cover glass and a full factory warranty. There is a new controller based on the latest Atmel chip which has been tuned to allow the displays to be impervious to liquids including saline solutions and disinfectant. These are common in medical applications and the panels have already been approved for defibrilators.
The touch solution is very sensitive and demos were given with oven and industrial gloves – impressive! Up to 19″, 10 points are supported with larger sizes supporting up to 16.
Tianma uses OCR for optical bonding of the touch solution and to maintain quality, the process is performed by robots. Full or perimeter bonding is supported and the touch technology uses a single sheet with both sides patterned with ITO.
An example product was an 1,800 cd/m² 12.1″ panel with touch intended for marine applications.
A technology demonstration was of an electrostatic haptic feedback technology based on the firm's own IP. It is expected to be used in medical applications where a surgeon, for example, may not want to take their eye away from what they are doing to get some information.
The firm has been promoting its EVT transflective technology, which uses backlight recycling, for some time and there were a range of displays on show from 7″ to 15″ and with brightness of 400, 600 or 700 cd/m².
Tianma's ColorXcell-2 has special circuitry in the TCon to correct colours and can be used with RGBW panels. The code analyses the frame and calculates the general luminosity and modulates the backlight to optimise the contrast. The system is still in prototype development, but is showing useful power savings.
An 11.6″ 1920 x 1080 panel was shown with an embedded DisplayPort Interface and 400 cd/m² with 800:1 concentrate.
For mobile phone applications, there was a new 5.5″ FullHD AMOLED with 300 cd/m² of brightness and 10,000:1 contrast. Mass production is expected to start in 2016 as Tianma has two new G6 LTPS fabs currently under construction.
Finally, we looked at a 1.3″ circular LCD for wearables and smartwatches.