As SID Display Week approaches with frightening rapidity, we should be thinking big thoughts and getting ready to ask big questions of the experts — real and imagined — who will gather in San Francisco from May 22 to 27.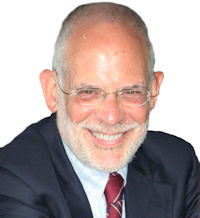 Why, after spending lots and lots of Won to fund its return to the OLED-TV business, did Samsung recently announce it was discontinuing the program to concentrate on quantum-dot-enhanced LCDs?
I don't have an answer to that yet, but let's put our heads together and speculate. Samsung was developing some version of LGD's color-by-white approach, but then announced it was also going to look at its highly successful (in small and medium sizes) but difficult-to-scale RGB technology for TV screen sizes. Maybe, after digging deeply into the issues, Samsung determined it could not find a way around LGD's IP on color-by-white and could not produce a cost-competitive OLED-TV in RGB.
Or, maybe Samsung Display looked at the projections for sharply increasing demand for small and medium (S&M) OLED display panels, including their very likely use in the 2017 Apple iPhone, and decided that developing a manufacturing process and building manufacturing facilities for TV-sized OLED panels while simultaneously expanding S&M production would just too large a drain on resources.
Or, maybe Samsung doesn't want to confuse the message about its very good quantum-dot-enhanced SUHD-TV sets being the company's top-of-the-line (and premium-priced) offering.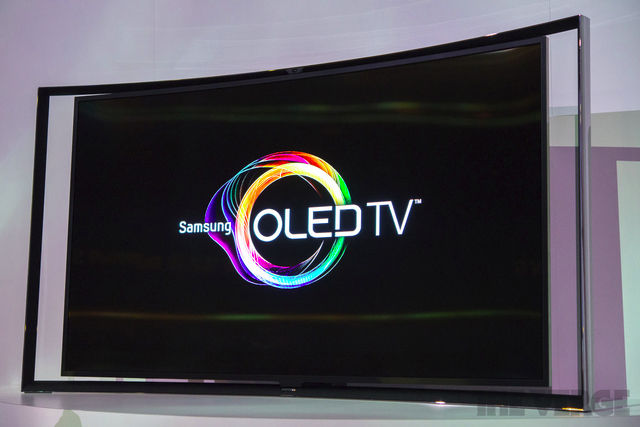 Samsung OLED-TV, c. 2013. When shall we see its like again? (Apologies to Wm Shakespeare.)(Photo: Samsung)
It's no secret that the technology that will make OLED-TV truly cost-competitive is printing the OLED front plane. Samsung has been heavily involved with Menlo-Park-based Kateeva to develop such a technology. What happens to Kateeva now? Or maybe that question gets things backward. Maybe the Kateeva-Samsung R&D is coming along so well that Samsung has decided to pursue solution-processing and discontinue work on traditional manufacturing approaches.
Meanwhile, LGD is ramping OLED capacity, is offering sets at lower (or less high) prices, and promises to confinue making OLED-TVs more affordable.
Haptic technology is widely used in cell phones, but it's primitive. We're beginning get hints of how useful haptics can be when the transducer(s) is (are) small or flat, and can produce vibrations over a wide range of frequencies and intensities. What new haptic players will turn up at Display Week?
The world of transparent flexible conductors (otherwise known as ITO replacements) continues to churn, even after market leader Cambrios Technologies Corp. found its expenses were exceeding its revenues, failed to acquire needed funding, and auctioned itself off the highest bidder. Cambrios is dead. Long live Cambrios. Wait! I'm not kidding. Cambrios really has returned from the dead. The auctioned assets were acquired by Michael Chiang through his family company, Champ Great International Corp. Chiang was an investor in Cambrios and is chairman of TPK, a major supplier of touch screens that was a Cambrios customer.
Champ Great International has established a new company, Cambrios Advanced Materials Corp. "The newly formed company will continue R&D and sales of silver nanowire inks to the global markets," said Chiang. "We have always been a believer in the technology and now have the ability to take silver nanowires to the next level as one of the mainstream technologies for use in touch screens and other emerging applications." Which members of the Cambrios team have been hired by the new Cambrios? What other new developments in transparent flexible conductors will we see in San Francisco. I guarantee we'll see some. (Subscribers can catch up with our Cambrios coverage – Cambrios Clarifies Changes)
That's just a start, of course, but I've exhausted my morning's allotment of pixels. I look forward to seeing you at Display Week. – Ken Werner
Ken Werner is Principal of Nutmeg Consultants, specializing in the display industry, manufacturing, technology, and applications, including mobile devices and television. He consults for attorneys, investment analysts, and companies re-positioning themselves within the display industry or using displays in their products. You can reach him at [email protected].