U2 is going to be the opening act for a new Las Vegas venue, the MSG Sphere, with the world's largest LED display. Not everyone thinks it is going to work out for the display or the venue.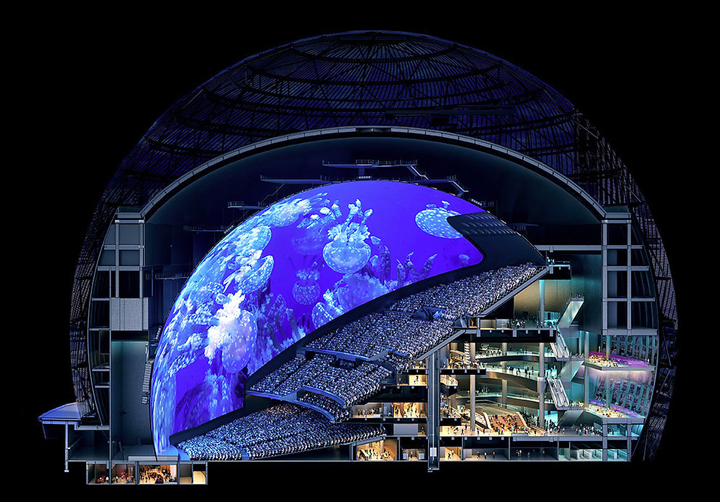 The MSG Sphere will boast a 160,000 square foot 16K LED display indoors, the world's highest resolution display according to the developers, and will have LEDs wrap around the 580,000 square foot exterior to create a surface only advertisers can love. As people in the display industry, you want to root for this kind of outcome when a project is so over budget, and so late, and so uncertain, that your bit, football fields of displays, is going to be most memorable thing about it even if everything else falls apart in a hail of hubris.
The Sphere is the brainchild of MSG Entertainment, which owns New York's Madison Square Garden, The Theater at Madison Square Garden, Radio City Music Hall and Beacon Theatre, and The Chicago Theatre. The guy who owns the company is billionaire James Dolan, a man who is very familiar to the tabloids of New York, and who decided to gift two executives in charge of running the Sphere project with a firing on Valentine's Day. The damn thing is costing him $2.2 billion and is running behind on everything. It was slated to open a few years ago but the pandemic got in the way but it took the bold step of putting out an ad out during the Super Bowl to announce U2 as an opening act for its launch in the Fall.
In touting the project to investors, the indoor, world's highest resolution LED screen was one of the pivotal attractions for the venue. Not only is it meant to be a backdrop at concerts, but it is also going to be the display for immersive, cinematic experiences at $50 a seat. The company has told investor that it would have 400 to 500 screenings in its first year and attract 3-4 million customers at those heady movie prices. And what seats those millions of customers are going to get, with haptic feedback and some sort of scent or climate control to overwhelm all senses. Apparently, Dolan has also hired Darren Aronofsky to do a movie to showcase the experience, maybe The Whale II, but don't quote me on that. If that sounds like hell then you have never experienced Las Vegas where it is merely called, Tuesday.
But the big screen is not getting the love you would think. Apparently, potential headlining bands and musicians are not eager to appear at the Sphere anytime soon, either (U2 is being paid $10 million PLUS 90% of the gate receipts for their shows). Why? Because they don't want their concerts to be upstaged by, you know, a massive digital display. It really makes you wonder what the thought processes were behind the development and how much of it was actually road-tested with the creatives before someone plunked down billions of dollars. Maybe all the mockups and the pre-visualizations of a lit up Sphere in the middle of Las Vegas was enough, but there's ample evidence now that when it comes to digital displays in the public arena, you probably need to blend in and be human adjacent instead of just bombing the senses and taking over every aspect of the experience.
Maybe not in Las Vegas where humans don't count, but MSG Entertainment also has a Sphere planned for London where people definitely have something to say.
The residents of London are not happy about having a giant LED billboards right in the middle of their neighborhoods. If the Sphere does prove to be successful, if the eye-catching display delivers on its promise as an attraction, and that is a big if, then it will probably lead to similar installations in other big cities and change the landscape for extremely large displays. After all, spend a billion to get a billion. Should make for a very happy display installer somewhere. All that before it is even finished.
Preview inside the Las Vegas MSG sphere pic.twitter.com/3bS4oRJI1F

— roasty🍞toasty🥖🥯🧇 (@DR0girl) February 6, 2023