Toshiba Europe GmbH today announces its next generation TD-E2 Series consisting of four new business display models benefitting from Full HD (1920 x 1080) resolution and 16/7 operation. Available in sizes up to 165 cm (65"), the new TD-E2 Series offers connectivity and flexibility to make it ideally suited for retail, hospitality and corporate environments.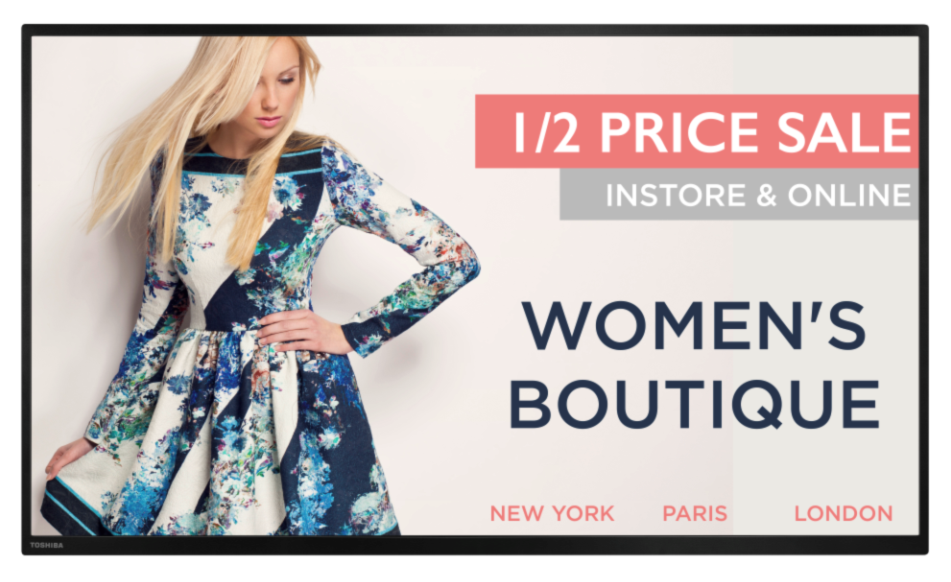 Impactful signage throughout the day
The new TD-E2 Series provide Full HD LED backlit displays with high brightness panels of 450 cd/m2 to maximise content even in lighter conditions and a wide viewing angle of 178 degrees. All these features combined ensure immersive, eye-catching digital communications that grab attention whether it is an advert in the window of a retail outlet or a sports game in a bar.
Designed for operation 16 hours a day, 7 days a week, the TD-E2 Series is flexible regardless of an organisation's requirements. In addition to the choice of either landscape or portrait orientation, the displays can also be tiled in up to 5 x 5 configurations to create larger videowalls for a bigger impact.
Remote media management
The TD-E2 Series puts control in the hands of the user with a range of connectivity options including an embedded USB player. Video, photos, music, and more can also be shared from an external USB device, or additionally via the DVI-D input/output and two HDMI® inputs. The embedded USB player features a seven day scheduler so users have the freedom to set up their content at the start of the week and let it run seamlessly without intervention. In the unlikely event of any issues such as no detection of input signal, the failover capability intervenes to switch content to a nominated backup input to avoid any unwanted blank screens. For complete external control and manageability, each model comes equipped with an RS-232, LAN and IR port.
Designed to scale to any requirements, the TD-E2 Series is available in four sizes – 109 cm (43"), 127 cm (50"), 140 cm (55") and 165 cm (65") – with a discreet matt black, lightweight design and thin bezels to ensure that the content onscreen is always the focus especially when displays are tiled together.
Toshiba's new TD-E2 Series, consisting of the TD-E432, TD-E502, TD-E552 and TD-E652 will be available in the UK during the fourth quarter of 2015.
Toshiba TD-E2 Series:
Display: Full HD (1920 x 1080), 16:9, Direct LED display with 178o viewing angle
Screen sizes:

TD-E432: 109 cm (43")
TD-E502: 127 cm (50")
TD-E552: 140 cm (55")
TD-E652: 165 cm (65")

Brightness: 450 cd/m2
Bezel width:

TD-E432: 12.1 mm (L/R), 14.4 mm (T), 22.5 mm (B)
TD-E502: 16.9 mm (L/R), 17 mm (T), 19.4 mm (B)
TD-E552: 16.6 mm (L/R/T), 19.1 mm (B)
TD-E652: 16 mm (L/R/T), 21.8 mm (B)

Embedded USB player
Embedded speakers (5W + 5W)
Input connectivity: 1 x RS-232, 1 x DVI-D, 2 x HDMI®, 1 x audio mini-jack, 1 x analogue D-SUB, 1 x LAN control (RJ-45), 1 x IR, 1 x composite/component (shared)
Output connectivity: 1 x DVI-D, 1 x audio mini-jack, 1 x RS-232, 1 x IR pass through
---