If you ever wondered what things will be like 20 years hence, (think 1999 – Y2K and pre-911 etc. and fast forward to today) look no further than the remarkably bold report from IDTechEX Research that pushes out its Autonomous Cars and Robotaxis forecast to 2040.

Here in a world just one decade from mid-century, a whopping $2.5 trillion (that's million, million) market exists not just for vehicles, but for the full technology stack including hardware such as sensors, computing platforms, and non-hardware components including AI software and HD maps. Still, that's four times what the US currently spends on national defense ($610 B in 2019 according to pgpf.org ).
OK, in all fairness, in justifying the 20 year forecast, IDTechEX Research also states:
"We built a twenty-year model because our forecast suggests that the transformation towards fully autonomous driving will take place over a long timescale,"
yet still the number seems staggering, this side of the next two decades.
The forecast includes autonomous vehicles (all types) and services, including peak car, robotaxi, mobility-as-a-service (MaaS), lidar, radar, camera, HD maps, AI software, cybersecurity, 5G and V2X (vehicle to everything.) Note: peak car refers to "..a tipping point when the [car] finally begins a steady decline, transforming the way we move," source: Bloomberg primarily due to suitable alternatives like Uber, Lyft and carpooling options.
After all, we are talking about a revolution in the way people and commodities move from place to place, at a time when the alternatives to driving (mobility as a service) will be cheaper than owning and driving a private car. For example, the report expects passenger car sales (global) to peak in 2031 (IDTechEx forecasts, moderate scenario), with 30% of the total travel demand will be provided by mobility as a service (MaaS) by 2040.
On the B2B level too, fleet services, trucking et al. can eliminate the human driver saving on the most expensive cost in logistic management. Twenty years out, the digital age finally realizes the true bonanza in transportation, replacing unit sales of vehicles with revenue by miles driven, autonomously. Perhaps the largest change will come in the supply chain as: "…the traditional system of OEMs and suppliers [form] a collaborative ecosystem comprising OEMs, mobility service providers, software and hardware solution providers, as well as infrastructure providers. We have recently seen competitors joining hands and forming some unlikely-sounding alliances to reduce the cost of AD development, as well as to share resources and capabilities," the group reports.
Looking to the more mid-term, (by 2030) we can expect the autonomous driving system market to reach $57 billion. That includes key sensor technology (lidars, radars, cameras) plus computer hardware, software and maps, the report states. By 2040 this market value will more than triple to $173 billion.
More recently (2018) the report notes no less than 28 companies reported
"actively testing autonomous cars in California. In total, they operated 496 vehicles on public roads in California and covered just over 2 million miles. Apart from GM and Nissan, most high ranking companies are technology companies instead of OEMs."
Experimenting is also being done with Robotaxi's
"… in geo-fenced areas with onboard safety drivers. Most of the robotaxi companies have announced plans to commercialize the service by 2022, but it is still not clear when they will get approval from regulators to get rid of the safety drivers which marks the really commercialization of robotaxis."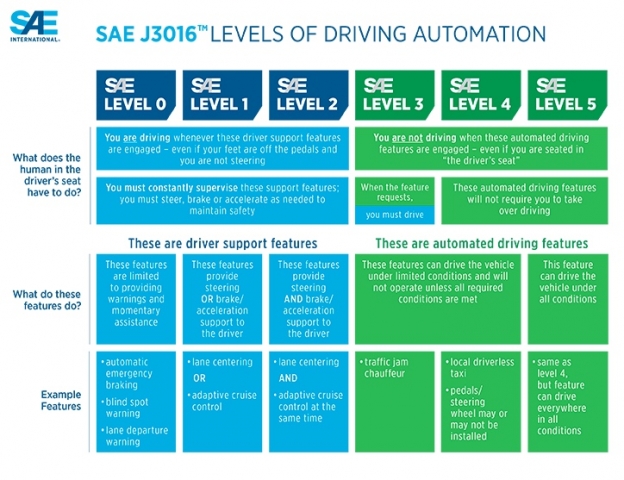 SAE charts the progression of autonomous vehicles by category, source, SAE
.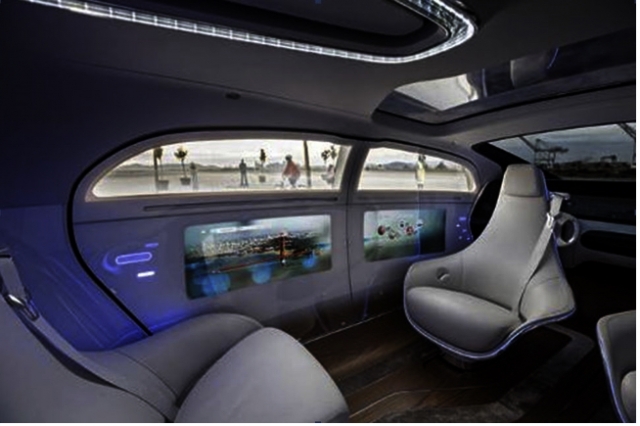 Shown in Ken Werner's Display Daily article two years ago: "We can video conference about today's Display Daily on the wide-aspect-ratio door displays as our Level 5 autonomous cars drive us to Los Angeles." (Image: Daimler Benz)
Here are some other key findings of the IDTechEX Research Report:
Among all the components of an AD system, software and maps remain around 50% of the AD system market value.
Lidar costs will drop significantly:
IDTechEx calculated a 10-year forecast for the lidar cost per vehicle. The forecast is segmented by beam steering technology.
While rotating mechanical lidar has the highest unit price in 2019 (average of $19,100 per module), the average cost per vehicle is greater for 3D flash lidar ($51,200) per vehicle.
Two or more 3D flash lidar units are required per vehicle as FOV and range are typically limited.
IDTechEx calculated a 10-year forecast for the global market size of 3D lidar modules. (segmented by beam steering technology).
The global market size for lidar in L3+ autonomous vehicle applications grows from $330 million USD in 2019 to $5.4 billion in 2030 at 29% CAGR.
MEMS/MOEMS lidar will be the largest market segment in 2030 at a size of $1.7 billion, followed by non-rotating mechanical lidar at a size of $1.4 billion.
The OPA lidar segment exhibits the strongest growth: it is the smallest in 2019 at a size of only $160K, but grows to $840 million in 2030 at 118% CAGR.
In 2019, lidar module products are used in test and trial L3+ vehicles.
The decline of rotating mechanical lidar begins as emerging lidar technologies mature and enter high volume production.
Suffice it to say that twenty years out things will be different. Yet the promoters of AV (driverless vehicles) still must take into account the cultural effects of shifting self autonomy in transportation to a "controlled system", no matter how convenient. Personally, I plan to go out and enjoy my car, while I still can. Of course like the saying goes, in the long-term… well you know the rest… Stephen Sechrist