TCL has released its spring line of TVs that feature the latest Roku operating system. In a briefing in New York the other day, we had a chance to take a look at the TVs and get a briefing from TCL and Roku executives.
Chris Larson, VP sales & marketing of TCL, started out by explaining the TCL brand and its position in the market. In China, the company has huge market share, but it is still a young brand in the US. In mobile phones for example, TCL is the #5 producer worldwide. In TVs, it is #3 or #4 depending on the quarter and the market research firm. And that is for TCL-branded TVs. They are also a major OEM supplier as well.
In the US, Larson says they have tripled their business each year for the last three years making them the fastest growing brand in the US. Larson didn't mention how many TVs that represented in 2015, but he expects this momentum to continue in 2016. Currently, in the Americas, TVs are only sold in the US, but they will start selling in Mexico in June.
In terms of positioning, Larson says they seek to offer high quality at a value price. And, they only offer features that they think consumers value in a TV.
Part of this strategy is their 2-year relationship with Roku. Roku is essentially the TV operating system that can be offered in a USB stick, set top box or integrated directly into the TV. The latter is what TCL offers. This has the advantage of not duplicating the O/S for the external devices and allows better integration of the TV's features into the O/S.
Larson noted that a TCL TV is the #1 selling TV on Amazon and 5 of the top 15 selling TVs are TCL. Almost all of these are Roku models.
But TCL is also seeking to create aspirational model demand as well. TCL TVs are two of the top three wished-for TVs on Amazon, noted Larson.
TCL is also doing well in brick and mortal retail stores where they have floor space in Best Buy, Wal-Mart, Costco, Sams Club and other outlets. Two years ago TCL gained the naming rights for the Chinese Theater in Hollywood and they are a big supporter of the Ellen Degeneres show where they give away a lot of TVs. In mid-April, they will roll out a major advertising campaign for print, radio and outdoor that will dwarf all previous campaigns. TCL is a brand on the move.
The new models being released now represent TCL's first 4K models for the US market and will be positioned as value models. Six models will be offered in two series (S and P). The S series is the entry level series with 55" ($599) and 65" ($999) models while the P-series is the step-up versions with 43" ($499), 50" ($599), 55" ($699) and 65" ($1,099) models. All are Roku models with panels made in China at their own CSOT fab.
In the fall, TCL will release additional models. This will include a Dolby Vision HDR model with HDR 10 support as well. None of the newly released sets will support HDR, however.
Larson admitted that the newly-released models offer just average picture quality, which we validated. There are HDMI 2.0 ports with HDCP 2.2 (not 2.0a) allowing playback of 4K/60 content and Ethernet access. The step-up P series adds wireless 802.11 AC capability as well. The P-series features an RF remote, headphone jack and voice content search while the S-series has an IR remote without the voice search feature. These appear to be the main differences in the series. The color gamut is close to 709 but few other specs were discussed or promoted. Instead, the emphasis is on useful features and simple access to content.
Turning to the Roku features, we then heard GM, Chas Smith, explain that they now have a new Roku mobile app. This allows your tablet or smartphone to function as the remote for the TV. All of the picture quality settings are available this way as well as control of content to playback on the TV. Interestingly, your mobile device supports the voice search capability even on the S series models.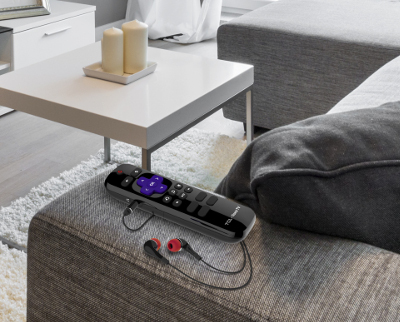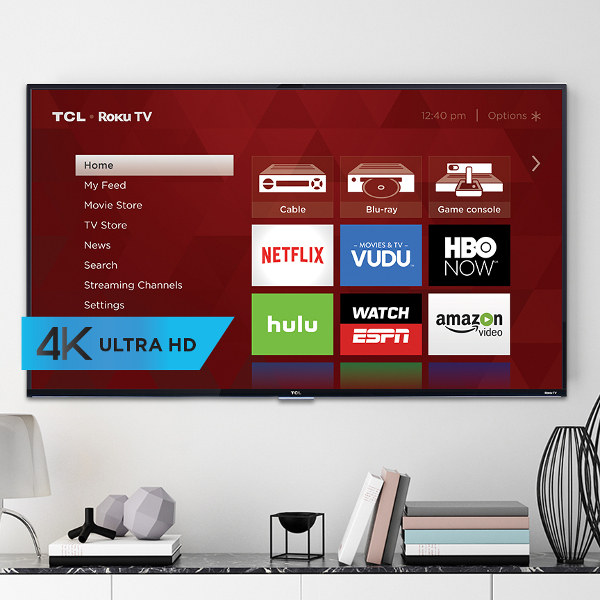 Smith says that Roku now has access to 300K movies and TV episodes and 3,000 stream sources. The new version has a 1080 resolution user interface for the 4K TVs. One very powerful feature is the ability to show all the sources of content on the TV no matter whether they are connected to different ports on the TV or represent streaming service providers coming over broadband. No more switching inputs and loading individual Apps – it is all integrated. There is even access to local content making the Roku platform very close to providing all the functionality of a regular pay TV service, which the exception of some key sporting content, it would seem. This feature should make the TV very attractive for cord cutting as well.
Smith also demonstrated the movie voice search option. It returned several choices for the selected movie on Vudu, M-Go, Time Warner and HBO. The Time Warner choice was at the top and listed as free as there is a pay TV subscription. Vudu and M-Go showed the same $5.99 price while the HBO option was grayed out indicating the user did not have a subscription, but it would be available on this channel if they did. That's pretty slick.
Roku is also offering a 4K spotlight TV channel that aggregates curated content from all of its sources into a single "folder".
Users can also playback photos, music and personal videos from their tablet to the TV. And, if they were watching a movie on the tablet and now want to finish on the TV, the dualcast feature allows seamless transitioning from one device to the other.
It should be noted that Vizio's new 4K TVs with GoggleCast seem to offer similar functionality.
The new TCL TVs will have an exclusive two-week run on Amazon starting on March 24. Then other e-commerce and brick and mortar retailers will begin to sell the TVs. By May, the TVs should be on 8K retail floors. –CC
Analyst Comment
I am also a fan of the Roku interface and its simplicity. The only down side for a brand adopting it is that it reduces differentiation. That factor, I think, will limit the penetration of the OS into the TV market. BR