According to a recent report from Omdia, Infocomm 2023 showcased a wide range of display products featuring LCD, OLED, and direct-view LED (dvLED) technology. While vendors had previously focused on corporate and education sectors during the pandemic, this year's offerings demonstrated a shift towards vertical market solutions, particularly in sectors most impacted by the pandemic.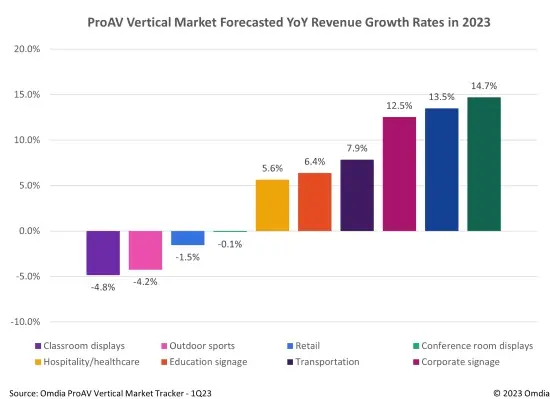 The exhibition highlighted various products tailored for retail, hospitality, public spaces, corporate lobbies, and other sectors, with an emphasis on creative and experiential displays. Notably, there was a resurgence of retail solutions, including those for quick-service restaurants (QSR), in-store windows, restaurants, and kiosks. This trend can be attributed to customers' return to in-store shopping and the recovery of foot traffic to pre-pandemic levels.
Drawing from their ProAV Vertical Market Viewpoint Service, Omdia predicts that public spaces, control rooms, and corporate signage will experience the strongest year-on-year (YoY) revenue growth in 2023. The latest forecast indicates that overall revenue from digital signage displays, encompassing LCD, OLED, and dvLED technologies, will surpass $18.6 billion in 2023.
While classroom and conference room displays continue to contribute significantly to revenue in 2023, Omdia expects a slight slowdown in these sectors compared to the exceptional performance seen in 2022, specifically with interactive and videoconferencing displays within education and corporate markets.