IDC has published its Worldwide Quarterly Mobile Phone Tracker and forecasts that worldwide smartphone shipments will rebound in 2017 and beyond, following on from the 2016 results which showed the lowest growth ever, with year-over-year growth of just 2.5%.
Growth in 2017 is expected to be 4.2% and 4.4% in 2018 with a compound annual growth rate of 3.8% over the 2016-2021 forecast period. Worldwide shipments of smartphones are forecast to reach 1.53 billion units this year and reach 1.77 billion in 2021.
IDC predicts that Android will account for around 85% of the market with IOS making up the rest. IDC sees the outlook for Windows smartphones as virtually non-existent.
Last year was the first time Apple experienced a year-over-year fall in shipments with volumes falling 7.0%. IDC expects a strong rebound in iPhone volumes this year with the expected launch of the 10th anniversary device.
Anthony Scarsella, the research manager of the tracker report stated that despite the moderate 2.5% growth last year, phablets displayed 49% year-over-year growth as consumers continue to move to big-screened devices. He also believes that phablets will be the main driving force for the market in both the premium and entry-level segments. He noted that total phablet shipments worldwide are expected to reach just under 680 million units by 2021, resulting in a compound annual growth rate of 9.2% for 2016–2021. In comparison, regular smartphones will grow at a rate of just 1.1% during the same period.
By OS
Android: For Android the biggest markets driving volume continue to be the Middle East & Africa (MEA), Central & Eastern Europe (CEE), and Asia/Pacific (excluding Japan)(APeJ) with average selling prices (ASP) in the $150-$200 range. In more mature markets like North America and Western Europe, the ASP can be as much as double, which is a big reason many device OEMs are launching flagship models in these markets first. Additionally, as more and more Android OEMs figure out ways to produce large screen smartphones at a very low cost, IDC expects phones with a display of five inches and greater to grow from 75% of Android shipments in 2016 to 91% in 2021.
iOS: Apple continues to do roughly 50% of its iPhone volume between North America and Western Europe, but Asia/Pacific (excluding Japan) continues to grow as a share of Apple's volumes mainly driven by continuous demand in China. That region accounted for roughly 30% of 2016 iPhone shipments and is expected to grow to about 36% in 2021. As previously mentioned, IDC believes 2017 will be a turnaround year for iPhone volumes with shipments expected to grow 4.9% over 2016.
Windows Phone: Windows Phone continues to decline as a share of the smartphone space as many OEMs have given up producing phones for the platform. As a result, IDC expects 2017 volumes to decline 69.5% to just 1.8 million units. It is unclear at this time if Microsoft has a clear plan to persuade OEMs to get back on board with the platform, or if it plans to release a device itself like it did with Surface devices. Until this production question is addressed, IDC doesn't see a clear path to turning around the platform.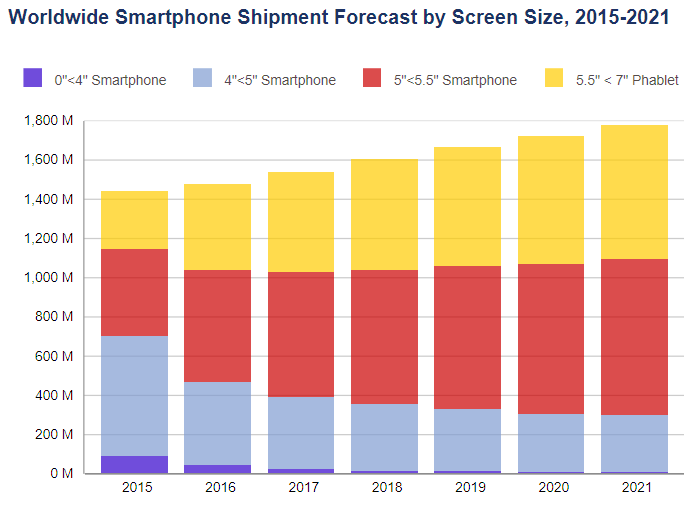 All product and company names may be trademarks or registered trademarks of their respective holders.