Simulators – Several design wins were announced at I/ITSEC 2014. 3D perception used I/ITSEC to announce several design wins for its screen and auto-calibration technology called Northstar. 
One was a visual solution for ETC Simulation's incident command simulator at Concordia University's new Homeland Security Simulator Center in Portland, Oregon. It is a 108-degree immersive theater that uses ETC's Advanced Disaster Management Simulator suite to provide on-scene views to commanders of disaster management teams.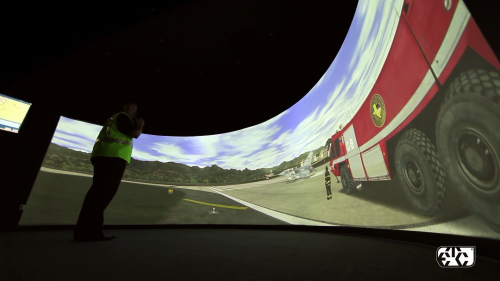 3Dperception also noted that it delivered a visual display solution to the US Naval Air Warfare Center Training Systems Division under and SBIR phase III contract to AVT Simulation. This was an upgrade to a previous 3Dperception system that included the latest nBox and four WQXGA LED projectors. The solution is a bit different in that it offers a central region of near eye limiting resolution that degrades somewhat at the edges.
The company also announced that the aircraft manufacturer Pilatus Aircraft Ltd., for whom 3DP is a supplier of display solutions for its flight simulators for the Indian Air Force, recently received final acceptance for the first full mission flight simulator (FMS) at the Air Force Academy at Dundigal, India.
Christie was selected by FAAC Inc. and the US Army Program Executive Office for Simulation, Training & Instrumentation (PEO STRI) to power the visual displays for the Air National Guard's Boom Operator Simulation System (BOSS). A compact, state-of-the-art immersive environment designed to support the complete boom operator training curriculum, the BOSS replicates the KC-135R Block 40 boom pod and control/gauges and features visual displays comprised of three Christie Matrix StIM WQ DLP LED simulation projectors and two 46″ Christie FHD461-X LCD panels. Contracted for a total of 17 complete trainers, FAAC has already installed five at end user sites and will deliver and install the others at locations throughout the US.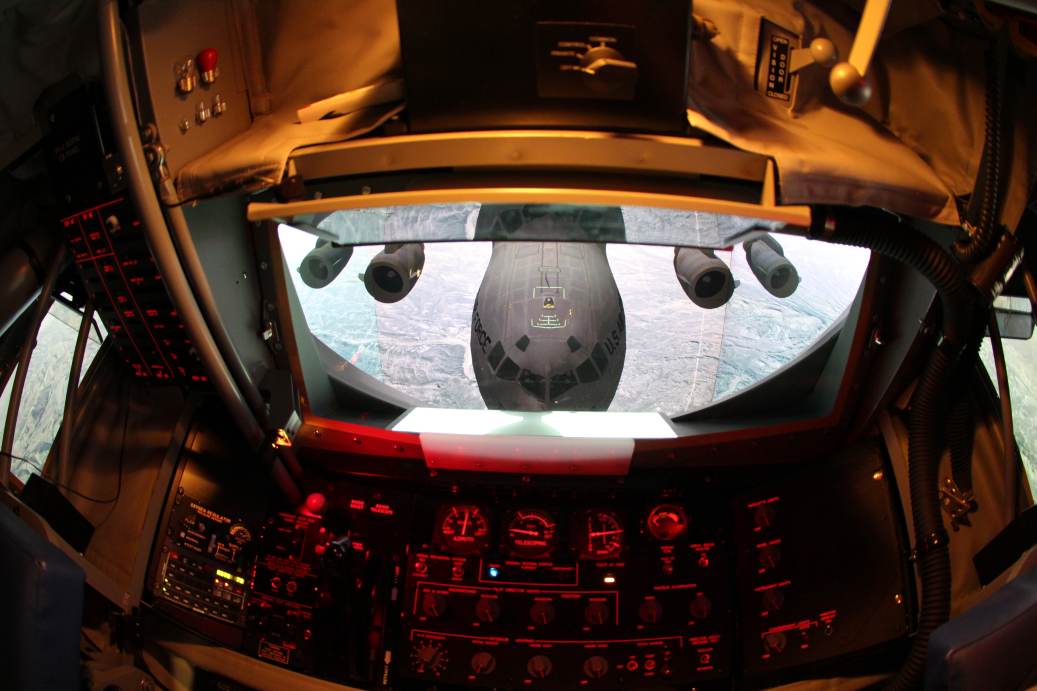 Recreating the immersive environment of a KC-135 aircraft, the state-of-the-art BOSS features head tracking technology, voice recognition and synthetic response, sophisticated and detailed visual models, as well as full recording and debriefing capabilities. The aircraft physical model emulates the actual aircraft boom and uses Christie's advanced, high-resolution, out-the-window displays, with realistic computer-generated images provided by MetaVR. Meeting Aerial Refueling Airplane Simulator Qualification (ARASQ) standards, it allows refueling boom operators to perform the same complex aerial maneuvers critical to refueling an aircraft in mid-air. With a compact 22' by 21' footprint, it fits within a standard-size room and can be disassembled to fit through double doors for the ultimate in portability and installation flexibility.
L-3 Link Simulation & Training (L-3 Link) has delivered an F/A-18D Tactical Operational Flight Trainer (TOFT) to the Royal Malaysian Air Force (RMAF) in Butterworth, Malaysia. The F/A-18D TOFT networks two cockpits, one for the pilot and the other for the weapons system officer. The TOFT will enable RMAF aircrews to train across the platform's full mission spectrum.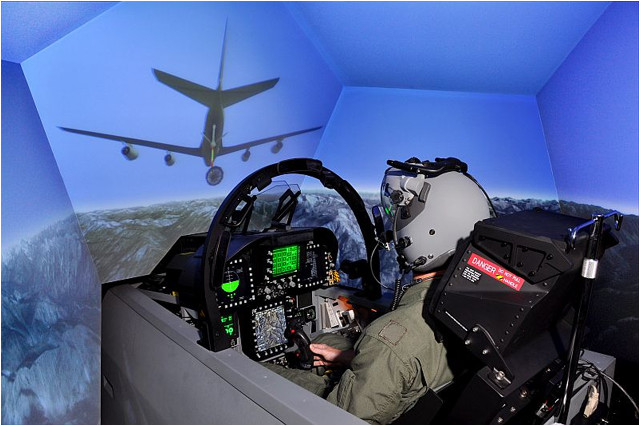 By combining four advanced L-3 Link technologies – high-definition databases, image generation systems, physics-based processing and SimuSphere HD-9 visual displays – the F/A-18D trainer provides the aircrew with realistic day and night out-the-window scenarios, in addition to supporting each cockpit with a high-fidelity sensors environment.
During night operations training, aircrews will be able to use their own actual flight night vision goggles, while accurately viewing stimulated effects that include halos, light blooms and weapon launches and detonations. As part of this RMAF training solution, L-3 Link is also delivering a brief/debrief system and an instructor/operator station.
Rockwell Collins has been selected by the US Navy to provide an upgrade to the E-2D Advanced Hawkeye Integrated Training System (HITS). The initial contract is valued at $26 million with a potential total value of $40 million. The upgrade includes an operational flight trainer, provided by sub-contractor ASI, modifications to the tactics trainer, a modification to the maintenance trainer and spares.
Rockwell Collins was previously selected as the prime contractor for the major training systems on the E-2D Advanced Hawkeye, the Navy's replacement for the E-2C. These training systems include the Hawkeye Integrated Training System for Aircrew (HITS-A) and the Hawkeye Integrated Training System for Maintenance (HITS-M).
Sogitec of France said that NAHEMA and the French Defense Procurement Agency (Direction générale de l'armement, DGA) have declared ready for training the second French Army NH90 Caïman Multi-Role Training Device (MRTD) at full operational capability. This second MRTD is operational at the 1st Combat Helicopter Regiment at Phalsbourg Army Base, Eastern France. The on-going international programme provides for the development and production of seven training devices (6 MRTDs and a Full Flight Simulator, FFS) for the French Army and Navy, and the Finnish Army.
XPI Simulation, a Thales company, has been awarded a five-year, £20 million contract to supply General Dynamics UK with driver training simulators for the SCOUT Specialist Vehicle (SV) family of vehicles, which will provide essential capability to the British Army. XPI will provide 28 high-fidelity complex driver simulators – a mixture of static and full-motion simulators – for training drivers on all six variants of SCOUT SV. The program will be the first of its kind in the UK; use of the 'six degrees of freedom' simulator has not previously been used within the British Army Land environment. – Chris Chinnock