At the annual Ceatec trade show in Japan last week, Sharp showcased a number of 8K TVs along with other 8K ecosystem products – all designed to kick off the next evolution in TV technology: 8K. Their TVs go on sale next month and NHK is scheduled to begin regular 8K programming in December.
The TVs that Sharp showed are only for the domestic Japan market. They include 80", 70" and 60" sets with a the 8K satellite tuner built-in along with a 60" version without a tuner. These will be offered for 2M Yen ($17,730); 1M yen ($8,866) and 750K yen ($6,650) for the 80", 70" and 60" sets with the tuner and 500K yen ($4,433) for the tuner-less 60" model.
Peak luminance for the 80" gen 2 panels is 4K cd/m² in a 20% window (larger than the 10% typically quoted), but the duration it can hold this is not stated (probably less than 10 seconds). The 70" set has a peak luminance of 1500 cd/m² in a 20% window while the 60" gets to 1000 cd/m² in a 20% window as well. Duration of the peak luminance hold time is not released for these sets, either. There is no specification on the black level or the color gamut but representatives at the show said it was ">75% of BT.2020."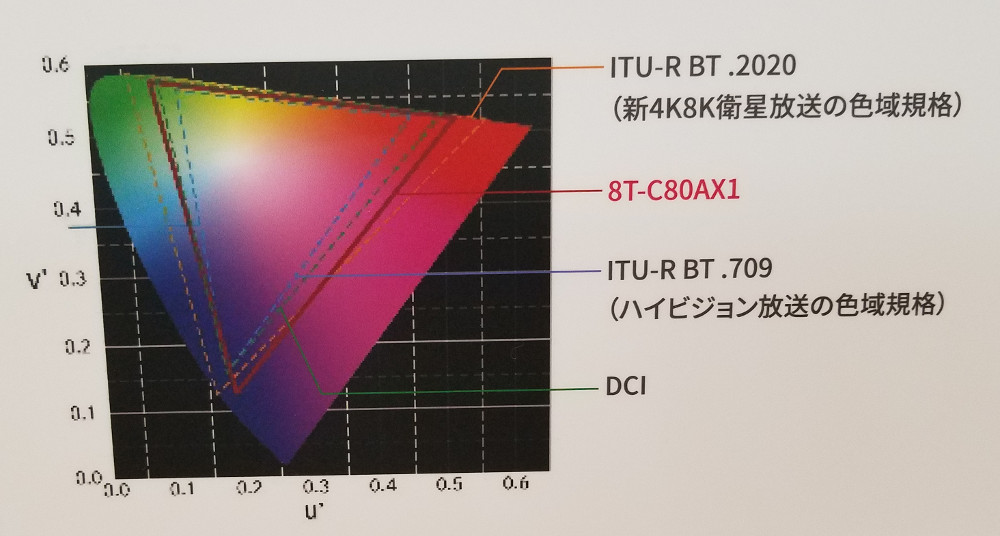 All are direct backlight type configuration but the number of dimmable zones was not revealed. Importantly, these panels can refresh at 120 fps, but the inputs may not support this frame rate. Internal resolution upconversion and motion estimation is done to produce the images to drive the panel. This functionality, along with the satellite tuner, all come from a Japanese company called Socionext (Socionext Shows 8K SoC Solutions at CEATEC).
These TVs looked very similar to what was shown at IFA with the Gen 2 panels exhibiting considerably greater contrast over the Gen 1 panels. I saw no content that was demonstrating the 4K peak luminance capability.
Also included is Sharp's AI assistant called Cocoro Vision which allows voice searching for programs (and maybe TV setting).
Two companion accessories were also shown. One is a 8K hard disc drive (HDD) (8R-C80A1) that allows recording of 4K/8K Digital Satellite Broadcasting. The 8TB drive allows storage of 170 hours of 8K programming. Output to the TV is over four HDMI 2.0 cables.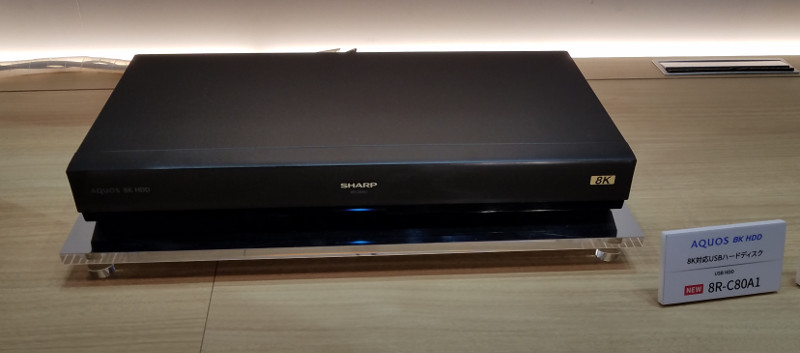 The second is an 8K sound bar also shown at IFA. This accepts the 22.2 channel 8K broadcast audio format and processes it to play back on three front facing speakers, two upward facing speakers and a separate sub-woofer. There is an embedded processor in the sound bar to try to replicate the immersive sound of the 22.2 channel source.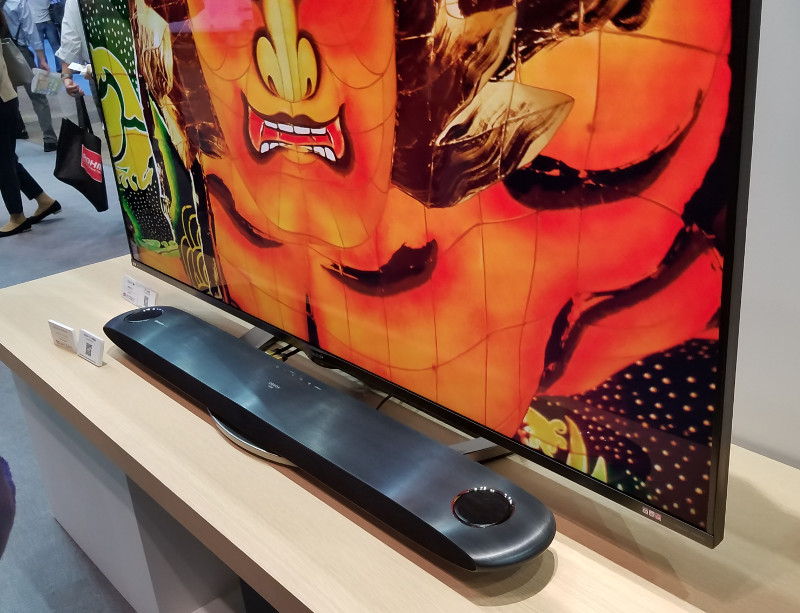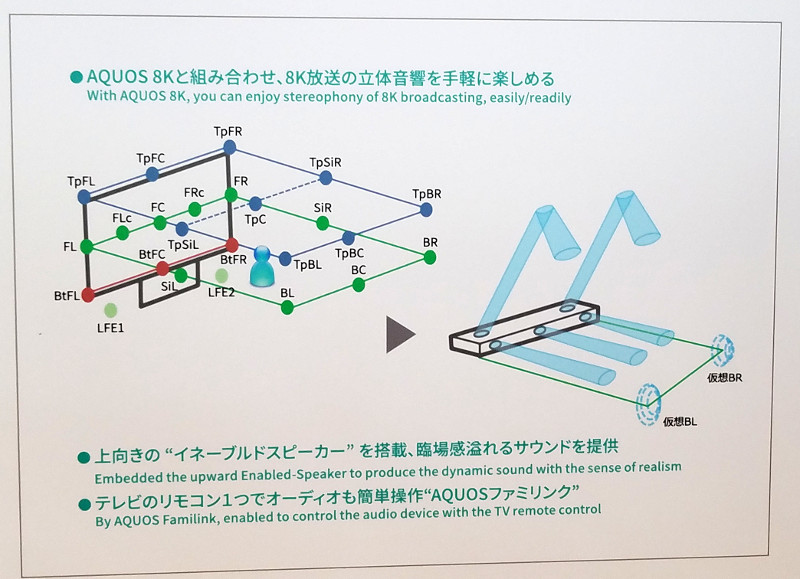 As for content, the first 8K channel (BS8K) will start up in December, but there are 18 other 4K channels for consumers to use as source material for upscaling by the TV.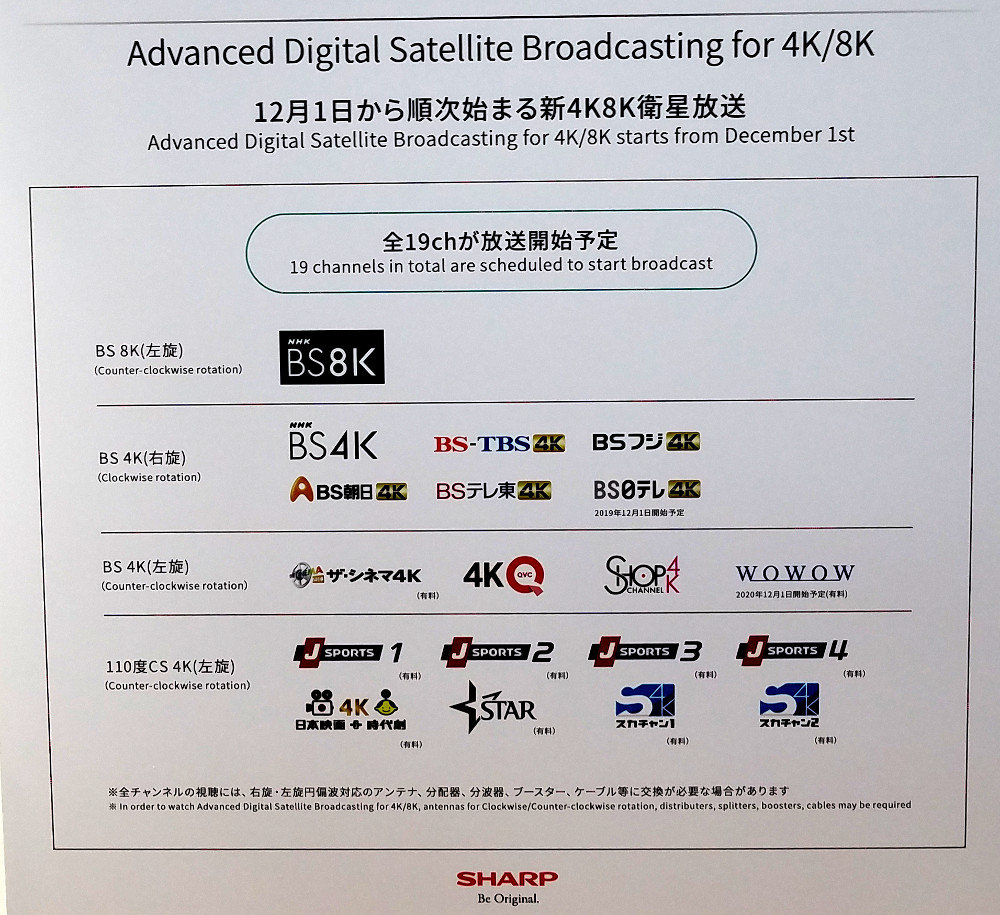 But consumers may also want Internet delivery of 8K content so Sharp is developing a cloud solution that will allow prerecorded content to be streamed directly to the 8K TV. The TVs have an RJ-45 jack to potentially support this, but it is unclear if the network would allow decent images to be played back yet.
Sharp then showed all of the other pieces of the ecosystem plus applications for 8K content. This included the satellite tuner modules (dual tuner with ISDB-S/S3 and DVB-S or triple tuner that adds ISDB-T demodulation), the image processing SoC (from SocioNext), and an 8K CMOS image sensor (4/3 inch with 7680 x 4320 pixels, 12 bit processing and 30 fps output).
As at IFA, this sensor was shown in a Sharp 8K camcorder with live content sent to a Sharp 8K TV. SDI cables run from the camcorder to a camera control unit from AstroDesign. Signage said the camcorder could shoot, record, playback and output 8K at 60 fps in a 4:2:2 format but the CMOS sensor info is only specified at 30 fps at this resolution. Maybe the camcorder does not use the Sharp imager? The camcorder also can output an uncompressed raw signal for recording on a SSD pack. The diagram below shows the live 8K workflow.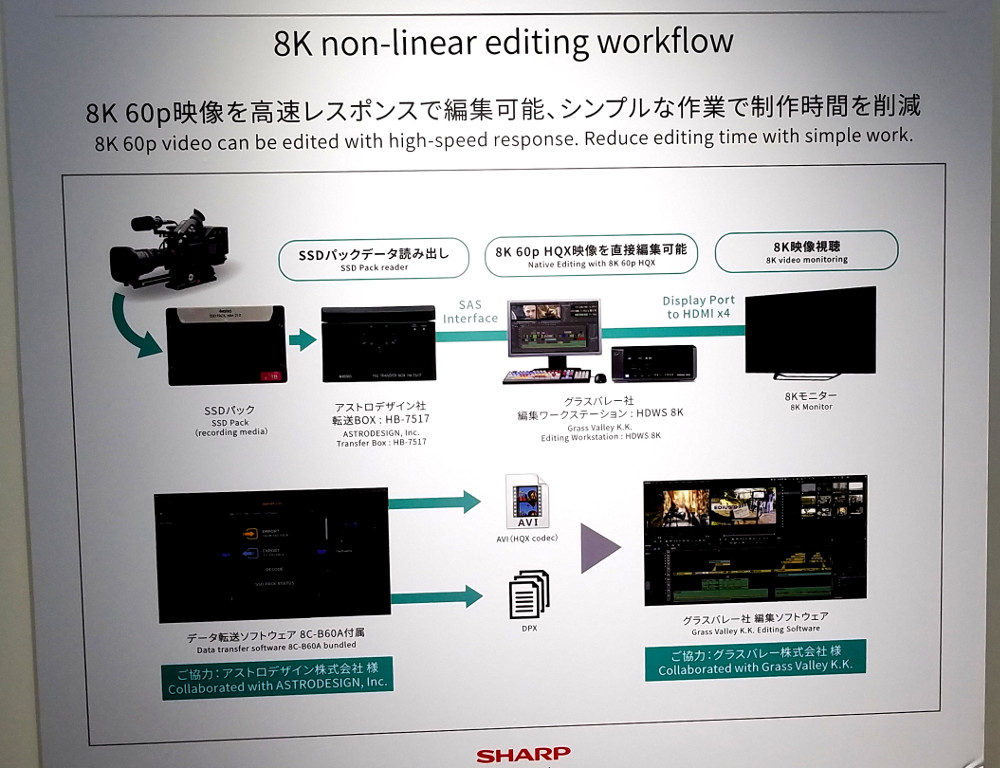 For 8K applications, one featured use for 8K was with the "world's smallest 8K endoscope" – the KairoScope-E.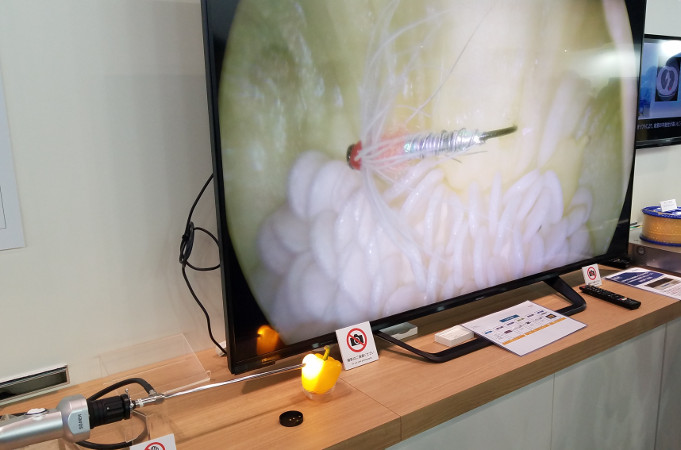 Sharp also showed how 5G mobile networks will enable the simultaneous transmission of multiple 8K signals. The scenario might be a sporting match with three 8K cameras to cover the field. Each camera feed is compressed with HEVC and then packaged in a IP format with forward error correction and distributed over a 5G network. These signals are then received by dedicated servers to demodulate, decode and synchronize the three feeds, which are then sent to three 8K monitors. This concept was simulated in the booth (no 5G broadcast). Sharp says it is preparing 5G compatible wireless devices that will be ready when service begins in 2020.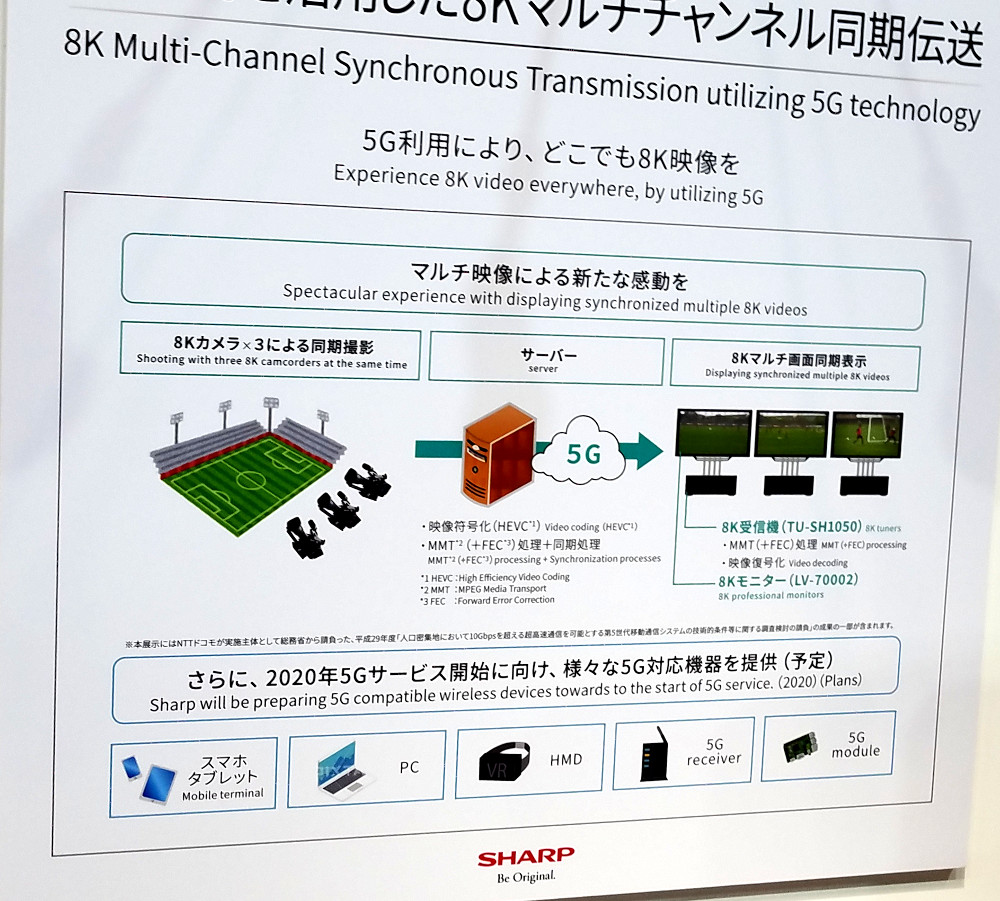 Sharp also showed how 8K displays can be used in museums to show paintings with very high detail (this is a good application as such works are likely to be viewed close up at times).
Clearly, Sharp is ready to support the roll out of 8K broadcasting in Japan, but success in other regions is still to be determined.- CC