Sharp NEC Display Solutions Europe has launched the NEC MultiSync® WD551, a Microsoft Windows collaboration display that provides an integrated smart solution for modern meeting spaces.
The WD551 is a room peripheral certified for Microsoft Teams designed to support maximum flexibility in hybrid working practices, enabling Bring Your Own Meeting (BYOM) scenarios – users simply connect their own device via the display's secure USB-C cable to immediately share content and start video meetings.
By connecting a PC using familiar Microsoft tools such as Microsoft 365 and Teams, the WD551 delivers frictionless meeting experiences, with instant access whether participants are in-room or remote. Two 65W USB-C inputs enable seamless switching between two users while both connected devices receive a power supply.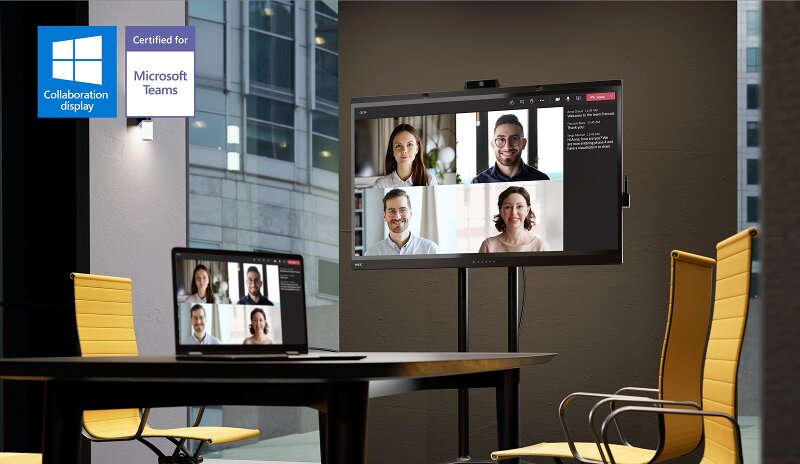 While certified for Microsoft Teams enabling excellent video and sound quality during meetings, the WD551 also enables any application installed on the user's notebook to be projected onto the display's 55" screen, as users simply connect their own devices.
Using the latest PCAP touch technology and optically bonded glass for reduced parallax, the WD551 provides a superior natural writing experience, whether customers use their finger or a pen. In addition, users can benefit from Windows Ink support with the two active pens included, and palm rejection which allows users to rest their hands on the screen without making unwanted marks.
The WD551 also uses its IoT sensors to gather telemetric data from its environment, such as room occupancy, temperature, lighting and air quality. When managed via the soon to be released NEC Room Management Service, it will also support smart building strategies. The solution is ideal for small meeting spaces that encourage spontaneous meetings, empowering users to perform at their fullest potential, with the tools and environment optimized for productivity.
Daniela Dexheimer, Senior Product Manager Collaboration Technologies at Sharp NEC Display Solutions Europe, said: "As businesses approach a hybrid model of remote and on-site working, it's clear that BYOM is here to stay. We've listened carefully to our customers and, in the new NEC WD551 Windows Collaboration Display, developed a solution that grants them maximum mobility and flexibility in even the smallest meeting environments. We wanted to provide a solution that is sleek and elegant to sit comfortably within any environment, even in the home. Its designed to be both advanced in its capabilities, whilst also being highly user-friendly – we're are very proud of the result."
Albert Kooiman, Senior Director of Microsoft Teams Devices Partner Engineering and Certification at Microsoft Corporation, said: "We are pleased that the WD551 is certified for Microsoft Teams. The WD551 connected to a laptop or to a Microsoft Teams Room offers great audio and video as well as interactive inking and touch experiences through Teams."
About Sharp NEC Display Solutions Europe GmbH
Sharp NEC Display Solutions Europe GmbH is the leading global provider of professional and commercial visual technology and digital signage solutions, owned jointly by Sharp Corporation and NEC Corporation. Sharp NEC Display Solutions offers one of the broadest visual solutions portfolios in the industry, innovating in LCD displays, lamp and laser projectors, dvLED, 8K and 5G technology, collaboration solutions, calibration tools, IoT and AI-driven analytics. Sharp NEC Display Solutions is a trusted name and a total solutions provider with strong ties to industry partners and has a reputation for quality, reliability, and industry-leading customer support with a range of professional service offerings. Serving a wide variety of markets, the organisation's expertise spans retail, enterprise, education, entertainment, transportation, energy and utility, and more.