According to the recently published 2023 Small OLED Display Annual Report by UBI Research, Samsung Display's OLED shipments for foldable phones are anticipated to reach 50.9 million units in 2027, with an average annual growth rate of 28.1% from 18.9 million units in 2023.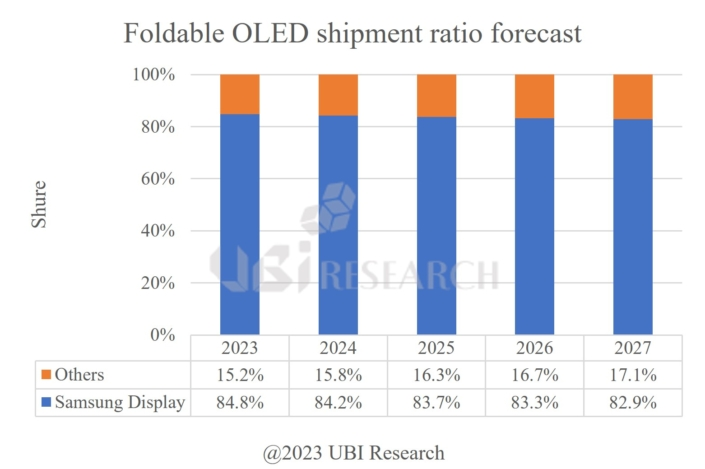 The report reveals that Samsung Display's foldable OLED shipments in 2022 were analyzed to be 12.6 million units, representing 85.1% of global foldable OLED shipments for the year. While BOE, TCL CSOT, and Visionox have mass-produced some foldable OLEDs, Samsung Display remains the market leader.
Samsung Display is expected to maintain its dominance in the foldable OLED market in the future. It appears unlikely that TCL CSOT and Visionox will achieve annual shipments of over 1 million units by 2027. Additionally, unless LG Display secures a customer, the timeline for mass production of foldable phone panels remains uncertain.
Finally, the report forecasts global OLED shipments for foldable phones to reach 61.4 million units in 2027, with Samsung Display accounting for 82.9% of the market with 50.9 million units, followed by BOE with 9.6 million units and a 15.7% share.