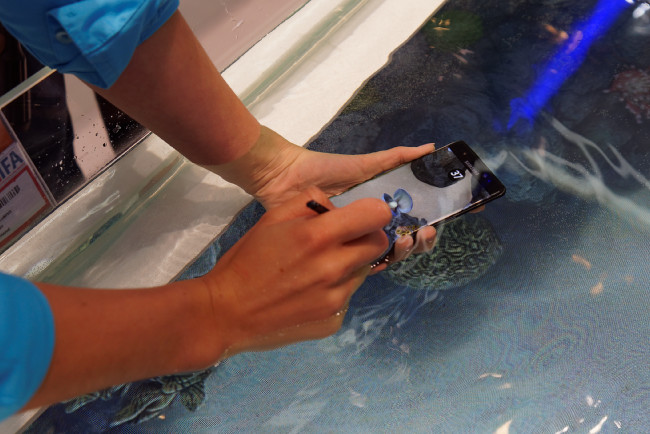 Samsung Note 7 being cooled at IFA. Image:MekoSamsung has stopped the supply of Galaxy Note 7 phablets as the battery fire issue that it has seen has recurred with some users that had received replacement phones. The company has also asked users not to power up their phones in the meantime and has said that it will replace the phones or refund customers.
Around 2.5 million phones were originally affected by a recall, but an incident in the US and another in a US domestic airline flight from replaced and new products meant that Samsung has decided to completely withdraw the product to avoid further damage to the brand.
Analyst Comment
It has long been said that the cost of a problem goes up by a big multiplier the more times you have to react, so it's always much, much cheaper to fix things first time. On the one hand, Samsung will be seen in a poor light for the fact that it doesn't appear to have solved the problem first time round. On the other hand, it's amazing to me that so many consumer electronics products sell with so few real reliability and safety issues. I remember a battery specialist describing a battery as a "chemical store of energy". The same definition can be used for a bomb and the more energy you try to store in a smaller and smaller space, the closer the two types of device become.
An interesting question is "Who will benefit from Samsung's problems?". Google might have been able to, but IHS has said that it estimates that Google's plans for the Pixel is less than 25% of Samsung's planned Note 7 volume and LG has the V20, although not in volume in Europe. IHS's Ian Fogg believes that Huawei, currently behind Apple and Samsung, but the next biggest Android brand after Samsung.
Samsung's share price has fallen back again, cutting $19 billion from its market value (BR)