Samsung took the prize for the biggest and the highest resolution glasses-free 3D display at CES 2015. It was 110 inches in diagonal and had a native resolution of 8K. It has a switchable optical layer and looked very good in 8K and 3D modes.
Samsung was not revealing any details about the structure of the switchable optical layer, but it most likely adds a second LCD panel over the 8K image panel to create what appeared to be a series of lenticular optical elements arranged on a diagonal.
The display can operate in two modes. When the optical layer is not engaged, it is transmissive allowing the native 8K 2D image to come through. There was a rope in front of the display that prevented me from getting close enough to carefully examine the details to look for distortions, but from 10 feet away it looked excellent with lots of detail evident.
In 3D mode, the optical layer is activated. This uses the LCD to create areas of refraction to bend the light, just the way a static lenticular array would do. In this mode, the resolution was limited to 1080p per eye and the sweet spot for 3D imaging was beyond the 10 foot point where the rope was located. At 10 feet some distortions were evident as I was unable to get the entire screen in focus at one time. Moving further back helped.
The 3D zones were fairly big and the depth was decent. Zone transitions were noticeable, however. The company resisted the urge to push the content deeply into the viewer space as it keeps most of the 3D behind the screen – to better effect.
Samsung has shown glasses-free 3D displays at the last several CES events with improvements each year. However, there were no intentions announced in terms of commercialization.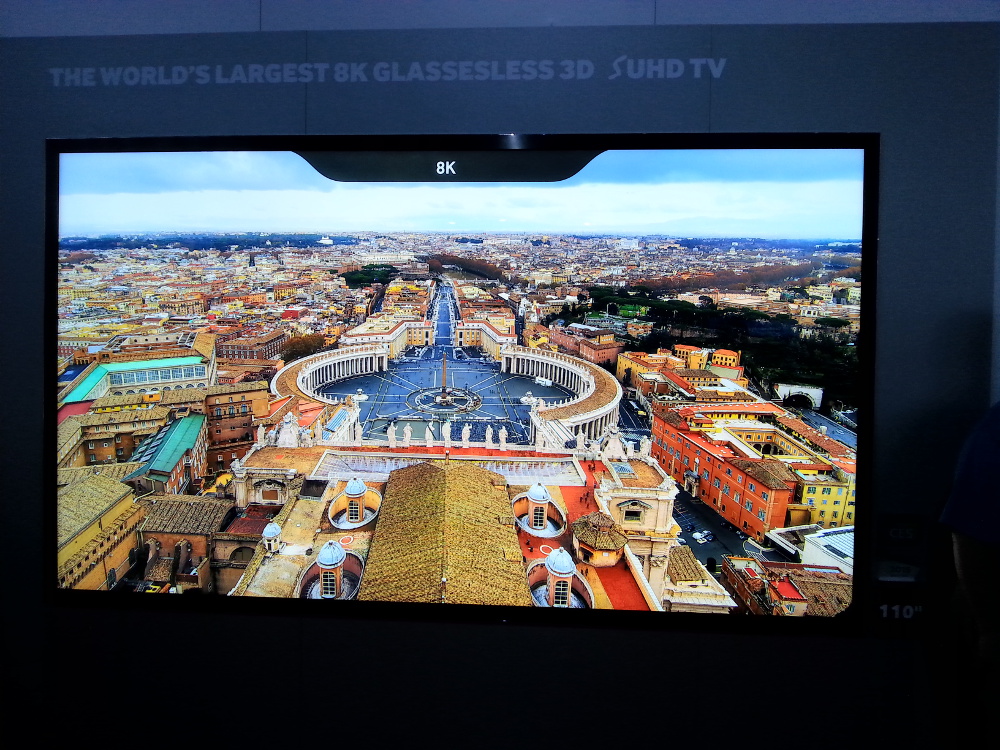 Samsung 110″ 8K/3D glasses free display at CES 2015 – 8K mode
Samsung 110″ 8K/3D glasses free display at CES 2015 – 3D mode
Display Daily Comment
We had mixed views among the members of the team over the quality of the imagery. Chris liked it, but Tom was not impressed. At least this demonstrates that developing compelling autostereoscopic experiences remains a challenge. (BR)