Last Tuesday, I was one of a group of journalists invited to the grand opening of Samsung's latest Onyx LED cinema screen, this time at the Star Cinema Grill in Richmond, Texas, just outside Houston. According to Samsung's press release, this is the largest Onyx screen installed to date, measuring just a hair over 46 feet in width and about 25 feet in height.

I had not seen the Onyx screen previously, so I was looking forward to a somewhat different digital cinema experience. In addition to Star Cinema Grill management, we were accompanied by Tom Lipiec and Joe Delgado of Moving Image Technologies, the integrator on the project.
Cuttin The Ribbon Image:Pete Putman
As constructed, this Onyx screen contains 107 cabinets of 24 small LED modules, each with a pixel pitch of 3.3 millimeters. The total resolution of the screen is 4224 pixels wide by 2160 pixels tall, or slightly more than 4K (4096×2160) resolution. We had a chance to walk behind the screen on not-very-tall catwalks (one for each row of cabinets) and about all you can see is the backs of cabinets with daisy-chained power cables.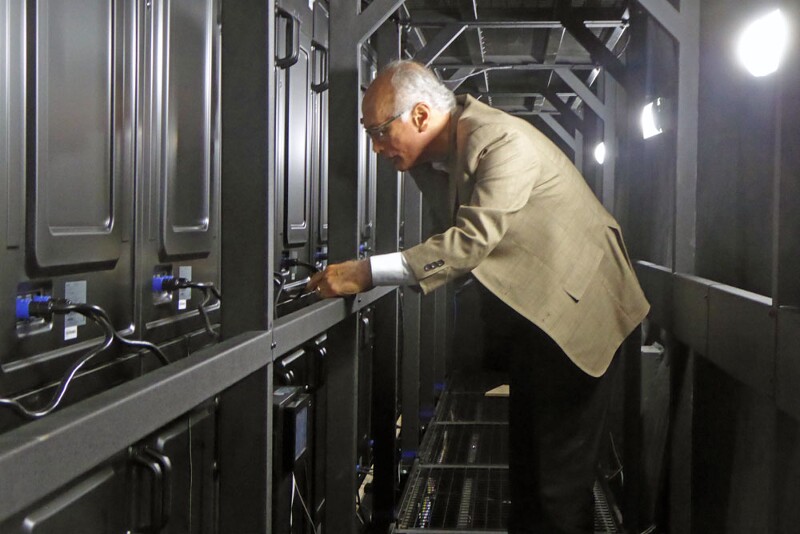 Michael Karagosian Behind The LED Tiles. Image:Pete Putman
Content is served up by a GDC server at 4096 x 2160p resolution with 16 bits per pixel color depth, and all display connections are out of view between adjoining cabinets. The entire wall uses (on average) about 3.7 kW of power to operate. Full white requires around 11 Kw, and Samsung stated that average power consumption was equivalent to a xenon projection lamp. Even after a few hours of operation, the front LED plane and backs of the cabinets weren't very warm.
In addition to a Q&A session with Samsung and MIT, we were shown a variety of 4K video clips plus the new Sony Pictures feature, "Men In Black: International." I brought along a Sekonic LiteMaster Pro meter, equipped with a 5-degree spot sensor, to take some screen illuminance measurements on the fly. During the reel of SDR content (mostly scenes from the two Avengers movies), the average mid-tone reading was around 10 to 25 cd/m², rising to a peak of 52 cd/m² with specular highlights. (Those numbers translate to 2.9, 7.3, and 15.2 foot-Lamberts, respectively.)
As the second reel of HDR content played out, I took the same readings in the same scenes. Average levels varied between 20 to 45 cd/m² (5.8 to 13.1 ft-L) with peak (specular) readings of 180 to 200 cd/m² (53 to 59 ft-L). Diffuse white backgrounds in a demo clip from Arri were also in the 170 – 180 cd/m² range.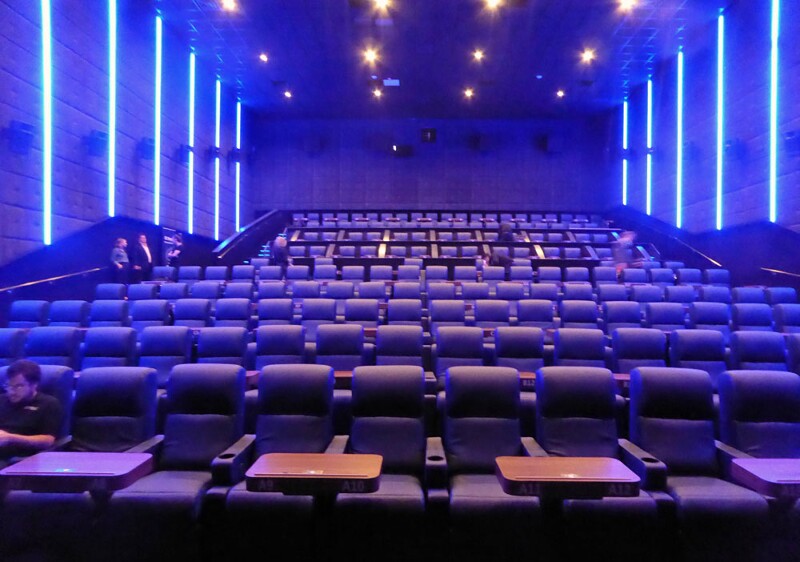 Onyx Theater From Screen. Image:Pete Putman
Just for fun, I measured light reflecting from fellow journalists, including a white shirt on my left and a white athletic shoe on my right. During the HDR clips, those readings were 4 and 3 cd/m², respectively. Reflected light from the dark blue reclining chairs, food trays (we had individual waiter service at each chair), and assorted clothing and shoes created an ambient contrast ratio peaking from 45:1 to about 60:1, depending on where you were looking.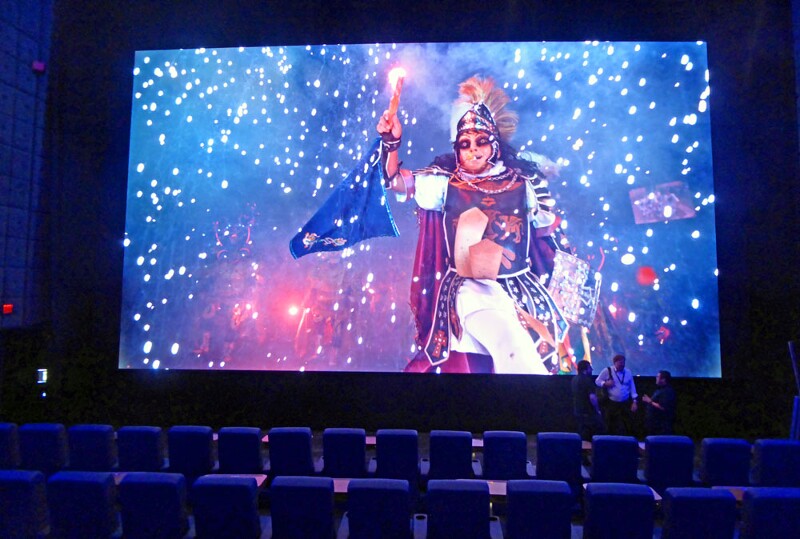 Samsung Onyx Screen From Theater Middle. Image:Pete Putman
My primary observation of the filmed content was of crushed shadow detail coming out of black in all of the clips we watched. Color saturation was good in the "extended dynamic range" file of Men In Black International with accurate flesh tones and pastel values. My measurements did not reveal the brightness levels claimed by theater staff with this file – peak white values were more along the lines of 50 – 60 cd/m², and not 200 cd/m². (This particular Onyx screen is capable of much higher illuminance levels.) It would have been extremely helpful to show a 128-step grayscale ramp just to see where those low grays were getting clipped. Oddly enough, there was quite a bit of judder in the end title crawl, just as you'd see with projected film.
It goes without saying that Onyx comes with a multi-channel spatial sound system, using special speakers on top, bottom, and sides of the screen to position dialogue where it should seem to be coming from. I am getting tired of hearing the "60 Hz sine wave slowly dropping to 1 Hz" sound effect to impress everyone with the low-frequency capabilities of the sound system, however.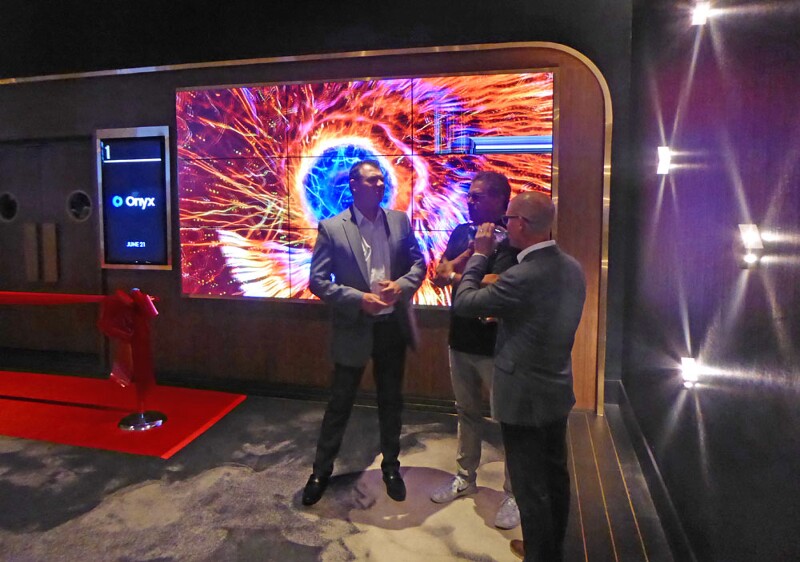 Samsung LCD Videowall In Lobby. Image:Pete Putman
Outside the theater, a 3×3 videowall made up of Samsung monitors extolled the benefits of Onyx and the unique viewing experience it offers. Star Cinema also made extensive use of Samsung LCD screens throughout the building, used primarily to promote current and upcoming feature films. These screens were running at about 300 cd/m2 full white (88 ft-L), a bit uncomfortable to watch in a darkened hallway and better suited to a room with normal interior ambient lighting.
Will theater chains buy into the Onyx experience? Unless they're willing to make a substantial capital expenditure on their own, I'm not so sure that theater chains like AMC and Regal would install such screens unless they could be guaranteed a corresponding increase in box office revenue, which would also come from food and beverages served by waiters to each individual theatergoer at their plus seats.
A more likely customer for LED cinema would be IMax, which currently charges a premium price for essentially watching movies on a 100-foot (diagonal) projection screen. Given the increased illuminance levels and wider color gamut of Onyx in HDR mode, they could justify a premium ticket price for the experience. LEDs also work well with 3D content, given the high switching speeds (> 3,000 Hz) and illuminance levels.
As for Men In Black: International, let me just say I was more impressed with the LED wall than what it was showing and leave it at that… (Pete Putman)