Samsung's stand had extended significantly, this year, displacing Panasonic and Lang AG, which had moved to the far side of Hall 1 (ruffling some feathers, we understand). The extra space was being used to show Samsung's monitors and various partner solutions.
Business displays are a growing area at Samsung, although one that the company still seems unsure how to handle. Where other stands at ISE were open and clearly labelled, Samsung's was a maze of walls and QR codes!
The OHD series is a new range of displays, joining the OMD series (Samsung Takes Smart Signage Outdoors, Display Monitor Vol 21 No 50). Available in 46″ and 55″ sizes, these screens have high brightness (3,000 cd/m²) and a 5,000:1 contrast ratio, to combat direct sunlight. The glass used also features Samsung's own anti-reflection technology.
IP56-compliant models, the OH46D and OH55D are protected against heat (up to 110°), water and dust. They are able to operate 24/7 and feature HDBaseT connections and Samsung's second-generation Smart Signage Platform. Certification by TUV was being celebrated at ISE for high-visibility outdoor performance.
At CES last month, Samsung showed an LED display – a new category for the company. A 133″ display, with a 1.1mm pixel pitch and 1,200 cd/m² of brightness, was on show at ISE. Different spokespeople that we talked to said alternately that the LED display was a prototype or that it was ready to be ordered!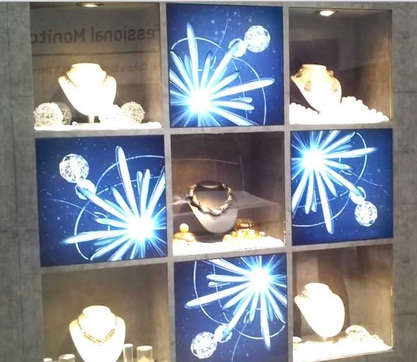 Picture from an earlier show
In the field of small signage, Samsung returned to a product it first showed at ISE 2012: a square display called the UD22B (Display Monitor Vol 19 No 6). We haven't seen this model being used by anyone except Samsung, and our sources said that the 2015 show was serving as a relaunch after it went into production and was later taken off sale. The UD22B has 960 x 960 resolution, 450 cd/m² of brightness and DisplayPort, HDMI and DVi-D inputs. A touch version will also be produced.
10″ signage was also on show, in the form of the DB10E-T (touch) and -PoE (power over ethernet). The DB10E will be launched in Q2, with specifications finalised closer to the time.
The centre of the stand held Samsung's new mirror display, which can act as a normal backlit-LCD or a mirror. Retail is the main application. Samsung was showing the mirror as a single upright display and a small (2×1) videowall. Nearby was a flat version of Samsung's 105″ 5k TV, the S9W (Display Monitor Vol 21 No 29), which will be used for signage. The QM105D will use the Smart Signage platform, and reach 700 cd/m² of brightness.
Finally, Samsung was showing a variety of displays that we had seen before, including its curved (SE790C, SE650C) and cloud (SC450, TC241W, NC241) monitors and the Lynk hospitality management platform.